The Pentagon said Monday it has confirmed that a U.S. airstrike killed ISIS' second-in-command, Abu Muhammad al-Adnani, despite Russia's insistence last month that it was one of its planes that killed him.
ISIS itself has already said al-Adnani, who also served as the terrorist group's main spokesman, died in the Aug. 30 strike in al-Bab in Syria's devastated Aleppo province.
But the Defense Department said at the time that it hadn't been able to nail that down.
Pentagon press secretary Peter Cook said Monday that "the U.S. precision airstrike" specifically targeted al-Adnani and removed ISIS' "chief propagandist, recruiter and architect of external terrorist operations."
The Russia Defense Ministry, however, has said al-Adnani was among as many as 40 Syrian rebels who were killed by a Russian Su-34 bomber in Aleppo.
Russia is supporting the government of Syrian President Bashar al-Assad in its battle against rebel fighters — some of whom the United States backs as allies against ISIS. A nationwide cease-fire brokered by the two superpowers went into effect at 7 p.m. (noon ET).
Regardless of who killed him, the death of al-Adnani would represent a major victory.
Al-Adnani was one of the first foreign fighters to oppose U.S. coalition forces in Iraq after he crossed the border from his native Syria in 2003.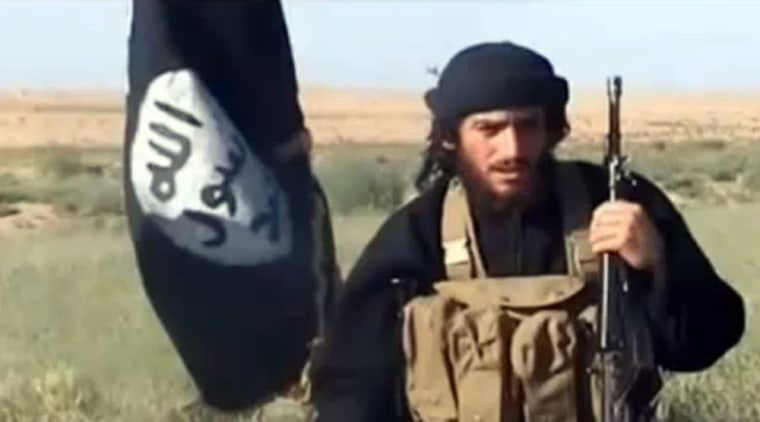 He swore allegiance to Abu Musab al-Zarqawi, the Al Qaeda in Iraq leader who was later killed by U.S. fighter-bombers. He reportedly was captured in 2005 and taken into custody at a camp run by the U.S. military, but he was freed in 2010.
After his release, he became the chief spokesman for ISIS, and by 2014 he had assumed a top operational role. The United States declared him a "specially designated global terrorist" in August 2014.
Referring to the terrorist group as ISIL, the name the Pentagon prefers, Cook said Monday that U.S. forces "will continue to target ISIL leaders, relentlessly pursue its external plotters, and, working with our partners on the ground, we will not rest in our efforts to destroy ISIL's parent tumor in Iraq and Syria, combat its metastases around the world, and protect our homeland."