The United States will send 217 more troops, including additional special operations forces, to Iraq as part of a growing train-and-advise effort to help the struggling government fight ISIS, Defense Secretary Ashton Carter said Monday morning in Baghdad.
The financially strapped Iraqis have also accepted America's offer of Apache attack helicopters and an additional HIMARS rocket system as they prepare to try to retake the city of Mosul from the terror group, Carter said. The United States will also contribute $415 million to the Peshmerga, a Kurdish military group.
"The Iraqis are still in the lead. That doesn't change," Carter told Nightly News anchor Lester Holt. "Americans are at risk today every single day here. As secretary of defense, I take that more seriously than anything else. I want our troops to be effective, but I want them also to be as safe as possible consistent with that."
Carter added: "But it's very important to do this, because we have to and we will defeat ISIL, but we need to get that done as soon as possible and that means being more aggressive in the moves we make."
Watch 'NBC Nightly News' on Monday for Lester Holt's exclusive interview with Ashton Carter (6:30 p.m. ET)
The additional personnel — Carter called them advisers — will boost the total number of U.S. troops in Iraq to 4,087, a senior U.S. military official said.
The announcement came as Carter visited Iraq as part of a swing through the Middle East in which he also asked allies in the region to help in the effort to rebuild parts of Iraq destroyed during the war with ISIS.
Carter said the Mosul effort will bring U.S. troops "closer to the action" by remaining close to Iraqi forces as they advance toward the city.
"These additions are consistent with our overall strategic approach, which is to enable ISF, not to substitute for them," Carter said, referring to Iraqi security forces.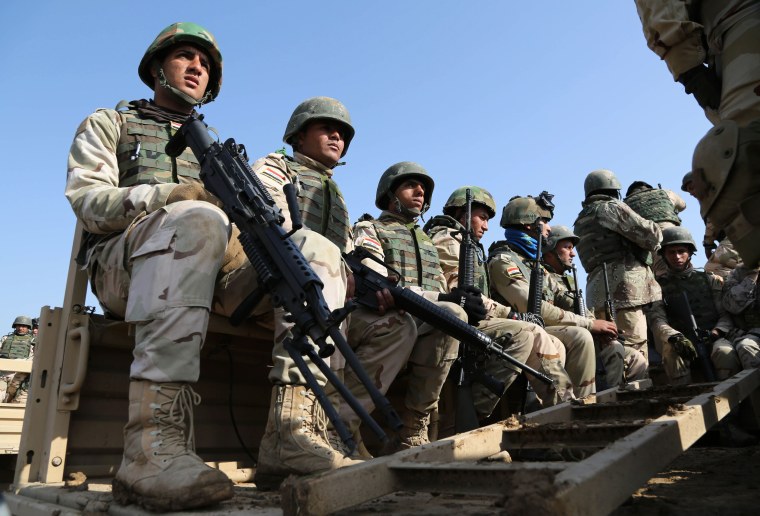 Talk of sending more U.S. troops to Iraq began last month, as the country's own military geared up to take take the city of Mosul from ISIS — considered a key step in regaining control of the country. While Obama has been reluctant to send more American troops there — he was elected on a promise to withdraw, and announced its fulfillment in 2011 — defeating ISIS is the one big exception.
Related: Ashton Carter: U.S. to Begin 'Direct Action on the Ground' in Iraq, Syria
Last June, the president said he would send hundreds of military personnel to train Iraqi troops in Anbar province, where it had been losing ground to ISIS, adding to the 3,000 Americans already on the ground in advisory and training roles. The United States has also been conducting airstrikes against the terror group and trying to disrupt its finance network.
Related: Reversal or Refinement? Seeking Meaning to Obama's New Iraq Path
Since then, American troops, namely special operations units, have engaged in several anti-ISIS operations. Late last year, the United States helped the Iraqis prepare to seize the city of Ramadi from ISIS.
Now the United States wants to try to capitalize on some of that momentum as Iraq struggles with economic and political turbulence.
A senior defense official said the additional help wasn't a deep strategy shift but an advancement of what started last year.
Speaking of the plans to retake Mosul, the official said: "That is where I believe the toughest fight is going to be. I do expect that we're going to accept more risk and we're going to bring in resources as appropriate to protect and buy down that risk, absolutely."
On his arrival in Baghdad, Carter met with Lt. Gen. Sean MacFarland, military commander overseeing the fight against ISIS, was well as Prime Minister Haider al-Abadi and Defense Minister Khalid al-Obeidi. He also planned to have a phone call with Kurdish leader Massoud Barzani.