ISIS' rampant destruction and looting of millennia-old heritage sites amounts to a form of "cultural cleansing," according to the head of the United Nations' heritage body.
UNESCO Director-General Irina Bokova told NBC News that the extremists' campaign of wiping out antiquities in Iraq and Syria was unprecedented in contemporary history and classifiable as a war crime under international law.
"Cultural cleansing, in my view, is exactly what's happening in Iraq," Bokova said in an interview. "These extremists want to impose a different vision on the world. They want to tell us that there is no memory [of these sites], that there is no culture, that there is no heritage."
Since announcing the establishment of a caliphate in Iraq and Syria last year, ISIS has destroyed dozens of historically-significant sites, according to UNESCO.
This spree has included the demolition of the 3,000-year-old city of Nimrud in Iraq and artifacts of a similar age in a museum in the nearby city of Mosul. ISIS fighters who appeared in videos apparently showing the destruction said they were doing it because non-Islamic culture was heretical.
Heritage officials feared another irreplaceable loss in May after the Islamist group sized the ancient Syrian city of Palmyra, a UNESCO world heritage site and "one of the most important cultural centers of the ancient world," according to the U.N. body.
Countless other places falling under ISIS' territory could be at risk. The group controls more than 20 percent of the 10,000 archaeological sites in Iraq alone, Bokova said at a discussion organized by the Royal United Services Institute (RUSI) in London.
As if to underline her concerns, security consultancy and NBC News partner Flashpoint Intelligence reported that ISIS released a statement the same day saying it had crushed a collection of statues that a suspected "smuggler" was attempting to remove from Palmyra.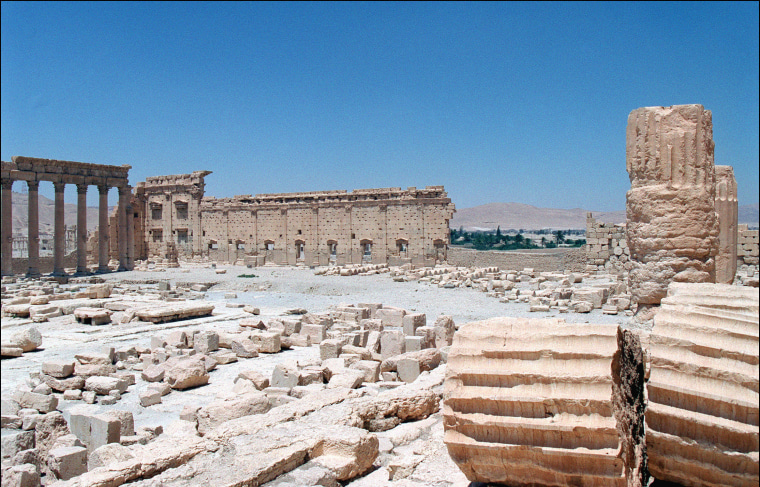 Bokova explained that part of the problem was that there were "no inventories, no lists" of many relics.
"It's not like taking objects from the museum," she added.
Bokova said the "enormous legacy" and "wonderful remnants of heritage" from the long-standing Christian, Jewish, Yazidi and Muslim communities in the region all were at risk.
"It is about destroying of cultural heritage, it is about looting, it is about uprooting people from their living communities and it is about destroying the incredible cultural diversity of the Middle East and Iraq," she said.
The key difference between the damage being done by ISIS and the losses seen in previous conflicts was that it was "not the collateral damage of a conflict, it is a systematic," Bokova said. "It is very deliberate destruction."
But UNESCO and other heritage groups say that as well as proudly destroying some antiquities, ISIS has been looting precious items from these sites and selling them on the black market to fund their operations.
Bokova said it was impossible to know exactly how much money the Islamists were making in this way because "there are so many illicit activities going on."
However, she told the RUSI discussion that it was "safe to assume the trade in conflict antiquities from Syria and Iraq represents millions of dollars for violent extremist groups."
She told NBC News that "every single day, at some customs [authority] somewhere in the world, we see artifacts appearing from Syria from Iraq."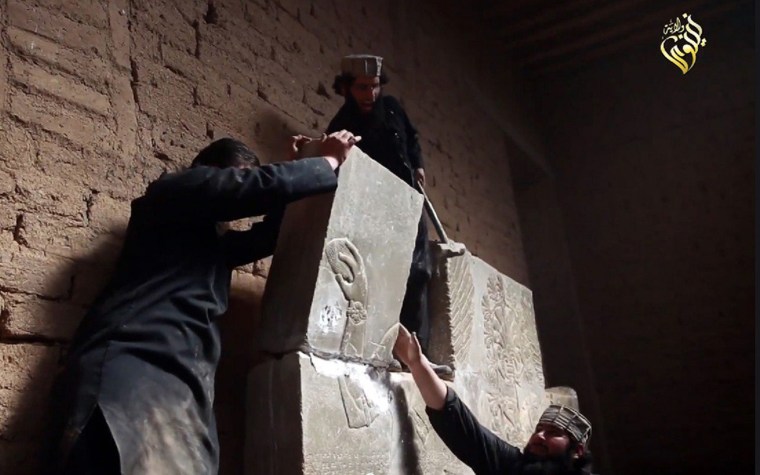 According to Chris Marinello, London-based lawyer specializing in looted art, ISIS represents the "gravest single threat to cultural heritage since the Second World War."
Marinello said there were reports the group was using eBay, Facebook and the instant messaging service WhatsApp to find buyers.
"A parallel can be drawn between the way [ISIS] is treating looted works of art and what the Nazis did it with so called 'degenerate art' looted from Jewish families 75 years ago," he said.
According to Marinello, both the Nazis and ISIS recognized the propaganda value in destroying some of the items they felt went against their beliefs, while simultaneously cashing in by selling others on the black market.
In an attempt to turn the tide, Bokova has brought together U.N. bodies, Interpol and the International Institute for the Unification of Private Law (Unidroit) to allow experts to share their knowledge and attempt to monitor the exchange of these artifacts on the black market.
"It is said, 'You can't fight an enemy you don't know,'" she told last Thursday's RUSI discussion. "This is why we need more research and better analysis."