America's battle against ISIS, dominated so far by airstrikes and training opposition forces, must also include a campaign against the group's "twisted thinking," President Obama said Monday.
"This is not simply a military effort," Obama said in remarks after getting briefed on the anti-ISIS effort at the Pentagon. "Ideologies are not defeated by guns. They're defeated with better ideas."
To that end, Obama said the United States was stepping up efforts to counteract ISIS' online recruitment operations, and encourage other countries with large Muslim populations to increase economic opportunities for young people who are exploited by the terror group into joining their radical, violent cause.
"This larger battle for hearts and minds is going to be a generational struggle," Obama said.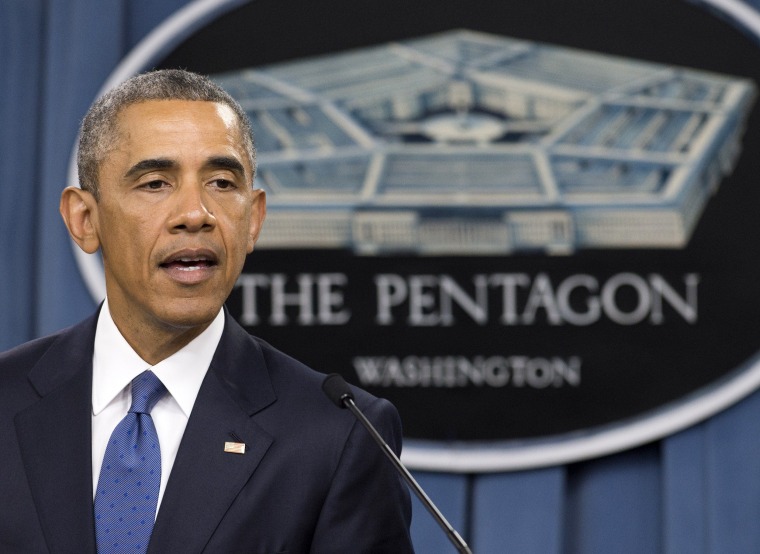 The president delivered his remarks after he and his national security advisers received updates about the United States' work to oppose ISIS' growing influence in Iraq, Syria and around the world.
In the year since ISIS announced its intention of creating a modern caliphate spanning Syria and Iraq, the group has seized swaths of territory and inspired violence in other countries, from the Middle East and Africa to France, Canada and Australia. Authorities say several ISIS-inspired plots in America have been thwarted, including an attack on an anti-Muhammad event in Texas in which two gunmen were killed, and a Boston man's alleged plans to behead police officers, which ended with his being shot to death by cops and FBI agents.
The Obama administration says that ISIS has actually lost ground on the battlefield. American-backed opposition forces have forced ISIS out of several key positions in Iraq, including the Mosul Dam and the cities of Kirkuk and Tikrit, and from key areas of northern Syria, Obama noted.
"In the past year we've seen when we have effective partners on the ground, ISIL can be pushed back," Obama said, using an alternate term for the terror group.
But the president also acknowledged that ISIS has made protecting the homeland more difficult. Unlike Al Qaeda's reliance on organized operations, ISIS derives much of its power by going online to stir up individuals and loosely knit groups of supporters, which can be much harder to detect, Obama said.
"It's harder to make a large-scale attack, but the threat of lone wolves or small cells is complex, harder to detect and harder to prevent," Obama said. "It's one of the most difficult challenges we face."
Ahead of Obama's meetings, the White House sharply criticized Senate Republicans for failing to confirm Adam Szubin, Obama's nominee to be the Treasury undersecretary responsible for choking off funding to groups like ISIS.
White House spokesman Josh Earnest said Republicans had refused to "even give him the time of day for a hearing" since Obama nominated Szubin in April, adding that the Senate should confirm him before lawmakers go home for their annual August recess.
Obama added to the criticism in his Pentagon remarks. "If Congress really wants to help in this effort, it can confirm Adam Szubin," he said.