When Boko Haram pledged official allegiance to ISIS in an audio statement this weekend, the Nigerian militant group's message came as no surprise to most analysts. What the move means — and who stands to gain — is far less clear. Here's a look at what we know and what questions remain unanswered.
WHY IS NO-ONE SURPRISED?
Boko Haram has been signalling a shift towards the ISIS model for jihad — and group itself — for months, from displaying the militants' black flags in videos to mirroring their rhetoric and tactics.
"The signs have been leading up to this for awhile now," said Matthew Henman, manager of IHS Jane's Terrorism and Insurgency Center. "It all points to an emulation of ISIS if not indicators of contact between the two groups and an attempt to build linkages."
While the world's eyes were on ISIS this summer, Boko Haram's leader Abubakar Shekau spoke of a caliphate of his own in Nigeria. At the time, analysts suggested that the pronouncement fell short of a formal declaration of a caliphate. However, it was followed by subsequent moves to seize and hold territory.
Those tactics worked for ISIS in Iraq and Syria — and Boko Haram's moves since them have clearly indicated an admiration for the Sunni militants. To analysts, declaring allegiance was only a matter of time.
Shekau also recently praised the perpetrators of the Paris terror attacks, a rare foray outside of West African affairs and into the realm of international terror which to many reinforced Boko Haram's growing eye for a role in the bigger global movement.
Boko Haram's burgeoning media branch has been increasingly active on Twitter. The group recently showed off their training camps for child soldiers — mirroring propaganda releases and recruiting pools used by ISIS down to describing the kids as Boko Haram's "cubs of the caliphate" — a moniker used by ISIS to describe its own pint-sized jihadis.
"It's really a huge defeat for al Qaeda and huge coup for ISIS"
Last week, Boko Haram had released a beheading video of two alleged informants. While it was not the first Boko Haram beheading video, the production value was much higher and reminiscent of ISIS propaganda videos — and signaled another attempt to mimic the Sunni militants' media approach.
That's why Henman and other analysts said they were not surprised when an audio statement was released on Saturday in which a man claiming to be Shekau pledged allegiance to ISIS leader Abu Bakr al-Baghdadi and calls on Muslims to declare a similar loyalty.
WHY NOW?
While Boko Haram's infamy has grown, so has the international attention paid to the militants. The group in recent years had exerted dominance only in a corner of northeast Nigeria, but the conflict of late has been taking on a broader regional context. Boko Haram has been attacking targets in Cameroon and Niger — and Nigeria's neighbors have been drawn into the fight.
Some analysts suggest that Boko Haram's pledge of allegiance could be an act of desperation, a rallying cry of sorts for the group now facing a well-trained and well-armed multinational fighting force.
It also could be a completely unrelated attempt to cash in on a movement that appears has become the go-to for global jihad.
Whatever the reason for the timing, "the writing was on the wall,"said Olivier Guitta, managing director at security and geopolitical risk firm GlobalStrat. "[ISIS] has been garnering power and Boko needed to join the strongest group. And al Qaeda is not the strongest any longer, so it makes sense for them to get also a major media exposure to join."
What remains unclear is how the Boko Haram pledge will change operations on the ground — in the Middle East or in Nigeria.
IS THAT ALL BOKO HARAM STANDS TO GAIN?
The media exposure gained by professing allegiance to ISIS can't be overstated — but there's a lot more on the table for Boko Haram.
Dr. Afzal Ashraf, a counter-terrorism expert from the Royal United Services Institute, warned against dismissing Boko Haram's pledge as a pure propaganda win, saying that "we should certainly be concerned" because of ISIS' resources.
"It's got the ability to export know-how," he explained. "If it begins to do that...now to Nigeria and to that region then the already quite substantial problems of containing Boko Haram become that much harder."
Boko Haram would get more from any tie-up — in terms of funding, manpower and expertise — than ISIS, analysts said. Still, if the pledge was borne out of a weakness and need for support, its unclear how much help ISIS can actually provide.
Moving fighters and arms to Nigeria would be difficult given the logistics and distances involved. Funds would be easier to transfer, however. Analysts also will be watching to see if Boko Haram sends fighters to other countries where ISIS is active — like Libya — to link up with militants and benefit from training.
There has been no evidence of either group sending members to fight with the other thus far, U.S. intelligence officials recently told NBC News.
… AND ISIS?
ISIS "doesn't frankly need" fighters or support from Boko Haram — but it does need the publicity, Ashraf said.
"It's got an image that its projecting to its followers of a growing entity — this growing mythical Islamic state," he explained. "Joining with Boko Haram gives it that very valuable publicity."
Recruitment also could get a boost, he added, posing a headache for intelligence agencies in the process.
"We've had foreign fighters from Europe, from North America go out to Syria to fight on behalf of ISIS so now they have another destination — they have West Africa," Ashraf said. "That's going to complicate the already very challenging task for intelligence agencies and for border agencies."
Still, the pledge is a "win-win" for both Boko Haram and ISIS, according to Guitta — especially because for ISIS it underscores the group's dominance over other regional players.
"It's really a huge defeat for al Qaeda and huge coup for ISIS," he explained.
Plus, Boko Haram's body count makes it one of the most lethal jihadi groups around, Guitta added. While the group only gained international infamy with the kidnap of hundreds of schoolgirls last year in Chibok, "they've been killing thousands of girls each year without anyone really noticing," Guitta said. "To have them on board is huge."
HOW CONCERNED SHOULD WE BE AND WHAT HAPPENS NOW?
That same bloodthirst could also hurt Boko Haram's chances of entering the ISIS fold, according to Henman, from IHS Jane's.
He said how ISIS reacts to the pledge of allegiance will be telling, given that the militants have yet to formally accept it — which could indicate a bureaucratic lag of sorts or that ISIS wants to distance itself from Boko Haram.
"ISIS isn't averse to massacres of a location population or two, but they do so for clearly political reasons," Henman said. "A lot of the violence that Boko Haram has been perpetrating against the civilian population has been fairly wanton and much more indiscriminate. That might put ISIS off."
While Boko Haram is "fully on board" with the ISIS model of punitive retribution, the group has not shown a desire to further the institution of statehood so clearly sought by the militants in Iraq and Syria.
"They have been doing all the bad stuff and none of the good stuff —the executions, the capturing territory, pushing the army out," Henman said."They take territory, but they don't seem particularly interested in governing or ruling it."
Previous Boko Haram overtures praising ISIS have not been reciprocated. If ISIS accepts the pledge of allegiance, the next step would be announcing the formation of a wilaaya — or province — in northeastern Nigeria.
If not, the likelihood is that the message will be communicated through back channels — possibly with a suggestion that Boko Haram demonstrate its commitment to the bigger picture, governance or statehood.
However, U.S. intelligence officials recently told NBC News that one obstacle to ISIS recognizing Boko Haram could be racism toward black Africans.
... SO WHAT IS THERE TO BE DONE?
In the meantime, there is a chance that other groups — particularly those previously aligned with al Qaeda — might follow in Boko Haram's footsteps.
For ISIS, the "key thing now is spreading their project across the Islamic world," Henman said. "So getting credible, capable groups in other parts of the Middle East and the Islamic world to declare allegiance to it proves that it's still a growing viable force that extends way beyond Iraq and Syria."
That makes the group a much more potent threat to governments around the world — and amplifies the difficulty, what with the war being waged on multiple fronts.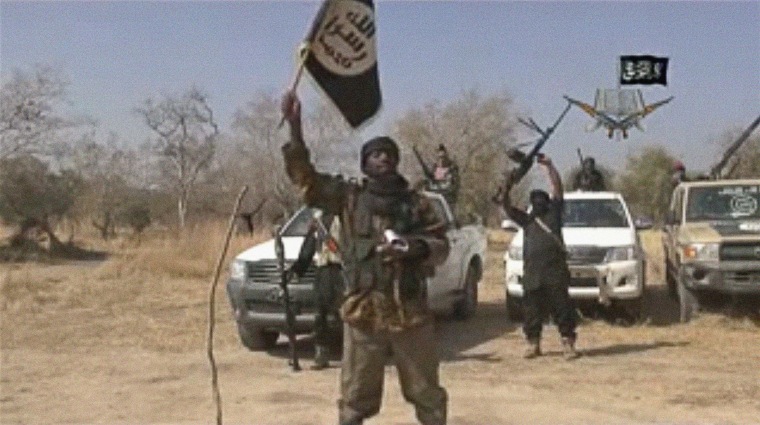 That's all the more reason to attack ISIS in Iraq and Syria, according to Ashraf.
"The reason we have Boko Haram joining [ISIS] is because al Qaeda has been defeated in all but name so we need to do the same thing with ISIS," he said. "As long as this myth of a state continues there'll be lots of people who are attracted to them… If we just sit and watch this, it will grow. We've got to stop it at its origin."
NBC News' Marc Smith, Rebekah Smyth and Robert Windrem contributed to this report.