The calamitous and chaotic civil war in Syria just got a lot messier.
The five-year-old conflict, which began with a government crackdown on peaceful protests, has drawn a confusing array of players and alliances, fueled the growth of ISIS, and spawned a refugee crisis. The United States can't seem to get its strategy right — and now it's grappling with Russia, which just launched its own bombing campaign.
Here's a look at where things stand now.
A newly-aggressive Russia
After giving the United States and its allies an hour's notice, Russia sent warplanes into Syria on Wednesday to conduct bombings in support of President Bashar Assad. Russia said it was bombing ISIS targets, but U.S. officials questioned whether the strikes were also targeting rebels trying to overthrow Assad, a longtime ally of Russia.
Earlier in the week, Russian President Vladimir Putin told the United Nations General Assembly that the only way to defeat ISIS was to back Assad. President Obama, however, insisted that the only path toward peace was by getting rid of Assad through a "managed transition."
Russia also went behind the United States' back last week and forged an agreement with Iraq, Syria and Iran to share intelligence about ISIS.
A determined United States
The United States and its military partners have not relented in their attempts to weaken ISIS by pounding the terror group's positions with airstrikes in Syria and Iraq. The campaign — dubbed Operation Inherent Resolve — is a year old now, and counts more than 60 countries as partners, including the Muslim states Saudi Arabia, Jordan, Bahrain and the United Arab Emirates. Together, they have conducted more than 2,500 airstrikes in Syria. The estimated cost so far: $3.87 billion.
Questionable results
All this effort, and ISIS just seems to keep growing. The group has reportedly drawn about 30,000 new recruits into Syria and Iraq, twice the estimate of a year ago. That includes 250 American citizens, according to government estimates.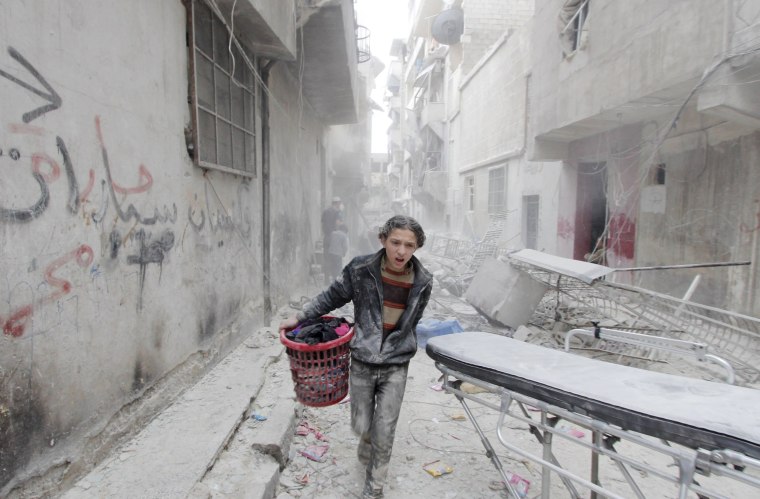 At the same time, a $500 million Pentagon program to train Syrian fighters against ISIS has only four or five still on the battlefield. The terror group's ability to direct and influence attacks around the world has only increased. The violence and economic collapse has killed tens of thousands of civilians and displaced millions from their homes.
Humanitarian crisis
More than 3.8 million Syrians have fled the country, driving a massive wave of migrants and refugees moving from the Middle East and Africa into Europe, which is struggling to accommodate the largest mass movement of people in Europe since World War II. Some countries have closed their borders, sparking more tension.
United Nations officials have said there is no end in sight for the humanitarian crisis, in which an estimated 8,000 people a day are pouring into Europe. The situation has also raised concerns of ISIS members moving among borders to conduct attacks in the West. One U.N. official has said that 10 million people were expected to need humanitarian support by the end of the year.
President Obama has promised to allow 10,000 refugees into the United States.
More turbulence ahead
Syria is divided among four groups — the government, strongest in the big cities and west; various rebel factions, strongest in the northwest; ISIS holding positions along the Euphrates River; and Kurdish forces controlling much of the northern border with Turkey.
The United States and the coalition it leads are trying to clear the Turkish border zone of ISIS influence. But Russia's escalating involvement in support of the government could have a profound effect on those dynamics.
The result is impossible to predict. The Institute for the Study of War forecast that the war would intensify, spark more disorder beyond Syria's borders and threaten the United States' influence.