MOSCOW — All eyes are on Russia's expanding military operation in Syria, but it is not the only place where President Vladimir Putin appears to be expecting trouble from terrorists.
Russia last week sent gunships to its biggest overseas military base — which is located in the ex-Soviet state of Tajikistan, close to the Afghanistan border.
The boost in firepower, along with the Taliban's recent advances in Afghanistan, has stoked fears that Central Asia — a impoverished and predominantly Muslim region — may become a second front for jihad.
"The situation there [in Afghanistan] is close to critical," Putin said Friday at a meeting with Central Asian leaders near Moscow, according to the Kremlin's website. "Various terrorists are gaining influence and don't hide their plans for further expansion."
Russia has a painful track record in Afghanistan. The decade-long Afghan war in the 1980s cost Moscow 15,000 lives and sped up the collapse of the Soviet economy — all without accomplishing the goal of propping up Afghanistan's then-Communist government.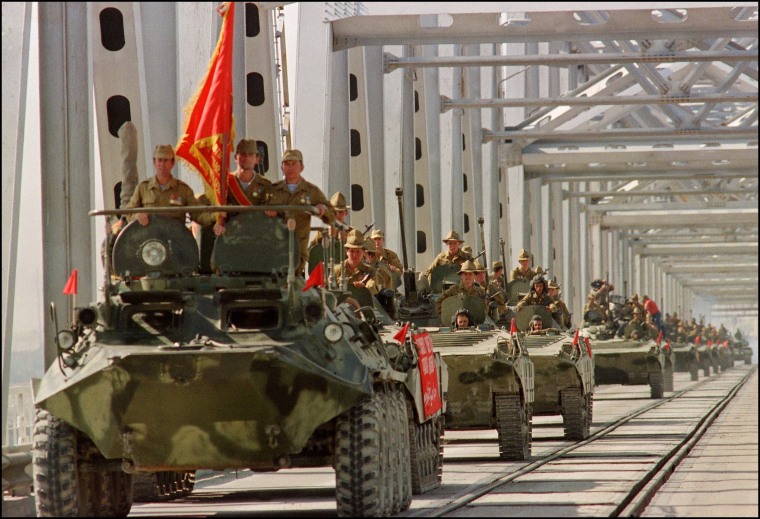 The Taliban — which itself was born in the struggle to expel the Soviet army during the occupation —returned to the international spotlight in late September after mounting its most successful offensive since 2001, briefly capturing the major Afghan city of Kunduz.
The city was later retaken by the Afghan army, aided by U.S. airstrikes, but Russia subsequently deployed gunships across the border in Tajikistan to strengthen its base, which hosts more than 6,000 soldiers.
The 201st Gatchinskaya Military Base, founded in 2004 and occupying three strongholds across Tajikistan, is designed to thwart a possible Taliban breakthrough into post-Soviet Central Asia, according to Simon Saradzhyan, a global security expert at Harvard's Belfer Center.
Taliban inroads in the former Soviet Union have been a growing concern in Moscow, and the movement's recent success, along with the rise of ISIS, has underscored the threat.
Hundreds of people in Tajikistan and neighboring Uzbekistan are reported to be fighting for ISIS, with more attending its training camps in Syria.
The Taliban has longstanding ties with Muslim extremists in post-Soviet territories including Russia's own predominantly Muslim regions of Tatarstan and Bashkortostan. ISIS has declared it wants to include these Russian provinces in its self-declared "caliphate."
"This is part of the global arc of instability. A 'second Islamist front' in the region is quite feasible"
A worst-case scenario envisages thousands of new recruits for the global jihad and even Islamist uprisings or a new wave of terrorist attacks in Russia, which is only separated from Central Asia by a porous and poorly-guarded border.
Security experts told NBC News the Taliban does not have the strength to make incursions on former Soviet territories.
"I don't see the Taliban cavalry charging north through mountain passes," said Alexei Malashenko of Carnegie Moscow Center.
However, Omar Nessar, who heads the Moscow-based Center for Contemporary Afghan Studies, said the Taliban may simply be waiting for the warmth of spring before acting. "They are definitely preparing for something in the north," he said.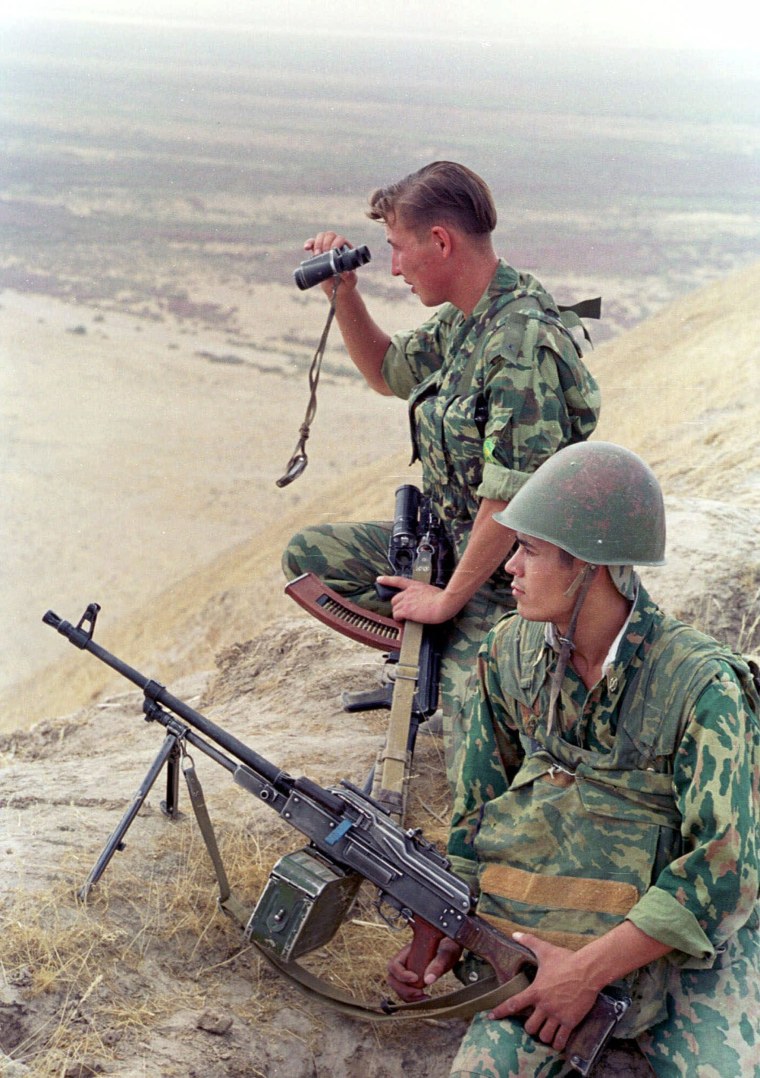 Defense officials in Moscow said Thursday that Russia may act to control the entire border between Tajikistan and Afghanistan.
Another concern for Moscow is a possible alliance between ISIS and the Taliban, experts agreed.
Despite the common goal of jihad, the two movements have been battling each other in Afghanistan. But Saradzhyan and Nessar agree that a loose alliance between the two is possible.
There are already between 2,000 and 3,000 ISIS fighters in Afghanistan and their numbers are growing, according to the Russian General Staff.
But a more fundamental reason to expect militant trouble north of Afghanistan is the policies of local leaders. Post-Soviet states in Central Asia are ruled by secular dictators who brook no independent groups of influence, including religious opposition.
Tajikistan, in particular, has mounted a crackdown on the Muslim faithful, last month disbanding the country's sole moderate Islamic party.
Experts expect that the suppression on believers will push many Muslims toward radical Islam.
Related: Taliban Contends With ISIS Encroachment
"[Tajik President Emomali] Rakhmon is digging his own grave," Malashenko said.
Even Tajik elites are radicalizing under pressure. In May, chief of the Tajik police special forces, Gulmurod Khalimov, defected to ISIS citing oppression against Muslims.
In September, Deputy Defense Minister Abdukhalim Nazarzoda dodged arrest and left for the mountains, leaving dozens of slain police and army troops in his wake. He was a prominent Islamist warlord in the bloody Tajik civil war in the 1990s that left between 50,000 and 100,000 dead.
Islamists were incorporated into government structures after the war — but now Rakhmon is purging them as possible threats to his power.
"This is part of the global arc of instability. A 'second Islamist front' in the region is quite feasible," Saradzhyan of Harvard's Belfer Center said.
However, he predicted that Russia will avoid another war as long as it can.
"The Russian military is already involved in Ukraine and Syria, and then there is the Afghan syndrome," he said, referring to Russia's own lost war in Afghanistan in the 1980s. "And any active involvement or preemptive strikes in Central Asia will only stir the fighting."