Thousands of civilians are in "immediate danger" and must be evacuated from "completely dire" conditions following ISIS' affront on a refugee camp, a U.N. official said Tuesday.
Some 18,000 civilians have been trapped with limited food and water in the Yarmouk camp near Syria's capital, caught between government forces and dueling rebel groups. Their already-tenuous situation deteriorated sharply last week when ISIS launched a push to seize control of the camp from rival armed groups like the al Qaeda-linked Nusra Front, setting off street battles and mounting alarm for those trapped in the crossfire.
U.N. Relief and Works Agency spokesman Chris Gunness said Tuesday the situation on the ground is "completely dire." No U.N. food, water or medical supplies have reached the camp in a week, he added.
"Lives are in immediate danger," Gunness said of the civilians — including 3,500 children — trapped by the fighting. "It is not impossible to work out what needs to be done: we're calling for a pause in the fighting and an evacuation of civilians."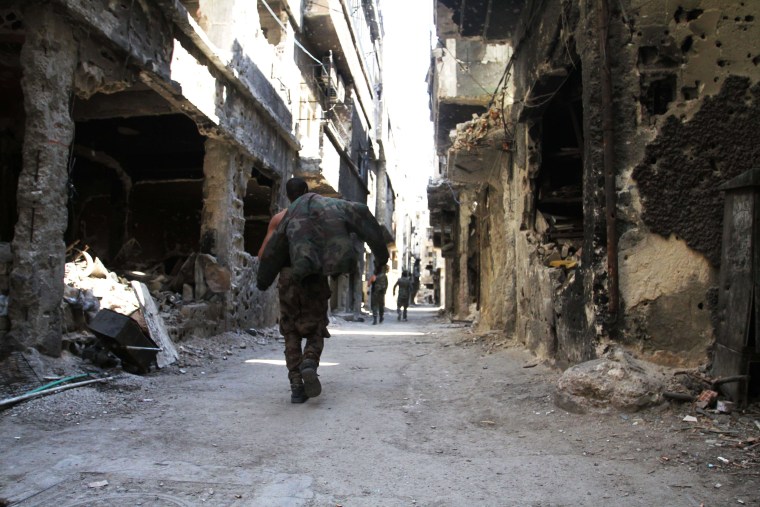 He stressed that — despite the presence of armed groups — an evacuation would be possible.
"We just need the parties on the ground to cooperate," he said.
U.S. Ambassador to the U.N. Samantha Power added her voice to calls for a cessation in hostilities, posting on Twitter late Monday that all sides must end the siege and allow civilians out.
Her remarks came after the U.N. Security Council convened an emergency meeting on Monday to address the crisis and get an urgent briefing from the head of the U.N. agency for Palestinian refugees, Pierre Krahenbuhl.
Krahenbuhl later told reporters it was "safe to say" that a significant percentage of civilians in the camp are now in the area under the control of armed groups and are experiencing "unbearable suffering," calling the situation "beyond inhumane."
"The situation has been turned upside down. Currently, it's simply too dangerous to access Yarmouk," Krähenbühl added. "Right now, what is on the mind of people at Yarmouk is bare survival."
He urged the U.N. Security Council to "think about" finding a way to evacuate those trapped, acknowledging that doing so would be a "highly complex undertaking" in a "delicate and dangerous" environment.
Amid the shelling and street fighting on the streets of Yarmouk, the London-based Syrian Observatory for Human Rights has claimed regime planes have dropped barrel bombs on the camp. NBC News was not able to independently verify the alleged use of barrel bombs.