Amal Clooney sat in a tent in a refugee camp in northern Greece, surrounded by members of Iraq's Yazidi community, who have been driven from their homes in a genocidal campaign by ISIS.
"I think the international community should be ashamed that they haven't done more for the Yazidis," Clooney, a human rights lawyer, told the men, women and children huddled around.
Over the last two years, ISIS terrorists who overran parts of Syria and Iraq have enslaved, raped and murdered Yazidis because of their ancient religion, which centers on a figure known as the Peacock Angel.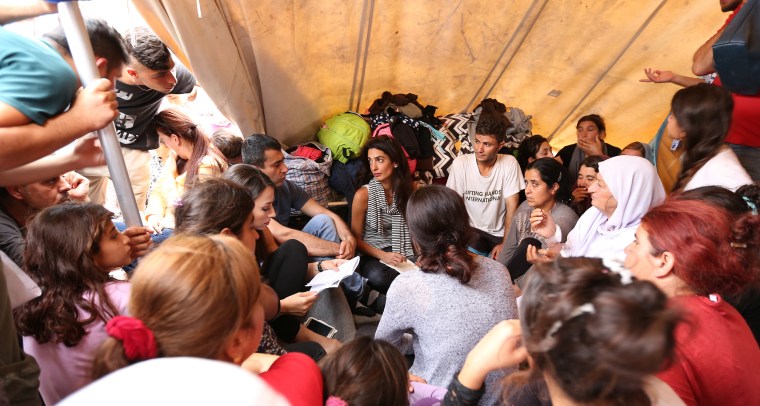 More than 5,000 have been killed and at least 3,200 others are still being held, according to a recent U.N. inquiry. Families have been ripped apart, and survivors and escapees have been forced to take shelter in crowded, rundown camps, one of them near Mount Olympus.
For the refugees, Clooney, who is married to movie star George Clooney, represents a ray of hope — that the world will recognize their suffering and that the fanatics who uprooted and brutalized them will be brought to justice.
Clooney was persuaded to take the case by survivor Nadia Murad, 23, who was captured by ISIS in 2014 but escaped after a hellish three months in which she was raped by a dozen men and prayed for death.
Together, they are trying to persuade the international community to start gathering evidence — from interviewing survivors to excavating mass graves — so the perpetrators can be tracked down and held accountable in a courtroom.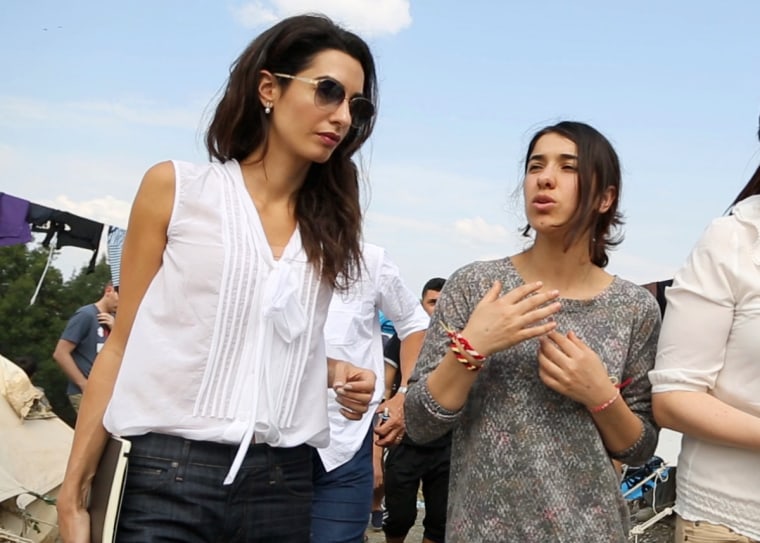 The ultimate goal is to get the International Criminal Court to prosecute the crimes committed by ISIS commanders against the Yazidis, for what the United Nations and U.S. State Department agree is genocide.
"Victims have all said they actually want their day in court," Clooney told NBC News in an exclusive interview over the weekend. "It's not going to be easy, but we're working on multiple fronts."
Last week, the two women made the rounds at the United Nations in New York, meeting with officials — including the U.S., Russian and Iraqi ambassadors — in hope of persuading the world body to refer the Yazidi slaughter to the ICC.
Watch: Yazidi Refugees Tell Chilling Tales of ISIS Atrocities
The ICC was set up in 2002 to prosecute crimes against humanity, but because Syria and Iraq are not members, the court says it cannot investigate unless Iraq invites it in or the U.N. Security Council sanctions an investigation. The Security Council has taken such an action only twice before, for crimes in Darfur in 2005 and Libya in 2011.
China and Russia, permanent members of the Security Council, have previously voted against asking the ICC to open an investigation into war crimes in Syria. Clooney says the Russians told her they are "open" to discussing an investigation, and she plans to meet with Chinese officials this week.
The diplomatic challenge does not daunt Clooney, an Oxford-educated lawyer who works for a London firm with offices in The Hague. Last year, she took on the government of the Maldives and won the freedom of the island nation's jailed ex-president, a pro-democracy activist.
That case had intense moments — her co-counsel was stabbed in the head — but this time, Clooney's adversary is one of the most bloodthirsty organizations in human history.
Asked about putting herself in danger, Clooney said, "I don't think anyone can feel that they're being courageous compared to what Nadia's doing and and what all the women who've suffered what Nadia's suffered are doing."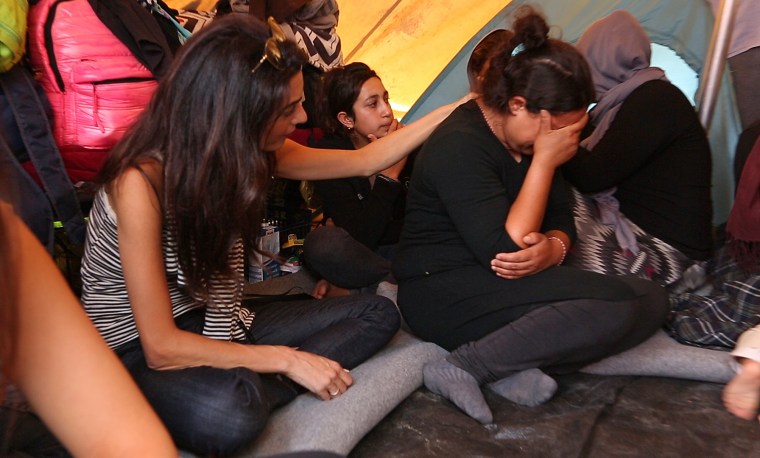 Before agreeing to take Murad's case, Clooney says, she discussed it with her husband, himself an activist.
"He met Nadia, too, and I think he was moved for the same reason," she said. "He understood I have spent my career working on international justice and this is a clear case of genocide and genocide that's gone completely unaddressed and ignored."
Murad, whose mother and six brothers were killed by ISIS, continues to get threats aimed at silencing her. One was sent through a young niece who was still being held as a slave and was subsequently killed, she said. Another came from a nephew who she said was brainwashed by ISIS after his capture at age 11 and enlisted as a "cub of the caliphate"
"Yes, I put my own life at risk, but I didn't have a life without giving hope to other victims," Murad said.
Since her escape, Murad has shared her story over and over, recounting how ISIS slaughtered her family and turned her into a sex slave, how her "owner" turned her over to six guards who raped her into unconsciousness.
She has become the face of the Yazidi plight through her organization — addressing the United Nations last year and testifying before Congress in Washington. She was nominated this year for a Nobel Peace Prize. Last week, after she was named a U.N. Goodwill Ambassador, she said she was born to be "a simple Yazidi farm girl," not to make speeches, but would continue her work until her people received justice.
Clooney also spoke at the session, delivering fiery remarks in which she said she was appalled that the world has failed to act against what she called "a bureaucracy of evil on an industrial scale."
"Genocide doesn't happen by accident," she said in her challenge to U.N. leaders.
Her remarks, she told NBC News, "were born out of a sense of outrage" stoked by the testimony she has taken from women in the refugee camps, accounts that are now evidence in her case file.
"It's been harrowing to hear the testimony of girls as young as 11 and 12 talk about what's happened to them. And still we haven't been able to do anything about it," Clooney said.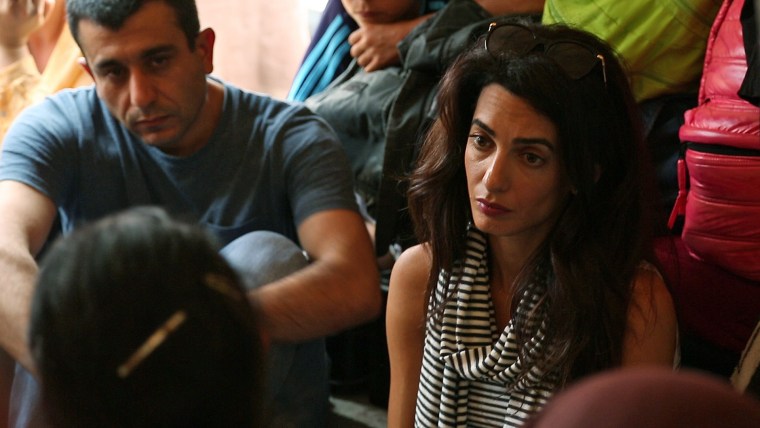 In Greece, one woman told Clooney how she was taken to a school in the mountains after her 2014 capture. Families were separated, with the youngest girls taken to the top floor.
"I saw them kill my cousin," she said.
For 10 days, her captors starved her, raped and beat her, and forced her to read the Koran, she said. She and six others finally escaped from a bathroom while a guard was high on drugs and hid in a cave until British and Syrian forces spirited them to safety.
"Is it important to you that those responsible for these crimes are brought to justice?" Clooney asked.
"That's what we wish," the woman answered.
Watch: Yazidi Women Sold by ISIS Tell of Slave Auction
After visiting two camps in Greece, Clooney and Murad traveled to an innovative German program that took in 1,100 Yazidi survivors from Iraq and is giving them shelter and a chance to obtain asylum and start new lives.
There, Clooney took testimony from a 46-year-old woman who was pregnant when ISIS captured her and who gave birth while she was a prisoner. She hugged the woman's little girl and noted a tiny coincidence between them.
"My name means 'hope' in Arabic, and I was born when there was a war in Lebanon," Clooney said. "And she was born in ISIS captivity, and her name means 'hope' in Kurdish."
Murad said that for her people, hope is the thought that those who tried to wipe the Yazidis off the face of the Earth will be charged with crimes.
"When we see them in court and see them held accountable for their crimes, that will make all survivors happy, not only myself," she said.
Clooney said Murad, who speaks softly and simply, told her that before ISIS came to her village what she treasured most was "her mother and her dignity."
"She still has her dignity," she said.
While they may have an uphill battle ahead of them, Clooney said, neither she nor Murad will give up.
"She can't think about her own life or safety until she knows that there's some process where ISIS is going to be held to account for their crimes. And, unfortunately, we're still far away from that happening," she said.
Citing the Nuremberg trials of Nazi leaders after World War II, she added: "I believe in international justice. I believe it's important that you don't just turn the page without people being held to account."