It began with coalition airstrikes that pounded ISIS positions in three villages until early morning. Black and white smoke rose from the targets. As more than 100 Kurdish troops prepared to move in, they were joined by half a dozen volunteers.
They were Americans — not working on behalf of the U.S. military but volunteers to the cause of battling the militants. They had just arrived in northern Iraq, and they were getting an early taste of the fight.
Aaron Core, an American volunteer from Tennessee, said he joined the fight out of a desire to help people and because he missed being a soldier. "The most joy I had on my first deployment was handing kids candy or buying soccer balls for them," he told NBC News. "To see a child smile as if what is going around them doesn't exist make me feel great."
Core and the others said the Peshmerga have been appreciative of their support and expertise. He said that what has helped ISIS grow stronger is the presence of foreign fighters in their ranks, and said the Kurdish fighters could similarly benefit.
"I do believe that if more people joined up with the Peshmerga it would be wonderful," he said.
Another soldier, Jeremy Woodard, said fighting alongside the Kurds has been "amazing."
"They are the type of people that would give you their shirt off of their backs if you had nothing at all," he told NBC News, adding: "It's just a shame that they don't have all the support that they deserve."
Woodard said he first got in touch with the Peshmerga in July and joined their ranks "to show them that there are still people that still care."
"The people here...I see them all suffering and so hurt and my question is, why should it just be them (the Kurds) that has to sacrifice everything not only for their people but for the whole world?" Woodard said.
On Tuesday, they joined the Kurds as they moved into burning, deserted villages. Bulldozers piled fresh earth into new defensive lines. At the entrance to one village, the Kurds had painted over the mural of a black flag, a remnant of ISIS control.
"They're taking over cities that hundreds of Marines and soldiers died for," one of the American volunteers, Ryan Gueli, of Ohio, told NBC News. "If they're allowed to get more powerful you just leave them to your children to fight, and that's not right."
The Kurdish militia has estimated that there are more than 100 Americans helping them fight ISIS, most of them veterans. They are unpaid volunteers who served in Iraq with the U.S. military and felt drawn back to the country and the new cause.
One of them, Samuel Swan, from Texas, described ISIS as "pure evil" and said he wanted to do his part "so they don't do it back home."
As they moved through the villages on Tuesday, the Kurdish troops were wary of venturing into houses for fear of booby-trap bombs.
"They're taking over cities that hundreds of Marines and soldiers died for"
As he finished talking to his men at an intersection, the Kurdish commander, Gen. Araz Abdulkadir, decided to press on and take a fourth village two miles away, the ISIS flag flying above it. The Kurds jumped into Humvees and pickup trucks and were off.
They pushed into the village. One Humvee chased three men who fled. Suddenly there was an explosion: An IED had detonated under the lead Humvee. Three Kurdish Peshmerga fighters inside were reported injured. The Kurds brought in engineers who detonated three more IEDs left by the retreating ISIS fighters.
As they spread out in the village, four or five homes caught fire. Then gunfire erupted from houses half a mile away. ISIS gunmen were hitting back. Just as suddenly as they had gone in, the Kurds pulled back.
Core, who said he's been in Iraq for nearly three weeks, said later that he was not surprised by the ISIS bombs or gunfire. Core said he did one tour in Iraq with the U.S. Army in 2009-2010 and is familiar with Southern Iraq.
"It's war," he said. "Expect the unexpected."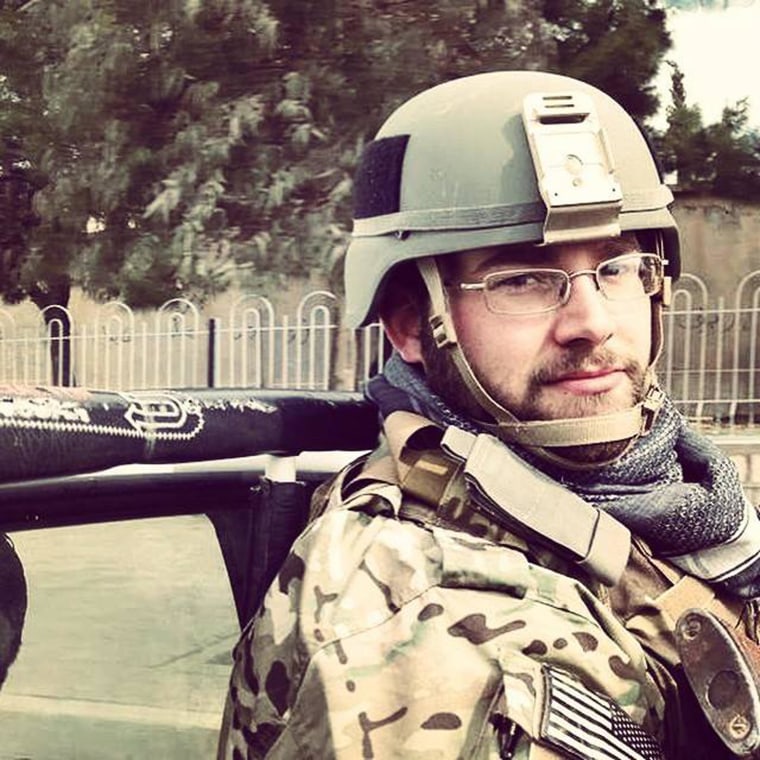 After 10 minutes, the Kurds opened fire on the ISIS fighters, who they believed were ready to counterattack. Then came several chaotic minutes of sustained gunfire toward fields, trees and buildings where the Kurds thought the ISIS snipers were based.
The Kurdish commander was confident that ISIS would not retake any of the villages. "They're finished," he said. "They're running away." He later said that three ISIS militants had been killed and the fourth village secured.
Kurdish artillery opened fire on the ISIS positions. The Kurds showed NBC News a tunnel that ISIS had built in the garden of one house that served as their local headquarters.
Six feet high and 50 feet long, it could be used to protect fighters from airstrikes or hide them from men searching for them. The Kurds found it, but not the ISIS militants who used it.
"They're finished ... They're running away."
At day's end, the Kurds were jubilant. "Victory!" one cried as his truck sped him away from the battlefield.
It was a small victory, a few villages and few more miles of ground recaptured from ISIS after nearly a year. Bit by bit, village by village, Kurds are confident they are taking their country back.
The American volunteers were satisfied that they had at least begun to do what they came here for — attack ISIS and defeat them.
"A lot of progress has been made," said Woodard, from Colorado, who said he was deployed to Iraq previously with the U.S. Army from early 2006 to late 2007. "ISIS are still out there, but they're pushing back. It's going to take time."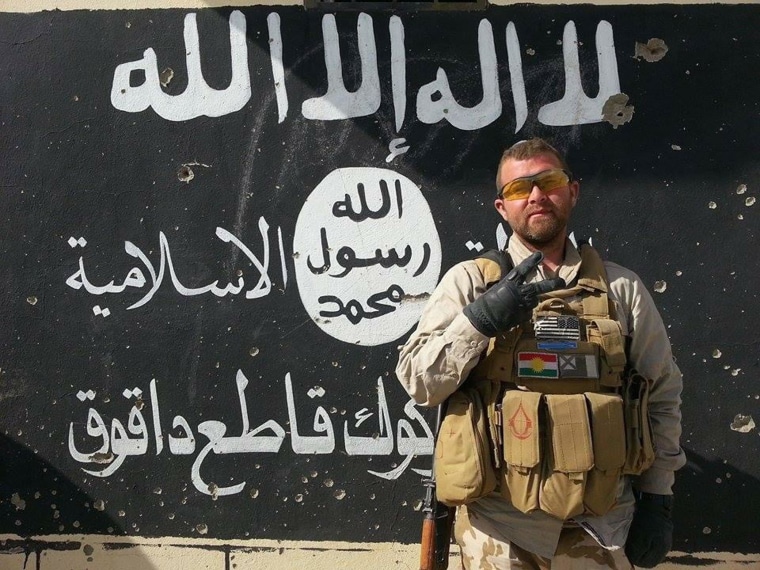 Becky Bratu contributed to this report.