KOBANI, Syria — The tip of 26-year-old Viyan Peyman's rifle pokes through a hole in a wall on the front line of Kobani, a Syrian city that has been under ISIS attack for the last two months. Peyman is laying on a mattress, dressed in fatigues.
The room, in what until recently was a family home, is now a sniper's nest, dirty and darkened by a thick curtain.
She hides behind heavy sandbags, scanning for her next target in the street below. Her finger is always on the trigger. She fires shots sparingly to save ammunition and to hide her location.
Kobani is now a city of snipers, and, less than 200 yards away in an adjacent building, an ISIS fighter has his weapon trained this way. "ISIS are just across the street, and when I see them, I shoot them," Peyman says.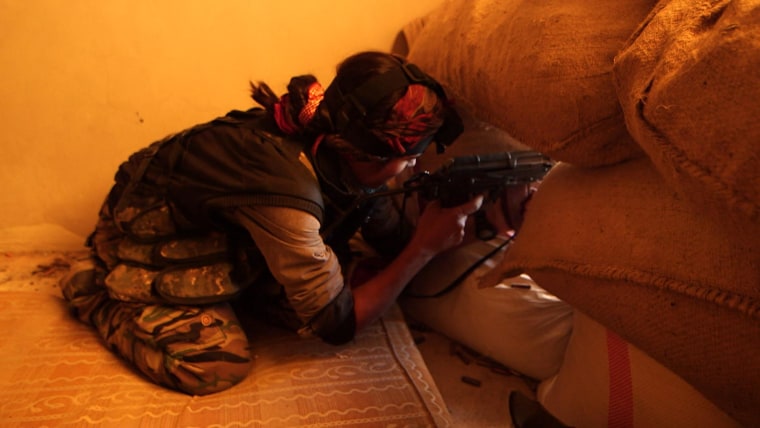 She speaks eloquently in Kurdish with poetic flourishes.
She was a teacher before the war. "As women we need to stand shoulder to shoulder with our male comrades and fight ISIS," she says.
The Kurdish fighters here all call one another comrades. They're secular nationalists. They have no ranks. ISIS propaganda videos claim the group has captured 90 percent of Kobani. It's not true.
During four days in the city, it appeared to NBC News that the Kurdish fighters, mainly of the People's Protection Unit and the Women's Protection Unit, control about half of Kobani. ISIS controls the other half.
Between Peyman and another female fighter is a box of homemade grenades. Made of empty cans, they use nails, screws and bolts for shrapnel.
The fighters "light it and throw it out," Viyan says, gesturing to the hole in the wall. Asked why there were so many women on the front line, she proudly declared that it was in their blood.
"We stand and fight, especially here in the Middle East, where women are treated as inferiors," she says. "We stand here as symbols of strength for all the women of the region."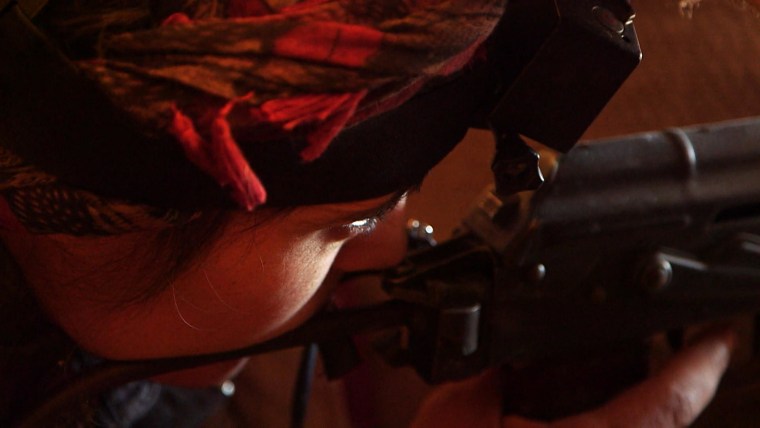 Peyman has already bled for her city. She was shot twice — once in the leg, a second bullet in the stomach — but she returned to her post.
Her goal, she says, is to defend both Kobani and women's rights. Inside its self-declared caliphate, ISIS has forced women to wear veils. The group has taken women as prisoners, raping and enslaving them, according to rights groups.
"I promised myself that no matter where there is a minority that is under attack, I will be there to fight for their rights. That's the pledge I made," Peyman says.
During a brief pause in the fighting, she steps into the hallway to smoke a cigarette. She sings a folk song she wrote herself.
The lyrics honor friends she's lost. Shots ring in the background as she sings. The fight for Kobani is far from over.
For ISIS, crushing these secular, pro-U.S. fighters would be a major propaganda victory. But fighters like Peyman are putting up a fight the militants appear not to have anticipated.
They are strong women and brave men standing their ground and defending their homes. For now, at least, Kobani is holding on.
Carlo Angerer of NBC News contributed to this report.