Abu Shahed first realized his 11-year-old son was being brainwashed by ISIS when he saw the fourth-grader's textbooks.
They were filled with images of "bombs, guns, machine guns, tanks, warplanes and other war symbols," the father of four recalled.
The militant group's black flag also featured in materials given to children at the ISIS-run school that Abu Shahed's son was forced to attend after the militants captured the Syrian town of Al Bukamal in 2014.
"My son changed a lot at school and became very pro-ISIS," said Abu Shahed, who now lives in Turkey with his family and like others interviewed by NBC News did not want to give his full name out of concern for relatives sill living in Syria.
"Me and my wife knew that we had a little spy at home," he said.
As ISIS continues to lose territory across Syria, families are grappling with the effect the militants' education system has had on their children and the reality of what could be a generation of radicalized youngsters.
Related: Jihadi Who 'Likes the U.S.' Says He Knows How to Stop Terrorism
ISIS has invested heavily in ensuring that children become jihadis, in an attempt to outlive the impending collapse of its so-called caliphate, said Rachel Bryson, an expert in the radicalization of children under ISIS at the Tony Blair Institute for Global Change in London.
"ISIS' central command hope that the children educated within their caliphate will carry on Baghdadi's vision," she said, referring to the ISIS leader Abu Bakr al-Baghdadi.
Other Syrians living in Turkey, far from ISIS' clutches, said they, too, had witnessed evidence of radicalization in their children after attending ISIS-operated schools.
Abu Shahed's wife, Umm Shahed, said she still did not feel entirely comfortable around her son. "He's now 13 years old, and I still can't trust him," she said.
A 39-year-old father of three said he also was forced to send his sons Ali and Mohammad to an ISIS school.
"One year later I had two ISIS suicide bombers at home," he said, adding that Ali had learned to count to 10 using empty bullets. "All they talked about were car bombs, guns and how to become a fighter."
Another man, a former teacher who also did not want to give his name out of security concerns, corroborated the families' accounts, saying he was forced to teach children ISIS propaganda.
"I was teaching them to become a young terrorist," he said, explaining that ISIS rolled out a country-wide education system in May 2015. "I was simply brainwashing them."
The man, 34, taught in a rural area of the Euphrates Valley, and said the militants would set up cameras in most classrooms to monitor the lessons.
The man provided a copy of a math textbook to NBC News that showed images of guns, bullets and tanks in explaining basic arithmetic. An ISIS English language workbook used the positioning of military vehicles to teach the use of prepositions and illustrations of bombs to how to read the time.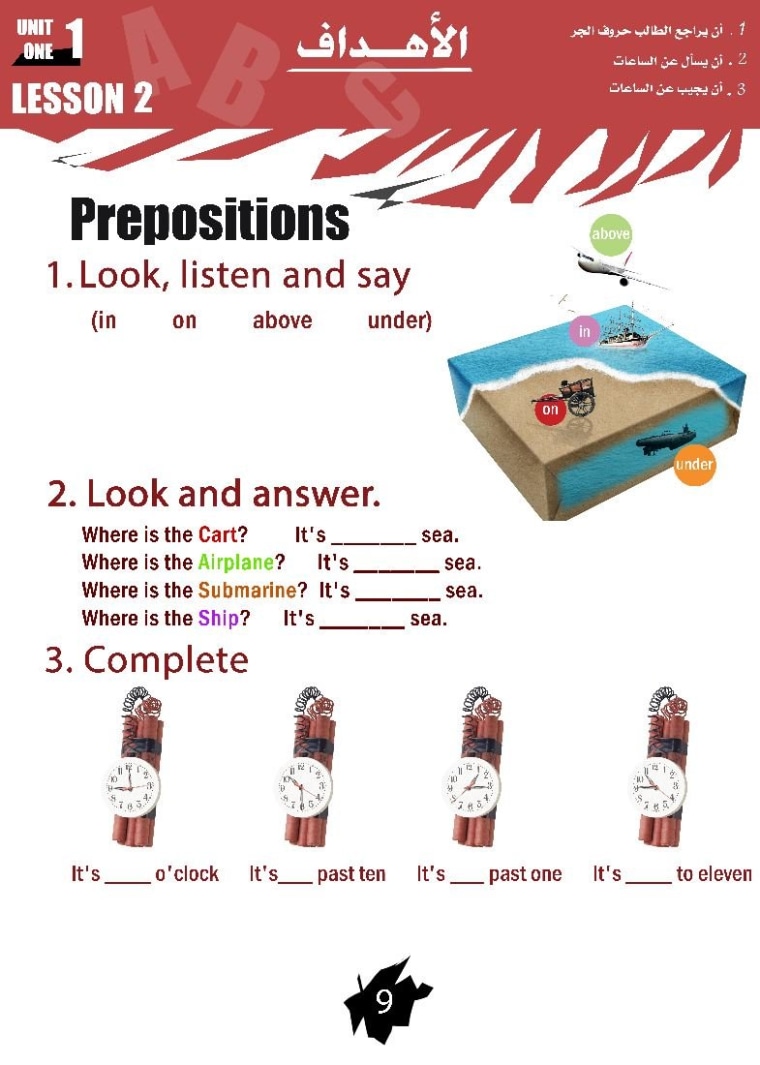 The former teacher, who also now lives in Turkey, said he witnessed first-hand how some of his students became increasingly aggressive and full of hatred as he taught them ISIS' curriculum.
Analysts say the challenge now is trying to normalize these children's lives so they can erase the indoctrination and learn to contribute to society.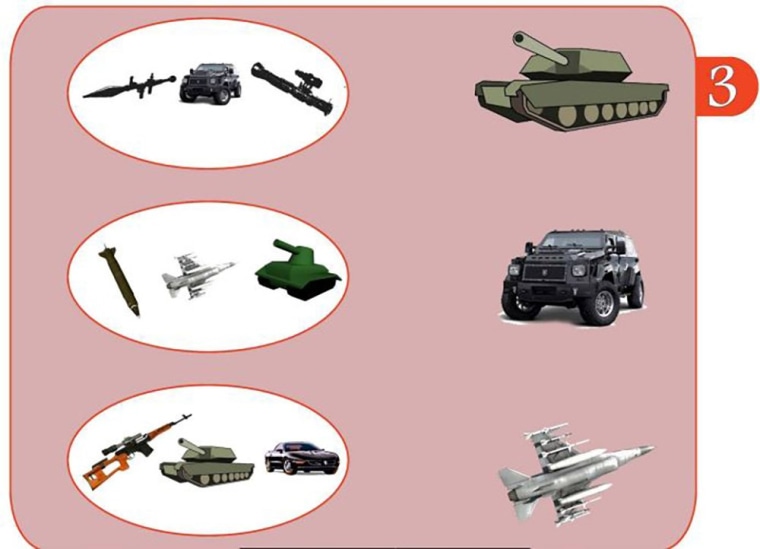 "Children who have been brought up on ISIS' curriculum have been desensitized to violence and exposed to a destructive ideology," said Bryson, who said the children needed psychological support to recover from what they had witnessed. "The extreme ideology that has engulfed ISIS' youth must be critically engaged with in safe environments, unraveled and exposed for what it is."
Misty Buswell, Middle East regional advocacy director for Save the Children, agreed, saying that many of the children who had lived under ISIS had "completely shut down."
Research conducted by her charity among children who had lived under the militants in the Iraqi city of Mosul found that some youngsters were losing their ability to feel emotion, she said.
"They were feeling numb and were not really able to think about their futures," Buswell added.
Many of the children were also having nightmares and could become aggressive.
While Buswell said it was possible for these children to live normal lives, she warned it would take years of support, including programs to help them express their emotions and talk about their experiences. Others may need more intensive counseling, she added.
While many school buildings in Syria have been destroyed, progress could be made by simply creating safe places for children to learn and play, Buswell said.
Tamara Kummer, a spokeswoman for UNICEF, said all children in Syria needed access to schools, with many requiring additional support to recover from the traumatic experiences they had lived through.
But even as the so-called caliphate crumbles, she said it was too early to talk about normalization for children across the war-torn country.
"Unfortunately the violence is far from over and children continue to die and suffer in a war that isn't of their making," Kummer said.
Ammar Cheikh Omar reported from Turkey, and Saphora Smith from London.