KHAZER CAMP, Iraq — Battle-hardened militants were far from the most terrifying thing for many women living under their harsh rule in the ISIS-conquered city of Mosul.
"I was much more afraid of women," said Umm Fatma, referring to female members of the terror organization's morality police, known as the Hisbah.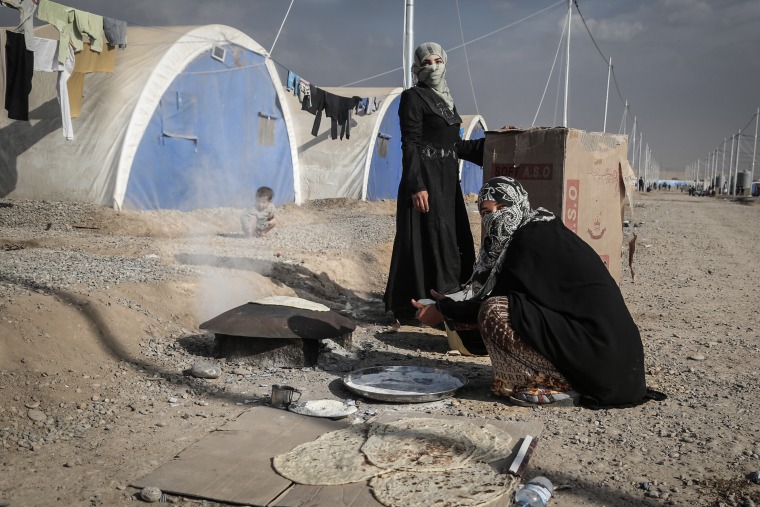 "The women would beat you for the smallest thing — how you looked or how you wore your headscarf, " the 28-year-old mother of three who arrived at the Khazer Camp last week told NBC News. "They used whips and metal sticks."
Restricted in where they could go and what they could wear while in Mosul, refugees described living in fear of the Khansaa Brigade, the all-female ISIS Hisbah units who patrolled the streets tasked with enforcing an extreme version of Shariah law.
Umm Azma, a 31-year-old mother of eight, said the female morality police favored a torture tool known as "the biter" — metal prongs designed to clip chunks of flesh as punishment for women who violated strict ISIS' dress codes.
"They used this on my neighbor who was cleaning in front of her house without the headscarf," said Umm Azma, gesturing to her own upper arm to illustrate where the tool had been used. "Then they took her away for lashings. She never came back."
Related: A Real-Life Horror Movie Unfolds as ISIS Loses Control
While it is not possible for NBC News to independently verify such accounts, several female refugees interviewed this week shared similar stories.
The female units and the torture device were also described in a Human Rights Watch investigation of the suffering faced by female victims of ISIS.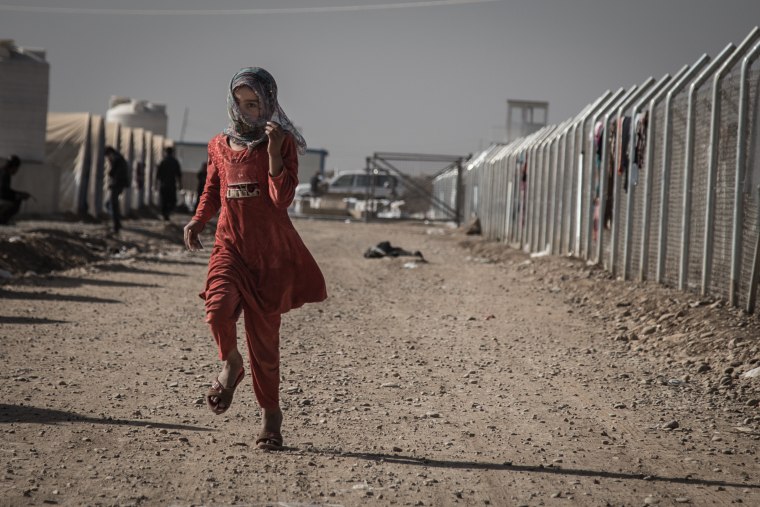 More than 58,000 Iraqis have been displaced since military operations to clear Mosul began on Oct. 17, according to the United Nations High Commission for Refugees.
Many have sought refuge in camps like the one in Khazer, where they may be free of ISIS, but are far from home and haunted by their traumas.
Traumatized by years of conflict
Umm Ali has been through hell and back. Twice.
She said that a Shiite militia killed her 11-year-old son Omar in 2007, during the height of Iraq's sectarian war — forcing her family to abandon their home in a Sunni Baghdad neighborhood for the then-relative safety of Mosul.
Umm Ali and her husband were just starting to rebuild their shattered lives when tragedy struck again: In 2014, jihadist fighters seized Mosul, declaring the founding of a modern-day caliphate.
For two years she lived in a state of constant fear, witnessing beatings, executions, and terror while under ISIS' oppressive rule. Last week, she and her husband again abandoned their homes for the safety of a camp for displaced people in Khazer.
"I lost my life in Mosul and I lost my heart in Baghdad," said Umm Ali, 54, wiping away tears with the corner of her black and blue headscarf. "I don't want to go anywhere in Iraq — I want to leave this country."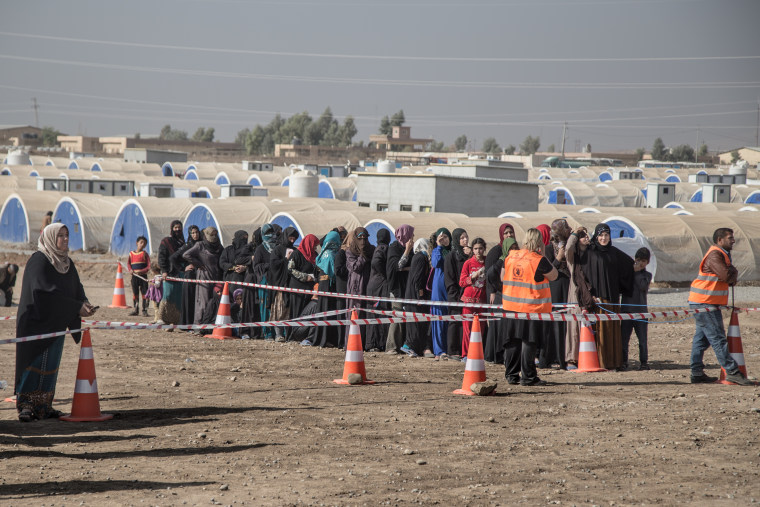 For women, life in the camps offers its own set of challenges.
Aid agencies have had time to prepare tents and bathroom facilities, but several women interviewed by NBC News said they didn't have enough supplies such as baby formula and hot water for showers. Privacy was another issue, as each family was assigned to a single tent.
"Until this week, all we had to feed the children was biscuits," said Sabah, a 28-year-old mother of three who declined to provide her last name because of relatives still trapped in ISIS-controlled parts of Mosul. "I just want to go back home as soon as possible."
But for Sabah and the other refugees here, the wait is likely to be a long one.