We've become accustomed to seeing leaked documents, stolen from governments and corporations but we never expected to get our hands on the raw intelligence treasure trove known as "The ISIS Files." The man who gave us the files was hardly a classic whistleblower.
By his own account, the man, who calls himself "Abu Mohammed," is an accomplice to murder and a thief. He claims to be an ISIS defector and says that he stole a memory stick from ISIS, so he'd have something to trade and that he had no idea what was on the memory drive when he stole it, only that it was valuable.
To help us understand the files, experts from the Combating Terrorism Center at the U.S. Military Academy at West Point extensively reviewed them. Their conclusion was that the files are genuine, and collectively represent the biggest database on ISIS foreign fighters outside of government hands. An official at the Combating Terrorism Center said that they compared the documents with another collection of similar forms which the Department of Defense obtained from another source.
"This comparison found that approximately 98 percent of the NBC documents could be corroborated," said Brian Dodwell, the deputy director of the CTC.
Related: Leaked ISIS Personnel Files Paint Picture of Group's Recruits
The leaked files include thousands of entry forms which appear to have been filled out by foreign recruits upon arriving in ISIS territory in Syria. The entry forms list personal details about the fighters, including their full names, emergency contacts, nationalities, countries of residency, countries visited, special skills and, critically the name of the person who vouched for each fighter.
The files include the details of more than 4,000 men who entered Syria from Turkey in 2013 and 2014.
NBC News can't verify the story Abu Mohammed told us about how he stole the documents, only that that this is how he claims he obtained them.
Abu Mohammed, a burly man in his mid 30s, or perhaps early 40s, covered his face with a scarf and asked for his voice to be disguised. He then described, on camera, how he joined the popular uprising against Syrian President Bashar al-Assad five years ago. Like many protesters, he said, he was arrested by Syrian officials and released after paying a bribe.
After that, he says, he took up arms, joining one of a loose network of rebel factions collectively known as the Free Syrian Army. As protests gave way to a civil war, Abu Mohammed said he switched between several different armed groups. He said he eventually joined the Nusra front, a radical Islamist faction linked to al-Qaeda but which has often fought alongside more moderate rebel groups.
He says he was in the city of Raqqa when ISIS took over. Although ISIS is also a radical Islamist group, it does not tolerate rivals, even other jihadists. Abu Mohammed said he was jailed by ISIS and forced to join their ranks. He says his role was to hunt down other rebels like him. He says at times, he was helping ISIS find his old friends.
"Any wanted person, we would go and get him. I knew some people that were wanted, and their end was slaughter," Abu Mohammed said.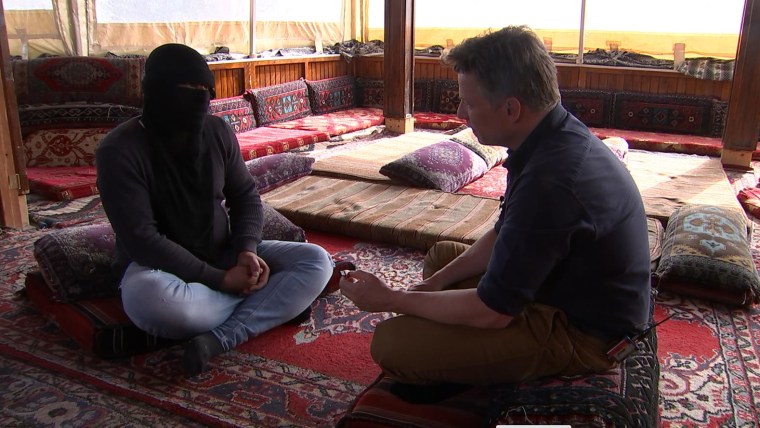 Abu Mohammed says he eventually earned the trust of ISIS officials and assigned to ISIS's internal intelligence division known as the Amniaat.
A senior U.S. official told NBC NEWS the Amniaat division is also responsible for "external attacks," outside ISIS controlled areas in Iraq and Syria.
Abu Mohammed says that, while he never truly supported the ISIS ideology, his resentment grew even stronger over time.
He said the group's systematic rape and enslavement of Yazidi women had a strong impact on him. Yazidis are members of a small religious group who mostly live in Northern Iraq. ISIS claims Yazidis are devil worshipers and has bragged about turning Yazidi women into slaves and concubines for the fighters who killed their husbands.
"I saw women raped. I saw them butchering children in front of their mothers ... they rape them in turns, one would pass her to the next guy and so on," Abu Mohammed said.
Related: Yazidi Women Tell of Rape and Enslavement at Hands of ISIS
Abu Mohammed said he decided to become a deserter, but before he snuck out of Syria, he says he stole a flash drive from the office of one of ISIS's senior leaders. He didn't exactly know what was on the drive.
Just that it was top secret. He thought having something of value from ISIS would be useful for him to trade or sell as he tried to set up a new life in Turkey or elsewhere. He said he also wanted to do as much harm to ISIS as he could.
"Any wanted person, we would go and get him. I knew some people that were wanted, and their end was slaughter"
"I took the flash drive and gave it to my wife. I asked her to go to Turkey."
Abu Mohammed said his wife wrapped the little flash drive in plastic and hid it inside their baby's diaper. He said he didn't think ISIS guards at checkpoints would search a baby's diaper, fearing it might be soiled and impact their ability to pray. They couldn't pray as long as they were unclean.
"I knew where they would search and where they wouldn't search," he said. To cover his tracks, Abu Mohammed says, he showed up for work for several more days after his wife left.
"As soon as it went missing, they turned the offices upside down, they investigated the people in charge," he said. To keep the ruse going, Abu Mohammed says, he participated in the beating of several people ISIS suspected of stealing the flash drive with the documents.
Abu Mohammed eventually escaped to Turkey which is where we met and interviewed him. We asked him why he decided to have the documents made public, which was bound to make him an even bigger target for ISIS retaliation.
"The goal was to hurt ISIS," he said. "My goal was to hurt them."