A wave of airstrikes targeting ISIS commanders at a meeting in Iraq has killed scores of militants, including several senior figures, the country's military has said.
The strikes, carried out Feb. 11 by an Iraqi F16, resulted in the death of 77 extremists, including 13 senior commanders, in Anbar province near the border with Syria, the Iraqi military said in a statement on Monday.
One of the airstrikes also targeted the terror group's supreme commander, Abu Bakr al-Baghdadi — but officials have been unable to verify if he was at the location at the time of the attack and there was conflicting information about his status.
Two senior Iraqi military officials told NBC News that they were sure al-Baghdadi was in one of the locations that was bombed but had been unable to confirm if he escaped or had been injured or killed.
"We are still investigating through our sources," said a senior security official. "ISIS militants had cut off the internet connection in Qa'im, and it is hard to keep in contact with our sources there, therefore we cannot confirm now if he was killed, or at least injured."
Both officials spoke on condition of anonymity because they are not authorized to talk to the media. NBC News has been unable to independently verify details of the strikes or identities of the individuals killed.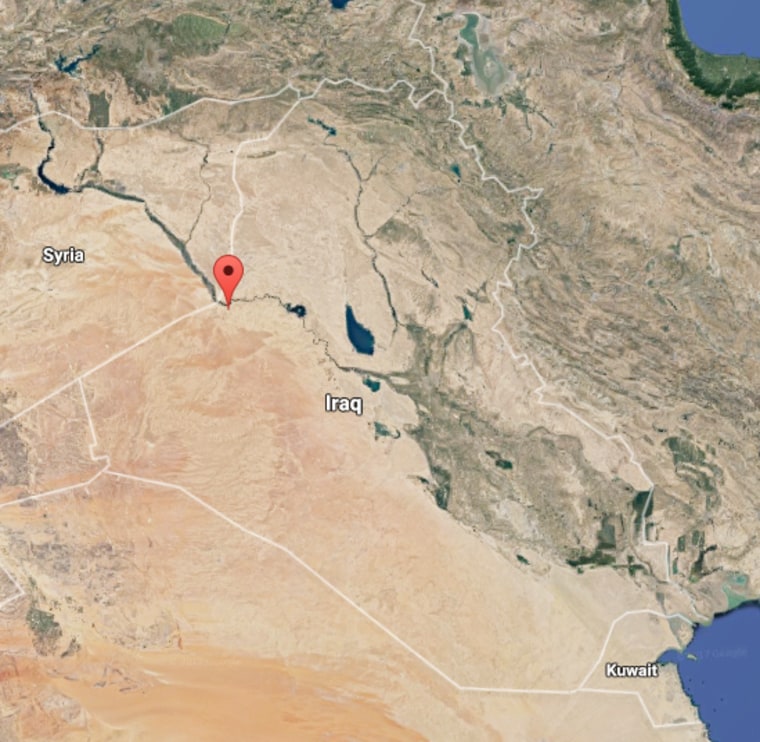 Al-Baghdadi, whose death would represent a huge symbolic victory to the forces arrayed against him, has been reported wounded and even killed in the past. One such report, in a British newspaper, alleged that he had been killed in a June 2016 coalition bombing raid in Raqqa, Syria.
American military officials deferred to the Iraqi military Tuesday when asked about the airstrikes.
"It was their strike — they announced it," Capt. Jeff Davis told NBC News. "We don't have any information to corroborate it. Baghdadi is somebody we'd like to see meet his end, but we've not had any info to corroborate."
The U.S. is part of a coalition of countries battling ISIS, which overran swaths of Iraq and Syria in 2014. The extremists have since been driven out of most of their urban strongholds since but are still entrenched in Iraq's Mosul and Raqqa — the group's self-declared capital.
According to Tuesday's Iraqi military statement, a convoy of land cruiser vehicles carrying several ISIS figures, including al-Baghdadi, left Raqqa on Feb. 9, and proceeded to the town of Abu Kamal on the Iraqi-Syrian border.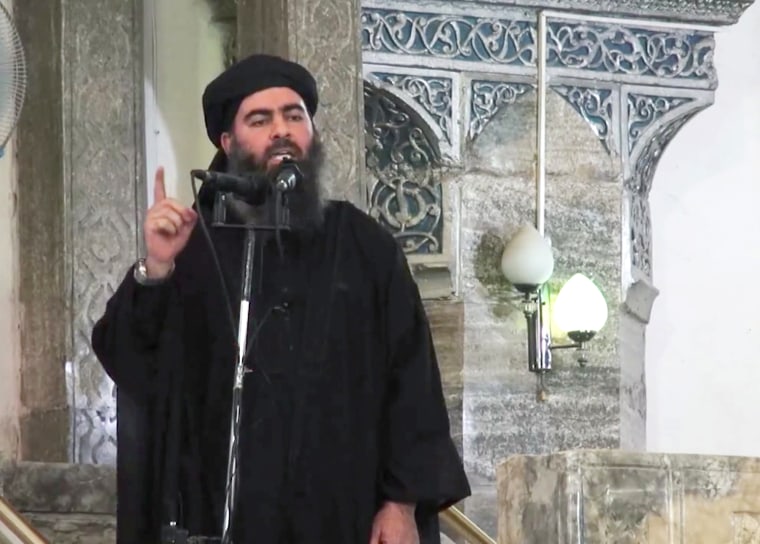 The following day, the group moved into pick-up trucks and proceeded to a property belonging to ISIS commander Abu Khalil al-Azawi in the Iraqi town of Al-Ubaidi, accompanied by a protective escort of two unmanned aerial vehicles (UAVs).
Once at their destination, a number of ISIS fighters began to implement security procedures and surrounded the property, the Iraqi military said. It is believed al-Baghdadi was in the area to meet senior ISIS commanders from Iraq and further afield to discuss the collapse of Mosul, which has been under siege from U.S.-led forces since since October.
Related: The Secret Life of ISIS Leader Abu Bakr al-Baghdadi
Among the senior ISIS figures alleged by Iraq to have been killed in the airstrikes were Abu Hussein al-Quraishi, who Iraq says was involved with chemical weapons, and Abu Usaid, an ISIS commander in Mosul.