As President Trump embarks on a nine-day trip to meet with U.S. allies in the Middle East, counterterrorism officials and experts say ISIS and al Qaeda are trying to use his rhetoric and military moves to turn Muslims against the U.S.
"There's a lot of jihadist propaganda that conveys the U.S. as increasingly incompetent and Islamophobic under Trump," said Alex Kassirer, senior analyst at Flashpoint Intelligence, which monitors jihadi web posts for NBC News.
A U.S. counterterrorism official confirmed that on the social media accounts most closely associated with the core of ISIS, there has been discussion of Trump's rhetoric. The official said the same narrative, particularly about Trump's so-called Muslim "ban," is found in ISIS recruiting forums.
Related: Does the Trump Administration's Islam Rhetoric Make the U.S. Less Safe?
While ISIS has the largest social media presence among Islamic terrorist groups, Kassirer said that al Qaeda and its affiliates have been active in their messaging about U.S. policies under Trump.
"There's been a jihadist-wide uptick in this narrative, including not just ISIS, but al al Qaeda as well, and actually al Qaeda and its affiliates have been more vocal," said Kassirer.
Just nine days into the Trump presidency, on Jan. 29, Navy Seals raided a Yemeni village on January 29. Fourteen jihadis were killed as well as several women and children. The raid also resulted in the death of an American SEAL.
The raid was condemned by Al Qaeda in the Arabian Peninsula (AQAP) on Jan. 31.
"This criminal raid came only a few days after the new American President Trump took the reins of power," said a social media post, "thus confirming to the world that America is still the bearer of the banner of criminality against the oppressed in the world and that America persists on targeting Muslim peoples and unjustifiably attacking women and children in the ugliest of images."
Related: ISIS Wins the On-line War With Al Qaeda
One of the dead was Nawar "Nora" al-Awlaki, the 8-year-old daughter of Anwar al-Awlaki, the American Muslim cleric who had been killed in 2011.
That same week, the President signed the executive order limiting immigration from six Islamic nations. Kassirer said that the so-called Muslim "ban" led to a surge in internet traffic criticizing U.S. treatment of Muslims.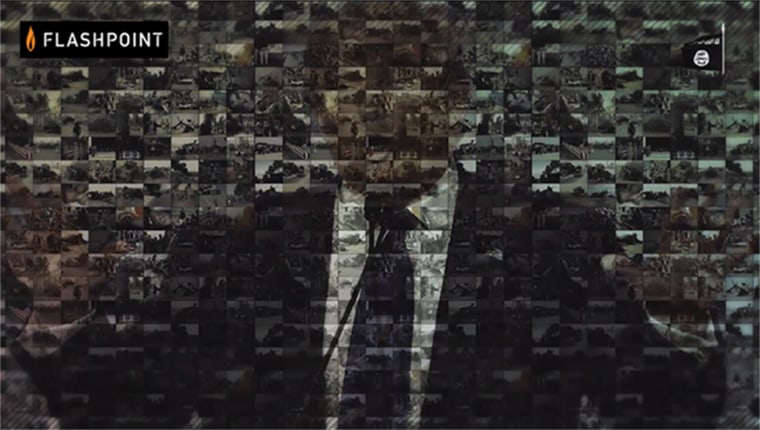 "After that, we witnessed a wave of jihadists explaining how that executive order was evidence of anti-Islamic sentiments in the U.S.," said Kassirer. "For example, many were pointing to the late Anwar al-Awlaki's quote that reads: "The West will eventually turn against its Muslim citizens."
Typical, she said, was a posting on Telegram, an instant messaging service, that read, "what Trump has done has clearly revealed the truth, and harsh reality behind the American government's hatred towards Muslims #MuslimBan."
"There has been an abundance of chatter," she said, noting that it can be found not just on social media sites like Telegram and Twitter, but deep web forums reserved for communications between hardline jihadis.
Related: Counterterrorism Heat Map Shows ISIS Branches Spreading Worldwide
Trump has been a unifying figure in the jihadi world, and sometimes both ISIS and al Qaeda will send out the same message about him.
Kassirer cited an April 4 statement by Abu Hasan al-Muhajir, a well-known commentator on ISIS's al-Furqan Media, that mocked Trump's intelligence: "You are now ruled by a stupid fool who does not know what Sham (Syria) and Iraq are, or what Islam is, who continues to express his hatred and war."
That same day, a pro-al Qaeda media unit called al-Firdaws released a statement discussing the "change" in U.S. military strategy under Trump, specifically the targeting of Muslims in Yemen, saying that airstrikes had increased "exponentially" under the new administration.
Two days later, al-Firdaws said "the bastard Trump administration" had "changed its tactics in fighting Mujahideen in Yemen."
On May 7, a jihadist Telegram channel that is more pro-al Qaeda than ISIS commented on a U.S. casualty during a Somalia raid: "This is already the second failed U.S. raid gone wrong under the Trump administration. First they were humiliated in Yemen and now in Somalia."
How effective is it all? Hard to tell, says experts like Kassirer, who notes that slamming Trump is just a new twist on an old narrative.
"The concept that the U.S. (and the West generally) has some sort of disdain for Islam is something that's long been spewed by terrorist organizations and their followers, especially as a major part of their recruitment strategy is to present this binary vision in which the entire world is against Muslims as a way of rallying potential supporters against a common enemy."
Trump's rhetoric, she said, has just enhanced that narrative.