LONDON — American Dave Eubank spent the last eight months on the frontlines in the battle for Mosul helping Iraqi civilians fleeing ISIS's reign of terror under sniper fire.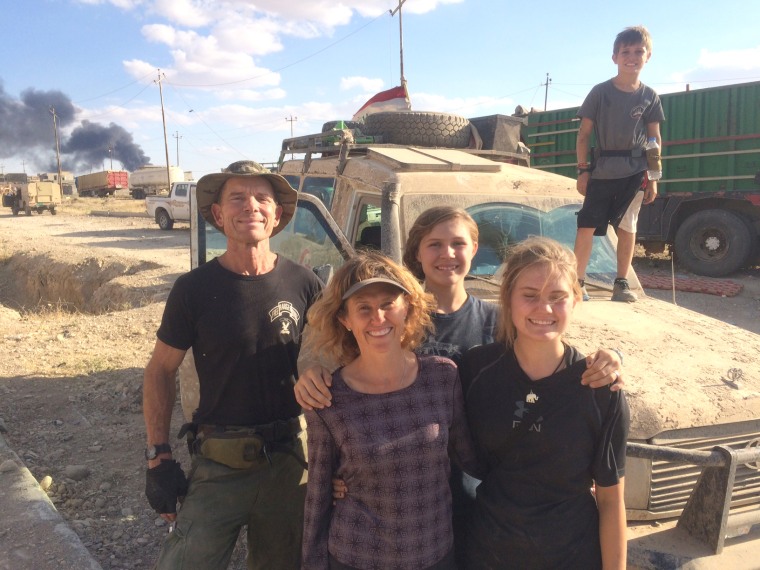 But the father of three was not alone. His wife Karen and their three children, Sahale, Suuzane and Peter, were always about half a mile behind him handing out food and humanitarian aid when they weren't being home-schooled.
It was not a casual war zone drop-in for the family. They've spent years doing aid work in dangerous places — together.
"They have been in every battlefield that I've been in," Eubank told NBC News during a recent phone interview from Thailand, a day after the family left Iraq on their way to the U.S. for the summer. "They have been all around Mosul — every part of it. And into Syria, Burma and Sudan."
For the Eubanks, having their children with them is non-negotiable. They believe that if other families are forced to live in war-torn places like Mosul, then why shouldn't they be there to help? They argue that it's no more dangerous for them than it is for locals.
"They open doors and help us relate in ways we could not alone," said Eubank, 56. "They expand the ability of our work. And my wife and I both believe, this is the best life we can give them."
Eubank added: "We don't want them to die. We take every precaution we can, but it's pretty much the same ones the locals are taking. We don't live any different than them."
Still, Mosul is a particularly dangerous place. ISIS militants captured the city in 2014, declared a so-called Islamic caliphate, and terrorized the local population with their brutal rule. On Thursday, the government declared victory over the group in Iraq even though fighting continued in parts of the city still inhabited by civilians.
Since October, U.S.-backed Iraqi troops have been engaged in fierce fighting to retake the city, Iraq's second largest. Many civilians have been trapped by the intense urban fighting between ISIS and the Iraqi troops, but more than 750,000 have also fled and become internally displaced, according to Iraqi authorities.
The fighting has intensified in recent weeks as ISIS blew up the historic al-Nuri mosque and deployed suicide bombers around the city in an attempt to thwart Iraqi forces' progress.
So how did the family of five Americans end up there of all places?
Eubank, a devout Christian, attributes it to God.
For the last 20 years, he and his wife have lived in the jungles of Myanmar and run the Free Burma Rangers, a humanitarian organization that provides food and emergency medical care to people in the country's long running civil war. Prior to that, he said he served in the U.S. Army in the 1980s and early 90s. After the military, he went to seminary school and was ordained as a minister, but says he never took the title.
"I realized there were four main things my kids were learning on a much deeper level than I knew: generosity, hospitality, living simply and compassion."
Eubank and his team of Free Burma Rangers, which includes medics from Myanmar, first went to Iraq three years ago and began working with Kurdish Peshmerga forces in their battle against ISIS. They joined the Iraqi Army last November for the Mosul campaign. He and his family flew into Irbil, purchased some trucks and drove to Mosul unescorted because he said the Iraqi Army and Kurdish forces knew them well from other missions and let them pass through the area safely.
In Mosul, Eubank and his team would go on assaults with the Iraqi Army and coordinate medical relief for fleeing civilians. Dramatic footage captured in early June showed Eubank rescuing a young girl in the midst of an ISIS assault while U.S. and Iraqi forces provided cover.
Lt. Col. Saad Al-Abadi, press officer for the Iraqi Army's 9th Armored Division, said Eubank and his team accompanied the Iraqi forces as they tried to liberate eastern Mosul. He said Eubank was a "big help" to Iraqi forces.
"No word can describe a person who puts himself and his family in a situation of facing death every day," Al-Abadi told NBC News. "They came here expressing how they care for human beings. They took care of civilians, as well as soldiers. They are professional and real humans."
While Eubank was on the frontline in Mosul, his wife Karen and their children worked for the Free Burma Rangers "Good Life Club," which focuses on the physical and spiritual needs of children in conflict zones. The Eubank kids distributed donated goods — food, water, clothes — to families fleeing the ISIS controlled parts of Mosul. They would also lead the local children in activities like singing, putting on skits and playing games — often with the din of mortars and gunfire in the background.
Karen, 48, holds a teaching degree and home schools their children — which she admitted can be "challenging" in a place like Mosul.
"We take our books and computers everywhere and given three to six hours we'll make use of whatever space is available to accomplish lessons," Karen told NBC News via an email.
Asked about how she copes with the danger of raising her children in a place like Mosul, Karen said the invaluable lessons her children learned from the experience far outweighed the danger.
"I realized there were four main things my kids were learning on a much deeper level than I knew: generosity, hospitality, living simply, and compassion," she said. "If I could bring my kids to grow up in this spiritually rich environment, then they would gain more than I could give them on my own. This was a greater gain than the risk of the war surrounding us in our work."
She added that while the intensity of the war zone in Iraq is definitely different from what they experienced in Myanmar, they pray about the dangers, use "good common sense" and listen to the advice from locals on what they should and should not do.
For the Eubank kids, their unconventional life is an adventure.
"It's really fun, sometimes. And it gets really scary, sometimes — when ISIS are throwing mortars and stuff," 11-year-old Peter told NBC News over the phone. He said that in Mosul he enjoyed playing with the other kids — especially games like soccer which require few words since he can't speak Arabic.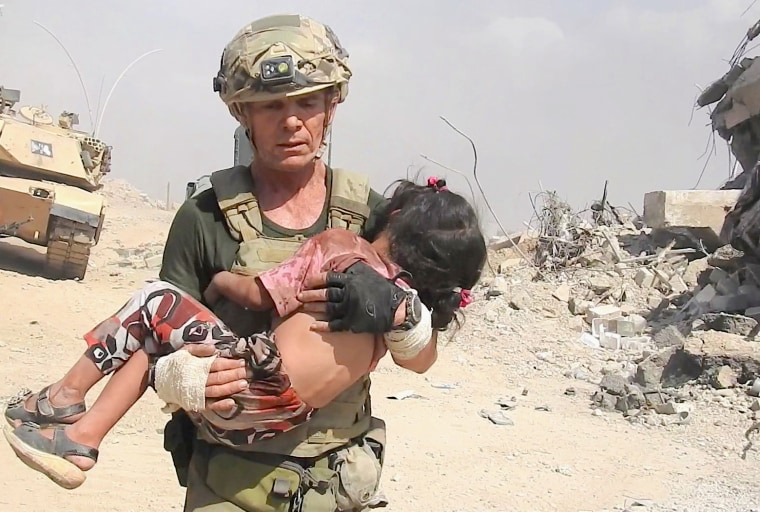 For 16-year-old Sahale, Mosul became an unlikely place to sharpen her driving skills.
"I was driving ambulances around because we didn't have many people around who could drive stick," said Sahale. "So I would drive from the front line back to the CCP, or casualty collection point. It was really different for me — because I just got my permit… What a place to drive!"
The family left Mosul after eight months in mid-June and are now back in the U.S. They have a jam-packed schedule for a classic American summer that includes rodeo camp for the kids in Washington state, hiking Pikes Peak in Colorado Springs and the Tetons in Jackson, Wyoming, and surfing in California, as well as East Coast stops in Washington, D.C. and Boston. Along the way at every stop, they will be speaking at churches about their experiences in Iraq, Syria and Myanmar.
Asked if she has a culture shock when she goes back to the states, Sahale said "not really" because she and her sister, Suuzane, 14, have figured out ways to relate to other kids. But, she said the father of a friend once said the teenage sisters' sense of humor is a tad different and "is almost exactly the same as an ex-Marine."
She said she would love to go to college in a few years to study music, dance and English. And then Sahale shot off a list of schools she'd like to attend across the Pacific Northwest.
After the summer, the family may head to Syria. Karen doesn't have any hesitation about going to the country that's been plagued by violence for over six years, because they've already been twice before. The last time, they were about 30 miles east of Aleppo, which government forces recently recaptured from rebels after a lengthy and brutal siege.
Asked what the best and worst thing is about raising their kids in this unconventional way, Karen replied that the best thing was "giving them a global sense of family, compassion (laying down your life for others), understanding God and self better." She said that the worst thing is that "by not doing the 'normal thing' I second guess myself often, fighting fear."
For Eubank, Syria is no different from the other places they've worked.
"The world is a dangerous place. And war zones are dangerous. But as you know, not every single inch is dangerous. And there are people there, too."