A video released by ISIS asks would-be fighters to go to the Philippines instead of Syria and Iraq, the latest sign that the terror group is shifting its recruiting tactics as it loses ground to coalition forces in the Middle East.
The seven-minute, English-language video, released by the official ISIS media operation late last month, includes messages from several fighters in the Southern Philippines, and scenes from battles with government troops near the city of Marawi, including the pillaging of a Catholic church.
One of the fighters calls on Muslims in "East Asia, specifically those in Indonesia, Malaysia, Brunei, Thailand, and Singapore" to migrate and fight alongside the ISIS-linked militants in the Philippines.
A militant identified as "Abul-Yamaan from Marawi" proclaims: "Come forth to the land of jihad. Perform hijrah. Come forth to … Marawi."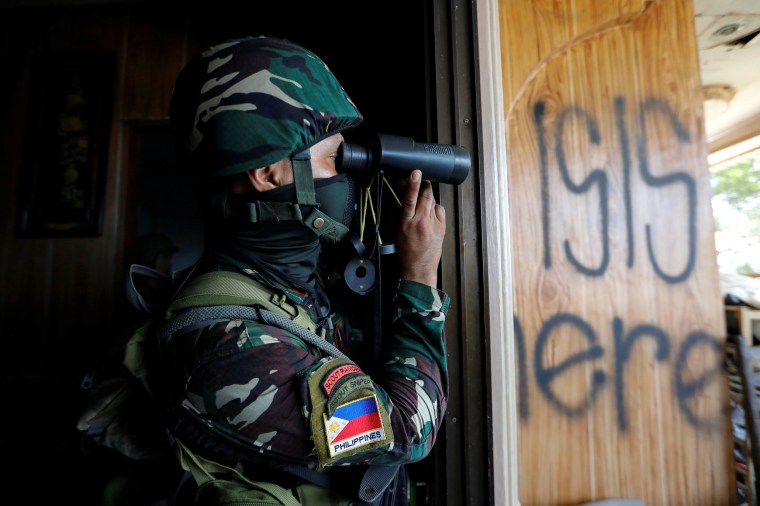 U.S. intelligence officials and private sector analysts like Flashpoint Intelligence, which NBC News uses to track terrorist groups, say that Asia has become a new focus for ISIS. The terror group now sees the southern Philippine islands, where a Muslim insurgency has simmered for decades, as the best destination for Islamic militants, and is using videos and social media in both English and languages spoken in the southern Philippines to boast of its exploits and recruit fighters.
"ISIS wants to be seen as global and the Philippines provides them with an opportunity," said a U.S. official.
Secretary of State Rex Tillerson said during an Aug. 1 press conference in Washington that U.S. intelligence is aware ISIS fighters from other countries are operating in Philippines.
"We already see elements of ISIS in the Philippines, as you're aware, gaining a foothold," said Tillerson. "Some of these fighters have gone to the Philippines from Syria and Iraq. We are in conversations with the Philippine government, with Indonesia, with Malaysia, with Singapore, with Australia, as partners to recognize this threat, try to get ahead of this threat."
Tillerson did not provide numbers.
A senior U.S. counterterrorism official noted that Philippine Army Chief of Staff Gen. Eduardo Ano said in June that among the dead in the continuing battle for Marawi were Saudis, Pakistanis, Malaysians and Indonesians. The official said there's no reason to doubt Ano's assessment.
Related: U.S. May Begin Airstrikes Against ISIS in Philippines
Al Qaeda Affiliate Switches Allegiance to ISIS
There are three major ISIS-aligned Islamist groups on the island of Mindanao — Maute, the Bangsamoro Islamic Freedom Fighters (BIFF), and Abu Sayyaf, formerly an al Qaeda offshoot. ISIS leader Abu Bakr al-Baghdadi named Abu Sayyaf leader Isnilon Hapilon the ISIS emir of Southeast Asia in 2016.
The allied pro-ISIS groups began battling government forces in Marawi, a city of 200,000, in May, and clashes continue as government soldiers try to evict the militants from the city. More than 60 Philippine soldiers have been killed and more than 200 wounded in the fighting.
The ISIS call for jihadis to travel east to the Philippines, however, comes at a time when the U.S. is rethinking whether a significant number of ISIS fighters will relocate from the caliphate, as originally believed.
Nick Rasmussen, director of the National Counter Terrorism Center, said last month that U.S. intelligence has not yet seen a large flow.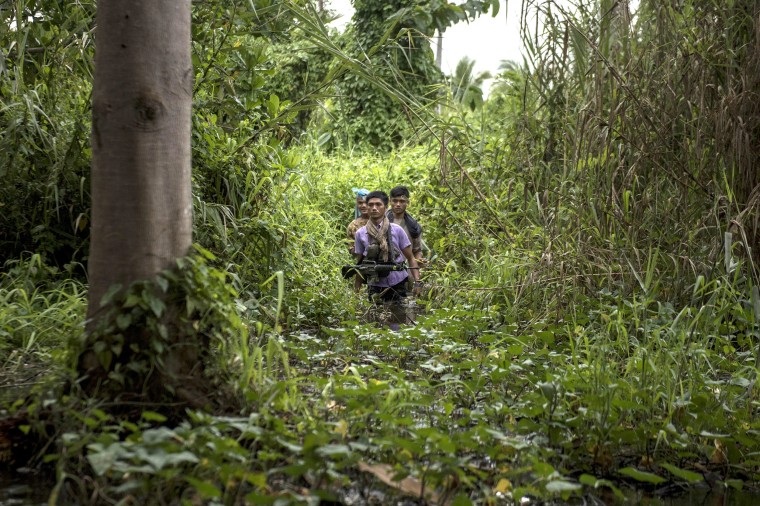 "At one point, we were worried about this out-rush, outflows, massive outflows of foreign fighters once the battlefield situation changed in Iraq and Syria and that Western countries, countries in the region, would be flooded with returnees," Rasmussen said, speaking at the Aspen Security Forum. "I think now speaking kind of broadly, that's less likely than we first assessed."
U.S. intelligence officials say that instead, most fighters will likely stay in Iraq and Syria and continue to fight as insurgents. Moreover, they say, there are fewer of them, many having been killed in action.
The ISIS affiliates in Mindanao, meanwhile, also face another challenge — their former comrades.
The largest indigenous Islamist force, the Moro Islamic Liberation Front, which had battled government forces on the island since the 1960s, reached a ceasefire deal with the government in 2014. Other groups, including BIFF, rejected the deal, and MILF and the Moro National Liberation Front found themselves fighting BIFF, Maute, Abu Sayyaf and several other splinter groups.
MILF launched an offensive against BIFF three weeks ago in a region south of Marawi.
Since 2001, the U.S. has provided military aid, mostly special operations training, to the Philippines to fight terrorism. This summer Philippine forces used U.S.-supplied gunships to attack the Islamist groups. In 2012, the U.S. launched its own airstrikes against Islamist targets in the country. As NBC News reported in August, the U.S. has recently weighed carrying out fresh airstrikes against ISIS in the Philippines.