ISIS supporters in Gaza have vowed to unseat Hamas, underscoring the challenges a resurgence of radical Islamist groups pose to the Palestinian organization's hold on power.
A video statement issued by ISIS channels in Syria addressed the "tyrants of Hamas" and criticized the organization which rules the Palestinian territory for failing to uphold a strict enough interpretation of Islamic law.
"We will uproot the state of the Jews (Israel) and you and Fatah, and all of the secularists are nothing and you will be overrun by our creeping multitudes," a masked militant said in the video, according to Reuters. "The rule of Shariah (Islamic law) will be implemented in Gaza, in spite of you."
While ISIS has no formal ties to militants in Gaza, signs of support for the organization terrorizing swathes of Iraq and Syria have been quietly mounting there for months.
A jihadist group calling itself "Supporters of the Islamic State in Bayt al-Maqdis" took credit for attacking Hamas' military wing on May 8. At the time, the group — which previously had claimed responsibility for launching rocket attacks on Israeli territory — pledged more attacks against Hamas and urged its fighters to join ISIS.
Later that month, Israeli officials told NBC they had seized more than 100 rings with ISIS-related insignia bound for Gaza.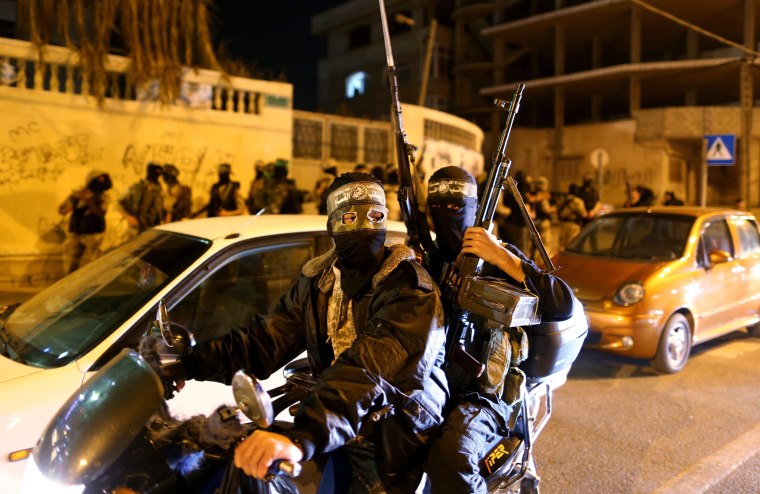 Hamas, though, has refused to publicly acknowledge the presence of ISIS supporters in Gaza. The Islamic militant group — which itself is deemed a terror organization by the U.S. and which has ruled Gaza since a violent 2007 takeover — has avoided referring to ISIS by name, choosing instead to speak of radical Salafist elements.
Gaza's Interior Ministry spokesman Iyad Al-Bozom flatly rejected the idea there was any ISIS presence in Gaza on Wednesday.
"There is no Daesh phenomena in Gaza," he told NBC News, using another name for ISIS. "Threats coming from outside are just propaganda and nothing else, expressing extreme religious and political views."
Tensions between Hamas and radical Salafist groups have bubbled up from time to time, but many consider 2009's deadly clash at a Rafah mosque as a turning point. After an al Qaeda-inspired group challenged Hamas' authority, Hamas security forces mounted a deadly raid which killed more than a dozen people to effectively crushed that perceived uprising.
While in the years that followed Salafist groups have maintained a lower profile in Gaza, they've been reinvigorated in recent months. Some analysts say that's due to growing frustration and disenchantment with Hamas after last summer's war with Israel.
While Hamas fighters at the time were credited for their bravery, the widespread destruction, lack of rebuilding and widespread poverty which plague Gaza to this day have prompted questions over why the leadership has not done more to restore Gaza.
That could explain why groups are seeking to align themselves with the current Islamist group du jour: ISIS, according to Yoram Schweitzer, director of the terrorism project at Tel Aviv University's Institute for National Security Studies.
He noted that the jihadi Salafist groups in Gaza expressing support for ISIS are not yet "an integral, cohesive force."
"They try to unite, to reunite around a certain personality," he said. "You have people that support the idea of a strong Islamic, hardcore movement but its not wide, it's not large, and it's not ISIS as such."
ISIS has not formally recognized the "Supporters of the Islamic State" as an affiliate and the fighters in Gaza using the group's name might merely expressing their dedication to a Hamas alternative.
"Quite many of them are from Hamas circles," Schweitzer said. "Some of them are just frustrated from the situation of Gaza. Some of them believe that the solution may be thru this Islamic State, that it might empower them."
Hamas' response has been forceful: mosques have been raided, dozens of people have been arrested, and the confrontations have become more public.
"There are more and more protests against Hamas… and Hamas is reacting with an iron fist," Schweitzer said.
For the time being, though, ISIS does not appear to enjoy widespread support in Gaza — and analysts agree that mass rallies in ISIS name aren't likely in the cards.
"Hamas will not allow it. It will just crush it," Schweitzer said. "When its defied and its challenged it reacts with brutal force."