DUHOK, Iraq — Lists with names of nearly 6,000 men, women and children coat the walls in a dim office in northern Iraq. The man who compiled them believes he is chronicling the death of one of the world's oldest cultures, the Yazidis, at the hands of one of its newest terror groups, ISIS.
"Iskander" tracks each life meticulously.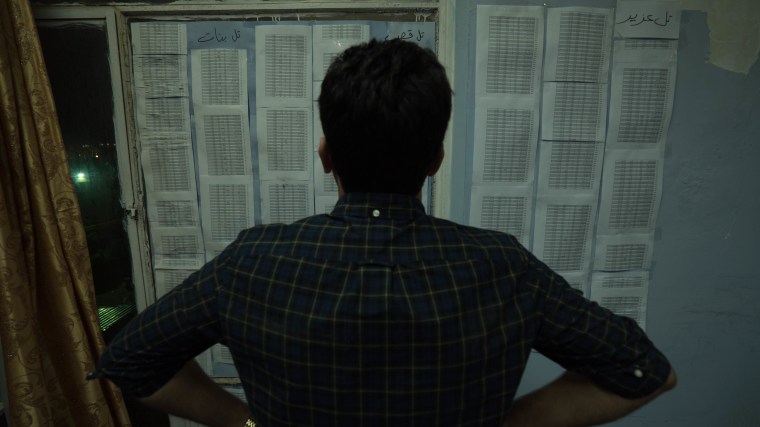 "I take down everyone's name, date of birth, where they were from, when they died and how," he told NBC News.
Iskander is part curator, part chronicler. He collects not just the names and circumstances of those who were killed, but the stories of the ones who escaped, as well as reams of propaganda produced by their captors in order to tease out information on the abductees' whereabouts.
Iskander, who is in his 20s, asked NBC News not to use his real name or identify him in any way out of fear of being targeted by ISIS.
Related: ISIS is Using Rape as a 'Policy,' Jolie Warns
ISIS attacked Iraq's Yazidis, whom the extremist consider devil-worshipers, in August 2014. ISIS raided villages and trapped hundreds of families in the Sinjar Mountains for days without food or water. Anyone who tried to flee would be killed, the extremists promised.
Tens of thousands were eventually rescued but not before nearly 6,000 men, women and children disappeared into ISIS territory in Iraq and Syria. More than 15 months later, 3,100 Yazidis are still imprisoned, according to Iskander's count.
While thousands have returned, nearly half-a-million Yazidis — an estimated 90 percent of the group's entire population in Iraq — were forced to flee their homes and are now living in refugee camps and unfinished buildings across Kurdistan in northern Iraq.
On Friday, U.S.-backed Kurdish forces recaptured after a day of battling the ISIS.
"I have to do this for my people. If I don't do it, it will be forgotten."
The Yazidis haven't only lost homes, land and their loved ones — an ancient way of life is at risk of being extinguished.
"They took everything from us, our rights, our money, our possessions," said 14-year old Ragheb, who escaped from ISIS after being held for a year. His father and other family members are still missing.
"I wish I could be with my family and I wish this devastation never happened. I will never forget it," he said.
Survivors' stories of the initial attack are strikingly similar. ISIS fighters swarmed villages, stripped residents of all their possessions and separated the men from the women and children.
In Iskander's office, shelves are overflowing with files for each of the survivors he's interviewed. He records every detail, down to the names and descriptions of ISIS militants.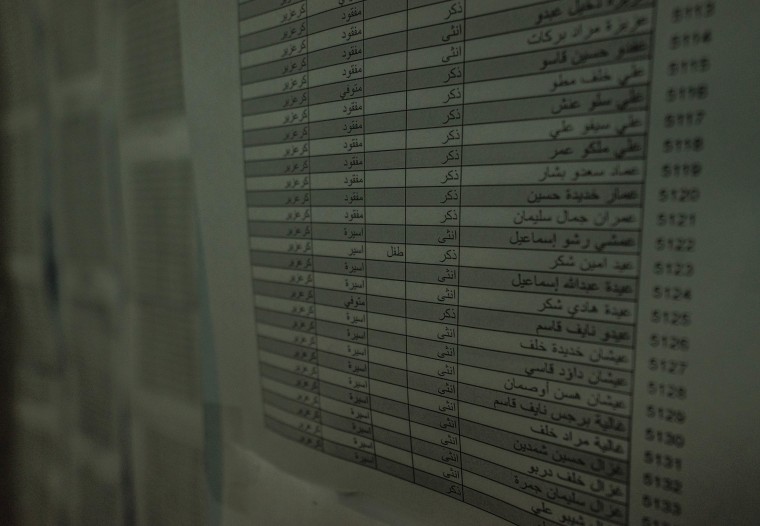 "We have the files of victims, we also have the files of ISIS in the hope of bringing them to justice one day," he said.
On his cellphone, Iskander tracks and saves every ISIS video he finds online. He scrolls through hundreds of clips: battles, executions, recruiting propaganda and rants about the terror group's brutal interpretation of Islam.
He has even posed as a recruit to lure an ISIS fighter into a conversation about the group's philosophy and inner workings. All this research is aimed at finding evidence to secure war crimes prosecutions.
"Sometimes prosecutors don't have enough evidence and no one is officially doing our job. We don't even have someone tracking the numbers of Yazidis who've died," Iskander said.
Throughout their history, the Yazidi's religion has made them a target. The community's leaders say there have been 72 attempts to wipe out their people and culture over the centuries.
They call this period the 73rd genocide.
"I have heard so many stories of tragedy, it's left me numb," Iskander said. "I have to do this for my people. If I don't do it, it will be forgotten."