Kurdish forces say they seized a military base from ISIS fighters just 30 miles from the self-declared caliphate's capital city in Syria, another gain in an offensive that is pushing deeper into militant strongholds.
U.S. airstrikes and allied rebel groups helped Kurdish fighters to conquer Base 93, which is located north of Raqqa. The military site's fall to ISIS last summer provided a propaganda coup for the group.
Idriss Nassan, deputy foreign minister of the Kurdish Kobani regional government in northern Syria, confirmed to NBC News on Tuesday that Base 93 had been taken. He added that Kurdish YPG forces had also routed ISIS in the nearby town of Ain Issa and 16 other villages over a 24-hour period. Earlier, a Kurdish official told Reuters that the base was under YPG control after ISIS had been "defeated."
The development comes one week after Kurdish forces took the city of Tal Abyad. Situated along the Syria-Turkey border, it had been a key crossing point for ISIS fighters and supplies.
While it is unclear if the Kurdish forces will move any further south towards Raqqa, their momentum appears to mark some progress in the campaign against the ISIS in Syria and in neighboring Iraq, where news had long been grim.
Only last month, ISIS further alarmed the international community after taking the city of Ramadi, the provincial capital of western Iraq's Anbar province, forcing almost 25,000 people to flee the violence, according to UN estimates.
Analysts are treating the latest news from northern Syria with caution, though they say that the setbacks for the Sunni militants indicate weaknesses in the same way that past victories have indicated strength.
"We shouldn't just pay attention to their gains but also their losses," says Daveed Gartenstein-Ross, a senior fellow at the Washington, D.C.-based Foundation for Defense of Democracies.
Analysts say that ISIS has run into trouble on a variety of fronts in recent weeks.
In Iraq, ISIS has come under heavy assault by Shiite militias outside Ramadi, only weeks after the militant group took the city from security forces.
And in Syria, the capture of Tal Abyad allowed the Kurds to pinch a key ISIS supply route to Raqqa and linked the Kurdish fronts along eastern and western portions of the Turkish border.
"Much has been made of ISIS' fighting prowess," Gartenstein-Ross said. "But their victories have been number one against Iraqi security forces, and [in Syria] against the battered Assad regime."
Facing an allied force of Kurdish fighters and Sunni opposition rebels, ISIS now appears to be under pressure.
Speaking with reporters last week, a spokesman for the Pentagon said that ISIS forces had "cracked" near Tal Abyad. The spokesman attributed this to "devastating air power" by coalition forces and "trained forces" on the ground.
ISIS took Base 93 last summer as part of a campaign against the army of Syrian dictator Bashar Assad that resulted in the fall of a series of military sites in northern and central Syria.
"It was a significant turning point for the group — it managed to consolidate a lot of land in a short period of time, and capture a lot of prisoners and also a lot of munitions," said Charlie Winter, a terrorism researcher at the London-based Quilliam Foundation. "They made a huge fanfare about it."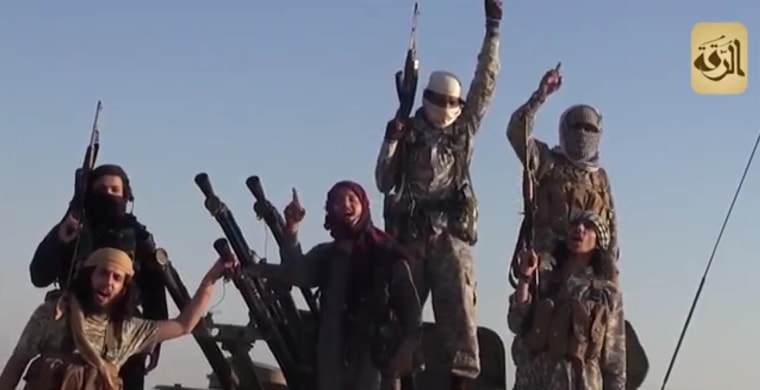 Videos published by ISIS in August documented the assault on the base. One video offered what the group called a "virtual tour" inside the grounds of the base.
ISIS fighters appear to light a Syrian flag on fire, and later hoisted an ISIS flag atop a tower. A second video documented the assault itself, including gruesome images of what appear to be Syrian soldiers lying dead in the aftermath of the battle.
Analysts say the Kurdish victories at Base 93 and the surrounding area represent a blow to the ISIS message. "The symbolic value of these defeats is significant," Winter added.
But experts say that Kurdish fighters' gains may also carry a price of their own.
The Kurds are the largest ethnic group in the world without a homeland, totaling more than 30 million people. Spread out between parts of Iraq, Syria, Iran and Turkey, they have been subjected to decades of oppression aimed at erasing their cultural identity in all four regions. They have long sought autonomy in northern Syria — in areas known as Rojava — and Iraq.
It is unclear what their expectation will be at the conclusion of the conflict, experts say.
"I think our position is that anything limits or destroys ISIS is probably preferable to anything that allows it to continue or expand," said Anthony Cordesman, of Washington's Center for Strategic and International Studies. "But that is only because none of us can perceive what is going to happen to these broad ethnic and sectarian struggles in Syria and Iraq. The other question, of course, here too is what does Turkey do."
Turkey has long resisted Kurdish efforts to build a state on its doorstep, and fighting in Tal Abyad sent thousands fleeing across the border from Syria into Turkey, further swelling the refugee population on that side of the border.
Some refugees from the Tal Abyad area have also accused the YPG of driving Arabs and Turkmen from territory seized from ISIS. Kurdish officials denied forcing people out and said that such accusations were being made to stir up ethnic strife.
"It is all well and good seeing ISIS pushed back but it does depend on what the intentions of the Kurds are —whether they're looking to secure territory from ISIS, or whether they're looking to secure territory as the beginning of a state-building project of their own," Winter added.