ISIS is about to face a war on two fronts, and it seems unlikely that the group's self-declared caliphate will survive it.
Iraqi and Kurdish troops, advised by the U.S. military, are closing in on Mosul, the city ISIS made its capital in Iraq two-and-a-half years ago. Defense Secretary Ash Carter this week said the next target will be Raqqa, ISIS's capital in Syria.
Why was Mosul targeted first?
There isn't a single or clear reason why Mosul was chosen to be the first target. There were discussions among U.S. military officials about targeting Raqqa first.
Raqqa is a far smaller city, making it at least in theory an easier military objective. But fighting in Syria is more complicated than it is in Iraq because more players are involved in the conflict.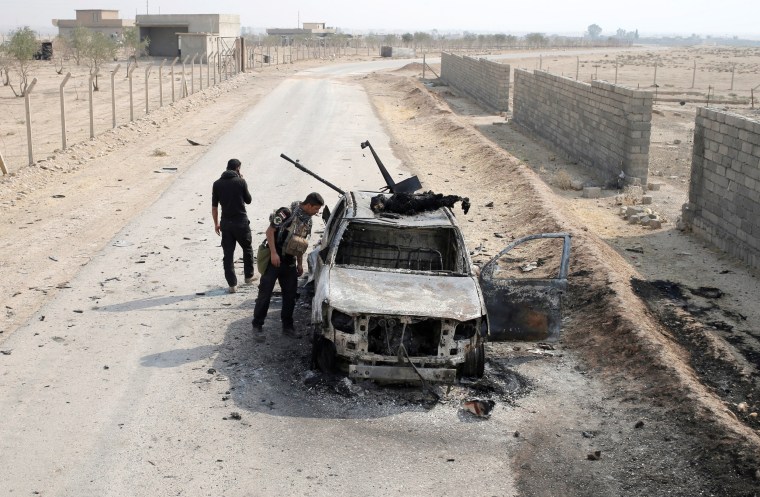 Russia is launching air strikes in Syria and has missile defense systems in place that limit America's ability to act. Turkey is pursuing its own policy, trying to regain influence and territory in Syria, which has historically been part Istanbul's sphere of influence. Turkey also wants to block Kurdish nationalists in Syria from expanding their footprint.
The Syrian regime of President Bashar Assad is backed by Russia, Iran and Hezbollah and is trying to re-establish its control of the country.
U.S.-backed Arab rebels in Syria are weak and disorganized.
Related: Battle for Mosul: Shi'ite Militias Launch Offensive to Seal Off Western Front
Taken together, the numbers of players with competing agendas makes U.S. military operations in Syria extremely complicated.
On the other hand, the United States has more than 5,000 troops on the ground in Iraq, and the country's conflict is relatively more straightforward.
The United States has longstanding relations with both the Iraqi Kurdish Peshmerga and the Iraqi army. Simply put, the pieces seem to have come together for the Mosul operation more quickly than they did for one in Raqqa.
There also may be a strategic advantage: if ISIS leaders escape Mosul for Raqqa — and French President Francois Holland has said they are doing just that — the U.S. military will have a second chance at finding and eliminating them.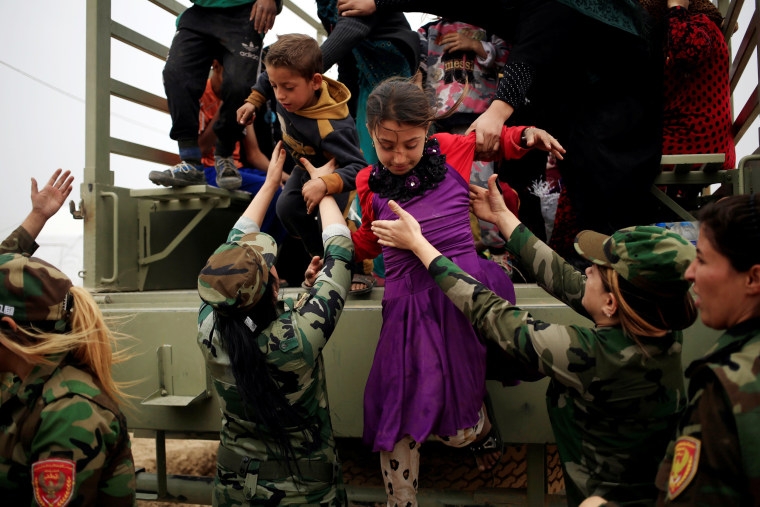 How much territory has been reclaimed?
ISIS still holds the urban center of Mosul, but it has lost much of the territory surrounding the city.
The Iraqi military claims to have recaptured around 80 towns and villages around Mosul so far, but that may be an overstatement because some of the towns the Iraqi army claims to have "liberated" remain unsafe, with pockets of ISIS militants still fighting.
Nonetheless, it is fair to say that in the past two weeks, the combined U.S., Kurdish and Iraqi offensive has stripped ISIS of its protective buffer around Mosul.
How many fighters do U.S. officials think are still in Mosul?
U.S. military commanders have publicly said they believe there are between 3,000 and 5,000 ISIS fighters in Mosul. Iraqi intelligence estimates that the number is at the top end of that scale, among them 1,500 foreign fighters, mostly from Europe.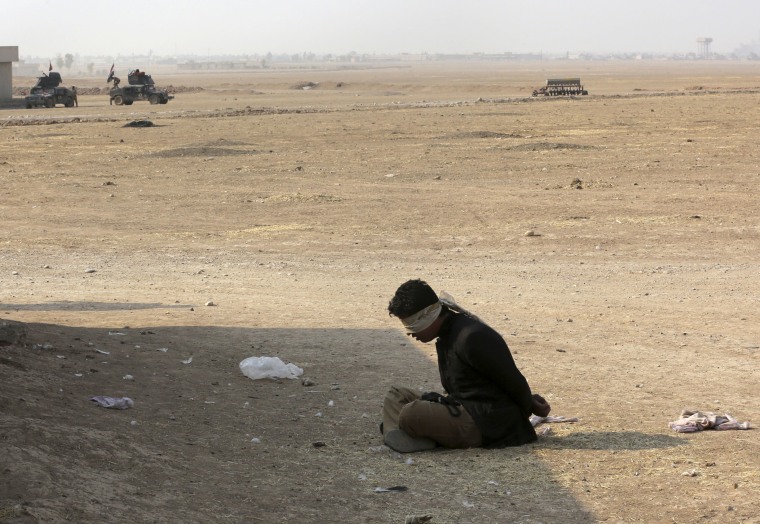 How well-armed is ISIS?
Well-armed, but not like it has been in the past. ISIS captured a huge stockpile of heavy weapons when it captured Mosul, including scores of armored Humvees and even tanks.
The fleeing Iraqi army abandoned this equipment, and the vehicles were essential in helping ISIS establish its caliphate. Local fighters were simply unmatched when ISIS rolled in.
The situation, however, has changed. The United States is now flying around-the-clock missions over Iraq. ISIS vehicles, which are effective at intimidating and overpowering local resistance, make easy and obvious targets from the air.
ISIS fighters are now relying on tunnels, suicide car-bombs and mortars. Maj. Gen. Maan al-Saadi, commander of Iraq's elite counterterrorism forces, told NBC News that ISIS will increasingly draw on its experience in urban guerilla war.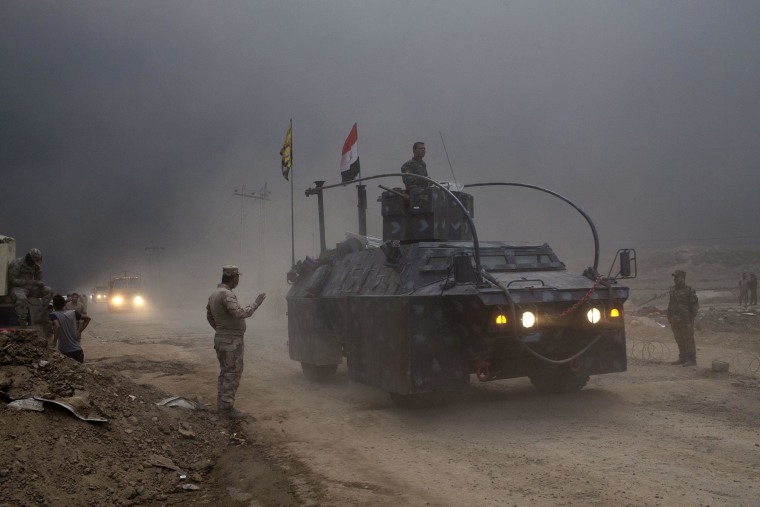 "They'll be using tunnels and will go house to house as a way of prolonging the battle, because, honestly, they're fluent in urban warfare," he said.
ISIS strength no longer comes from its stolen military hardware, but from its ability to move and ambush, and the willingness of its fighters to die.
Are ISIS reinforcements being sent from Syria?
Not as far as NBC News knows. In fact, just the opposite may be true. The advance on Mosul is mainly coming from the south and east. The western side of the city, closer to Syria, is largely being left open.
One of the top American military commanders in Iraq, Maj. Gen. Gary Volesky, told NBC News that some ISIS fighters have already escaped from Mosul.
There have been numerous reports of ISIS fighters trying to make their way to Raqqa and potentially other ISIS-controlled parts of Syria. A senior Arab leader said some ISIS fighters have also moved into camps for internally displaced Syrians, assuming they won't be bombed in an offensive.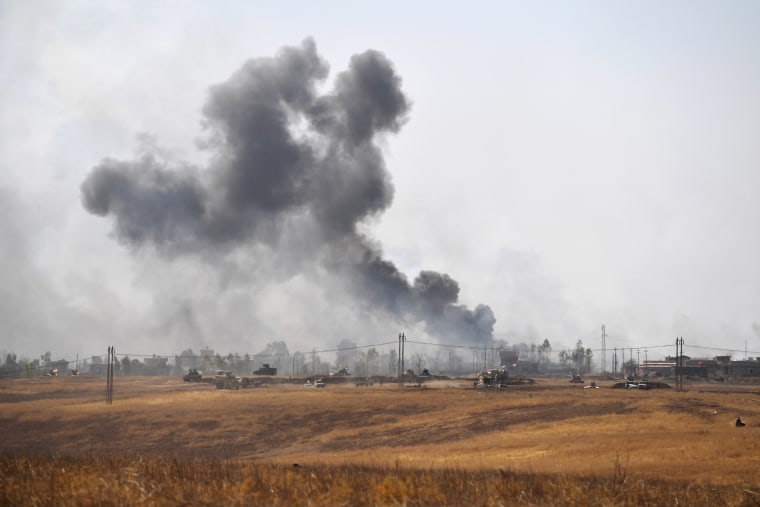 How long is the Mosul operation likely to take?
It depends on ISIS' resistance and what the Iraqi government defines as "liberated." It is possible that Iraqi troops will make fairly rapid advances into Mosul, only to see guerilla fighting continue in the city for many months.
How does the Raqqa offensive fit into this?
It won't be a shifted focus, but a second front. The two campaigns will be simultaneous. Turkish and U.S. officials have said they expect the Raqqa operation to begin within weeks.
How will the Kurds be involved?
This is one of the biggest complicating factors in Syria. In Iraq, the Kurds are deeply and publicly involved in the Mosul offensive, but have agreed not to participate in urban fighting in the city center.
The Iraqi government worries that if the Kurds liberate Mosul they won't leave it, instead attempting to incorporate the city into a greater Iraqi Kurdistan.
In Syria, it is mainly Turkey that doesn't want the country's Kurds to be involved in taking territory from ISIS.
In both places, these constraints have been bitter pills for Kurds to swallow. The Kurds are allowed to fight ISIS but not expand their homeland, their dream for centuries.
What will the U.S. role be in Syria?
The U.S. military has several hundred military advisers helping Kurdish fighters in northern Syria. Washington also works closely with Turkey, using bases in the country to launch airstrikes against ISIS, even though Turkey opposes its other ally, the Kurds.
The United States is burning both ends of the candle in Syria.
What do the Syrian and Russian governments think?
Moscow and Damascus seem content to allow the United States and its partners to destroy the ISIS caliphate, while they prepare to wipe out Syrian rebels in eastern Aleppo.
As world attention shifts to ISIS, Russia and Syria may feel they have a free hand to continue or intensify what the United Nations and others describe as a brutal campaign.
How do you take Mosul and Raqqa without civilians being killed?
Civilians will die — the question is how many.
Several Iraqi commanders have said they hope there will be an uprising in Mosul. One of these is Nineveh Operations Commander Maj. Gen. Najm al-Jubbour, who said he hopes that once Iraqi troops enter Mosul, civilians and rebels will turn on the militants.
If they do, the Iraqi military might be able to spare Mosul the cost of a military invasion that will otherwise involve tanks firing among apartment building and open markets.