The international coalition battling to oust ISIS from Mosul on the surface appears to be a united front against the extremists currently occupying the Iraqi city.
But little binds this motley crew.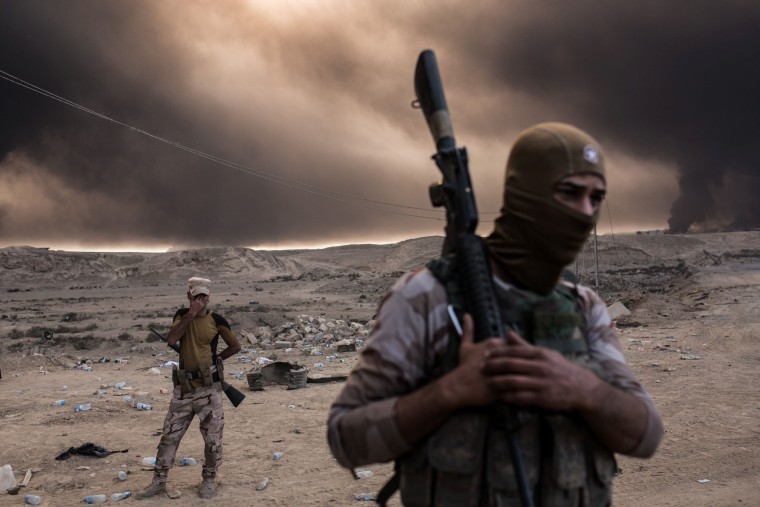 The operation is being waged by a disparate collection of fighting forces, each with its own, often-conflicting objectives. If and when ISIS is pushed out of the city, it's not clear how these differences will be reconciled.
"It's a very, very dangerous cocktail," said Marina Ottaway, a Middle East expert at the Woodrow Wilson International Center for Scholars. "This is a group with completely different end-goals. There is a real fear that when they get rid of ISIS from Mosul then things are really going to blow up."
Here's a rundown of who's involved in the offensive — and what they want.
Iraqi Security Forces
Leading the charge to recapture Mosul are Iraq's security forces.
They have a point to prove; this week's offensive comes more than two years after they were widely criticized for relinquishing control of the city in the face of a far smaller group of ISIS fighters.
The capitulation was so humiliating that the then-Iraqi Prime Minister Nuri al-Maliki fired four of his top security officers for abandoning their "professional and military duty."
This surrender allowed the city of 2 million to become ISIS' stronghold in the country. More symbolically, Mosul was also where the jihadis' leader, Abu Bakr al-Baghdadi, declared his caliphate in June 2014.
Now, leading a coalition of some 65,000 troops, the Iraqis have returned to the scene of their defeat as a renewed force. Trained and equipped by the U.S., they have achieved successive victories liberating other ISIS-held cities in recent months.
"They've managed to salvage their reputation and they've regained a lot of confidence," said Michael Knights at the Washington Institute for Near East Policy think tank.
Iraqi forces have been advancing on Mosul in a pincer movement from the south, recapturing towns, villages and oil wells on their route into the city.
On Tuesday, they were joined by Iraq's Counter Terrorism Service, also known as the Golden Division. The recent success of this elite group fighting ISIS has been a major factor in helping restore the army's reputation.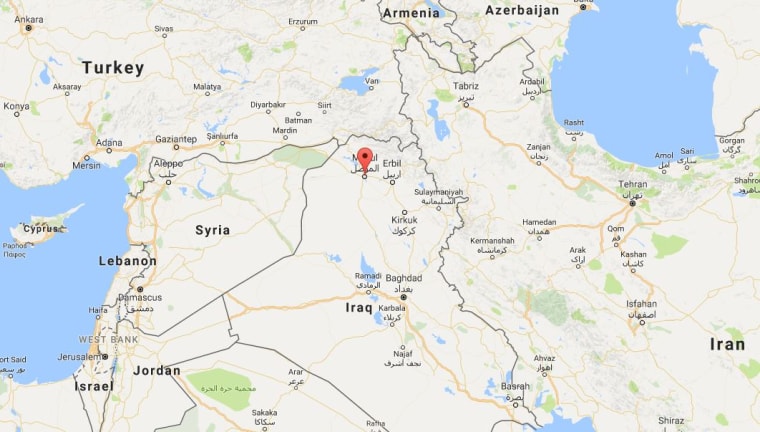 But Iraq couldn't have launched its assault on Mosul alone. The U.S. says much of the initial gains have been down to the unprecedented cooperation between government forces and the semi-autonomous region of Iraqi Kurdistan.
Iraq's military "does not have the force size to take both the city and its environs on its own," according to a situation report from the Institute for the Study of War, a Washington-based think tank. "They will need to cooperate with the [Kurds], who hold the majority of terrain surrounding the city."
Kurdish Peshmerga
Just as the Iraqi security forces have been attacking from the south, forces from Iraqi Kurdistan have advanced from the east and north.
These Kurdish forces are known as the peshmerga — meaning "those who are ready to die" — and in some instances they are fighting side-by-side with the Iraqis on the battlefield.
"This is the first time in five rotations here in Iraq that I've seen the Kurds and the Iraqis cooperate," Gen. Gary J. Volesky told a Pentagon briefing Wednesday.
This pact was forged by pragmatism — the immediate needed to defeat ISIS — as well as a U.S.-brokered oil deal signed in August.
But it is a potentially uneasy alliance. While the Iraqi government aims to drive ISIS out of its divided country, the Kurds have additional motive, namely their long-held ambition to become an independent, internationally recognized state, separate from the central government in Baghdad.
"The Kurds have one objective: for the Americans and the international community to support their independence," according to Knights. "To do that they have got to be very, very cooperative in this battle."
In the past, Washington has been reluctant to arm the Kurds, fearful that after ISIS is driven out its weapons will be used to fight the separatist cause, a problem for Washington's ally in Baghdad.
After the dust settles on Mosul it's far from clear how these tensions will be resolved.
Both Knights and Ottaway agree that while the Kurds would likely be disinterested in governing Mosul — a Sunni Muslim Arab city where their presence would be unwelcome — they will likely try to keep control of their territorial gains to the east.
Iraqi Militias
Fighting alongside the Iraqi forces is an umbrella group of militias, most of whom are Shiite Muslims backed by neighboring Iran.
While not officially part of the Iraqi security forces, the Popular Mobilization Units, or PMU, was formally recognized by the Baghdad government earlier this year as an "independent military formation."
The PMU's involvement in the ISIS fight has drawn significant criticism. An Amnesty International report this week accused the militias of "war crimes" and "gross human rights violations," alleging its fighters were guilty of torturing, forcibly disappearing and executing Sunni Muslims they suspected of being ISIS sympathizers.
The militias were heavily involved in the anti-ISIS campaign in Iraq's Shiite-dominated south. But the Iraqi and U.S. governments are keen for them to play a more reduced role in the Sunni-majority north, where the their presence and history of alleged abuses could inflame sectarian tensions, according to Knights.
The Shiite militias have been banned by Iraq and the U.S. from entering the city itself. And any role the PMU does have in the fight to retake Mosul will likely involve its minority of Sunni militias, Knights said.
The Shiite elements of the PMU are more likely to head 40 miles west of Mosul and help retake ISIS-held Tal Afar, according to Ottaway. Unlike the rest of northern Iraq, the town has a significant Shiite majority.
According to Ottaway it's possible that a victory for the Tehran-backed PMU in Tal Afar could lay the groundwork for a corridor between Iran and its ally Syria.
"They all know if they are not part of the battle they will lose influence in Iraq," Dr. Renad Mansour, a fellow at British think tank Chatham House, told TIME.
Turkey
Tal Afar may also be seen as a prize for the Turkish military, Ottaway added.
Ankara's involvement in the Mosul operation is still somewhat vague — but it's clearly determined to have a hand in the fight.
"Turkey will take part in the Mosul operation and hold a seat at the table," Turkish President Recep Tayyip Erdoğan said this week. "It is out of the question for us to remain outside."
Turkey has set up a base in Kurdish-controlled territory inside Iraq. This has angered the Baghdad government, which has not sanctioned Turkey's presence.
Iraqi Prime Minister Haider al-Abadi "is totally against the presence of Turkey and he's made it perfectly clear that they are not supposed to participate in the campaign on Mosul," Ottaway said. "But Erdogan [Turkey's prime minister] has replied that they have a right to be involved."
Turkey has also been training local Sunni tribesmen to join the assault on Mosul. Local Christian and Yezidi fighters are also involved in the offensive.
International Forces
One fighting force that certainly has the backing of Baghdad is the United States military.
American forces have been assisting Iraqi and Kurdish allies with fighter jets, attack helicopters and artillery, as well around 200 personnel deployed near the front lines.
U.S. warplanes have been pummeling ISIS positions on the road into Mosul and its AH-64 Apache helicopter gunships have been supporting Iraqi troops during night missions.
But it's not just the past few days. Since Aug. 2014, U.S. aircraft have carried out some 10,200 strikes in Iraq, taking out ISIS' oil infrastructure, communications and killing key leaders.
This is something Maj. Gen. Volesky called "a real holistic targeting effort" during his briefing Wednesday.
On the ground, the U.S. has more than 4,800 troops stationed in Iraq and Volesky said "a good sizable portion" are at Qayyarah Airfield, a base 40 miles south of Mosul that was recaptured from ISIS in July.
Some 200 U.S. personnel are embedded with Iraqi and Kurdish forces closer to the front. These are mostly special forces troops advising their Iraqi counterparts, or Joint Terminal Attack Controllers tasked with calling in airstrikes.
"Some will be closer to the front than others because of the unique role that they're carrying out," Pentagon press Secretary Peter Cook told a briefing Monday. "There are Americans in harm's way as part of this fight."
Others are in Iraq training the country's forces, teaching them how to use everything from M1 tanks to assault rifles.
It's not just the U.S., though. Other nations carrying out NATO's "train, advise and assist" mandate include forces from Australia, New Zealand, France, Sweden, Italy, Denmark, and others.
"This is almost of the G20 nations playing quite an active and productive role," Knights said. "It's not just the U.S. ... it's a lot more international than most people think."