He left the United States to join ISIS and then fled the group after five months. Now a New York City man is revealing the disturbing details of his journey into the heartland of terror — and warning others not to follow in his footsteps.
In an exclusive and unprecedented interview — which can be seen for the first time tonight on NBC Nightly News with Lester Holt, and at greater length Sunday on Dateline's "On Assignment" — the defector tells how he was seduced by promises of a utopian Islamic State only to find brutality and chaos when he got to Syria.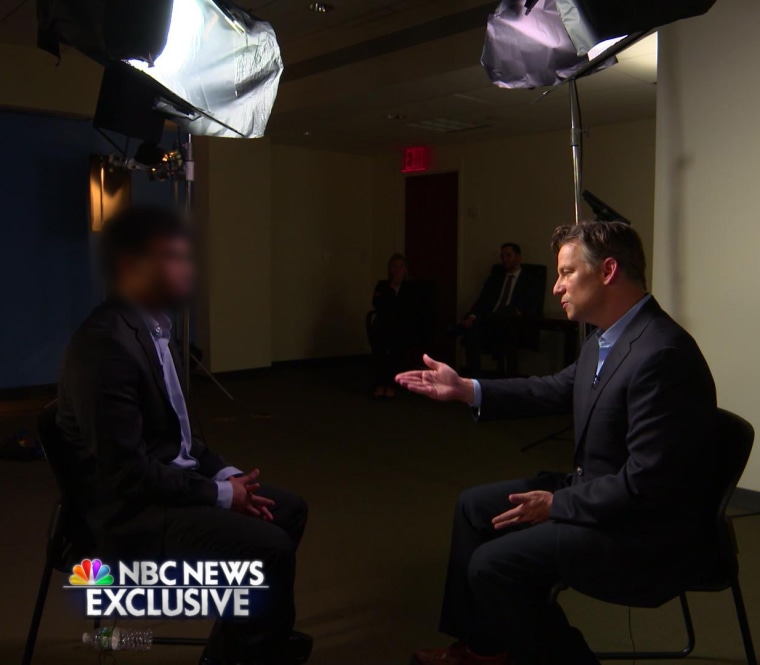 "At one point towards the end as things were getting more and more serious, I did see severed heads placed on spiked poles," the 27-year-old, who is now in federal custody and cooperating, told NBC News.
"Like a lot of things, I just blocked it out," said the man, who asked that he be identified only as Mo.
Watch NBC Nightly News at 6:30 p.m. ET for a first look at the interview. Tune into "On Assignment" on Sunday at 7 p.m. ET for much more of the interview and an in-depth look at Mo's journey.
Mo, who attended Columbia University, is one of a small group of American citizens and residents whose names were found in ISIS personnel files obtained by NBC News and verified by the West Point Combating Terrorism Center.
In the interview, he said he became entranced by the Islamic State and its promise of a global caliphate through videos and article and used his savings to fly to Turkey in June 2014, soon after the FBI showed up on his doorstep asking questions about his online activities.
Mo tells of the harrowing night he crossed into Syria and his indoctrination at ISIS training camps on sharia law and military tactics, where he says fellow recruits were dazzled by the sight of a suicide belt.
"I'm helping in every sense that I can to help rid the world of the evil that I saw."
He goes on to describe the violence and intimidation he witnessed — he saw one civilian arrested on the street for smoking — and the growing disillusionment that fueled his decision to make a dangerous escape.
"The Islamic State is not bringing Islam to the world, and people need to know that. And I'll say that…till the day I die," he said.
In the fall of 2014, he said, he managed to flee Syria and get to the U.S. consulate in Turkey.
"It was a tremendous relief," he said. "When I got to the door of the consulate, I literally just banged on the door and I'm like, 'Let me in.'"
The FBI told NBC News that when Mo got to the consulate, an employee contacted the bureau, which worked with federal prosecutors to obtain an arrest warrant.
After he was brought back to the U.S. and debriefed, Mo signed a cooperation agreement and pleaded guilty to two charges: providing material support to a terrorist organization and receiving military training from a terrorist organization, the FBI said. The charges carry between 10 and 25 years in prison, but sentencing is on hold while he assists authorities.
"Mo has provided reliable information about the identities and activities of other ISIS members," the FBI said in a statement to NBC News, adding that he could get a lighter sentence because of his cooperation.
In the interview, Mo described his short-lived ISIS membership as a "misunderstanding" and said he had no intention of becoming a terrorist.
Ali Soufan, a former FBI agent who runs the security firm The Soufan Group, noted that when Mo went over, ISIS had not yet shown its most bloodthirsty side.
"In the spring of 2014, still a lot of people were not convinced that ISIS is a bad terrorist organization," Soufan said.
But, Soufan added, "people go because they have something inside them that makes them attracted to these kinds of groups and these kinds of people. So these people are not innocent 100 percent."
Now that Mo is back in the U.S., Soufan said, he can deliver an "important message" about what is really happening in ISIS territory "to prevent others from joining this death cult."
Mo told NBC News that he agreed to show his face and share his story to spread a message to others who might be tempted by the terrorist organization's slick propaganda.
"It's obviously the worst decision I've ever made in my life," he said of his time with ISIS.
"I'm helping in every sense that I can to help rid the world of the evil that I saw. And it's an arrow in my quiver every time I help."