ANTAKYA, Turkey — Syria's piano man once offered hope — now he is asking for help.
When many died, starved or picked up weapons to fight in Syria's civil war, Aeham Ahmad stuck with his music. The owner of Al-Ayham for Music played his piano in the rubble of Yarmouk, an unofficial Palestinian refugee camp outside the Syrian capital, Damascus, that once housed 160,000 but where only around 18,000 remain.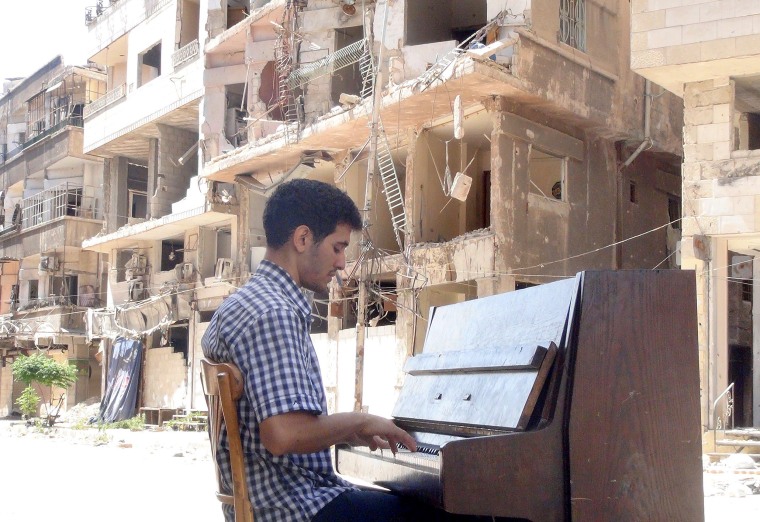 The 27-year-old played to convince those who had fled to return home. He and his neighbors sang to tell the world of their plight.
"Oh displaced people, return," they sang. "Yarmouk, we are a part of you that will never change."
The music brought a little hope, even joy, to an otherwise miserable existence. Eventually, the video and pictures were noticed around the world and Ahmad came to be known as a single point of light in the darkness of Syria's war.
Now, after years of bringing hope to others, even Ahmad has been forced to flee.
In April, ISIS stormed Yarmouk and Ahmad decided it was finally time for him, his wife and two children to leave. So he packed his instruments — including the piano — and tried to exit the camp, but he was stopped by militants.
"They asked me what those were. I told them they were musical instruments. They asked me if I didn't know that music was a sin," he told NBC News from the Syrian border with Turkey. "They then poured gasoline over all the instruments and burned them."
"I've had this piano for about 16 years. It is a Russian piano. It was a special relationship," Ahmad said. "They burned my best friend."
"It was kind of like a living person with me and my family under siege," he added.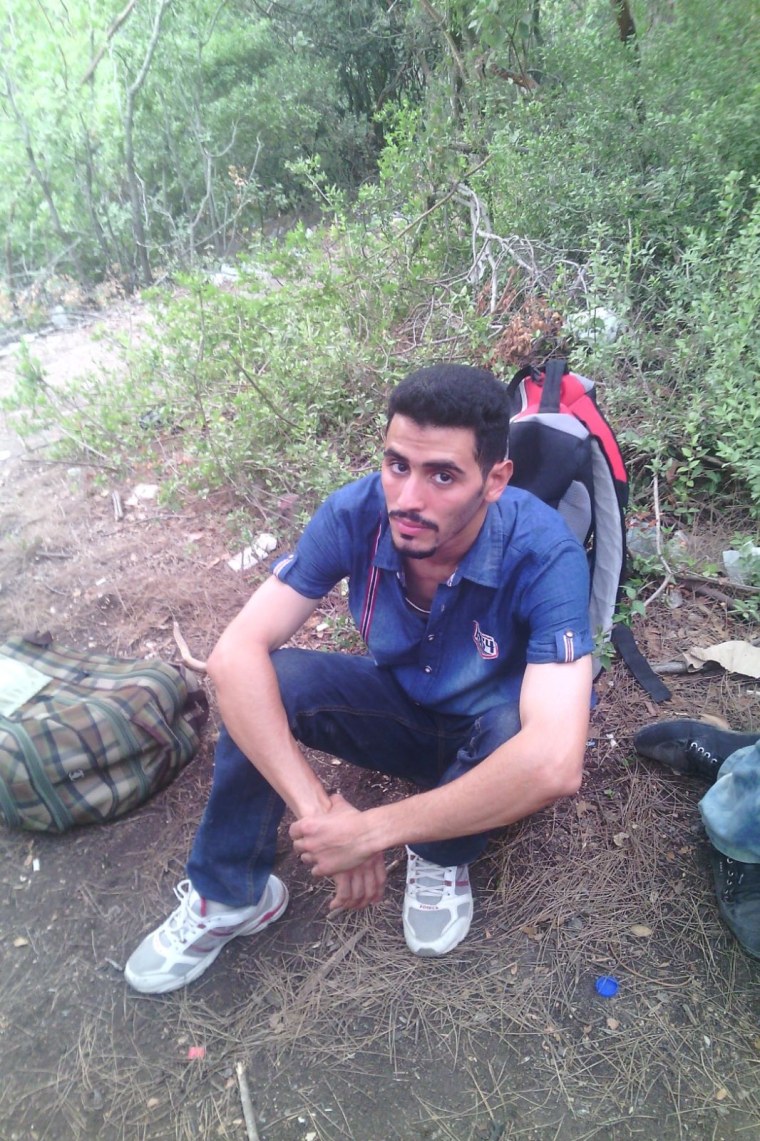 The family fled to the Syrian town of Yalda, where Ahmed played an electronic keyboard but out of sight because ISIS and their supporters were never far. The family was forced to live in intolerable conditions.
"We were in a siege. My family and I ate cats for dinner at the end," he said. "Imagine what you can't imagine. Eventually there was no food."
Ahmad decided it was time to leave again — this time for good. He paid a smuggler to take his family out of ISIS territory and the four soon left with nothing but the clothes on their backs. It soon became clear that his wife and children would be safest in Damascus while he joined the exodus to Europe.
"There is no clear plan but to escape ... and that I provide and deliver more music, in a better way," Ahmed said.
He has since made it to Europe — first to Greece, and was on Sunday making the arduous journey through Serbia.
For now, the Syrian piano man who sang for a return to a Yarmouk of the past seeks a future in Germany.