The United States is hoping to deliver a one-two punch against ISIS by supporting the second operation to recapture key cities from the militants.
Two weeks after American jets and personnel began backing Iraqi and Kurdish forces assaulting Mosul, the U.S. threw its weight behind an effort to retake the Syrian city of Raqqa — Operation "Euphrates Anger" began on Nov. 7.
But why is this city so crucial? And why launch both efforts at the same time?
Here's what you need to know.
Why is Raqqa important?
Raqqa is a city in central Syria that has been under the control of ISIS since 2014. It has huge symbolic significance for the extremists, who declared it the capital of their caliphate in June that year.
The city's official population of around 220,000 makes it roughly the size of Richmond, Virginia. However, it's not certain how this figure has been effected by years of war and ISIS rule .
Just 50 miles south of the Turkish border, Raqqa provides an enticing target for Westerners lured by ISIS propaganda. Tens of thousands of wannabe jihadis have traveled to Syria from Europe, North Africa and to a lesser extent the United States.
The city also has strategic importance for the militants. The stronghold has given them a base to plan and train for attacks on the West — including the massacre in Paris last November.
"Raqqa is the main theater of operations for ISIS in Syria," according to H. A. Hellyer, a senior non-resident fellow at the Atlantic Council, a think tank based in Washington, D.C. "It's the center of the caliphate and has been a very important propaganda tool for the group."
Who's involved in recapturing the city?
Leading the charge is a coalition of militias collectively known as the Syrian Democratic Forces. This coalition contains ethnic Assyrians, Turkmen, Armenians and Arabs but is dominated by Syria's main Kurdish fighting force, the People's Protection Units, or YPG.
The Kurds currently control territory in northern Syria and appear to have a tacit non-aggression pact with the forces of Syrian President Bashar al-Assad, someone whose rule the U.S. opposes. But the Pentagon sees the them as the most effective fighting force against ISIS in the country.
According to U.S. military officials, there are between 30,00 and 40,000 SDF fighters currently working to liberate the area surrounding Raqqa, while encircling and isolating the city.
The plan is that this will cut off ISIS' supply lines of oil and arms, as well as stopping other insurgents fleeing Mosul from reaching Raqqa and regrouping.
The U.S. is supporting the SDF with airstrikes and around 300 personnel advising and assisting their operations on the ground, one Pentagon official told NBC News last week.
"Together we will deliver ISIL a lasting defeat," U.S. Lt. Gen. Stephen J. Townsend said in a statement, using another acronym for ISIS.
Britain and France are among the other countries helping out with airstrikes.
How will the city's liberation work in practice?
Although the Kurdish elements of the SDF are busy isolating Raqqa, the U.S. is keen to limit their involvement in the liberation of the city itself.
This is because Raqqa is a mainly Arab city, and it's feared that a predominantly-Kurdish force rolling into town might not be welcomed by the locals.
To prevent this, the U.S. is trying to train-up as many local Arab fighters as possible to complete the final liberation of the city, a campaign expected to take months.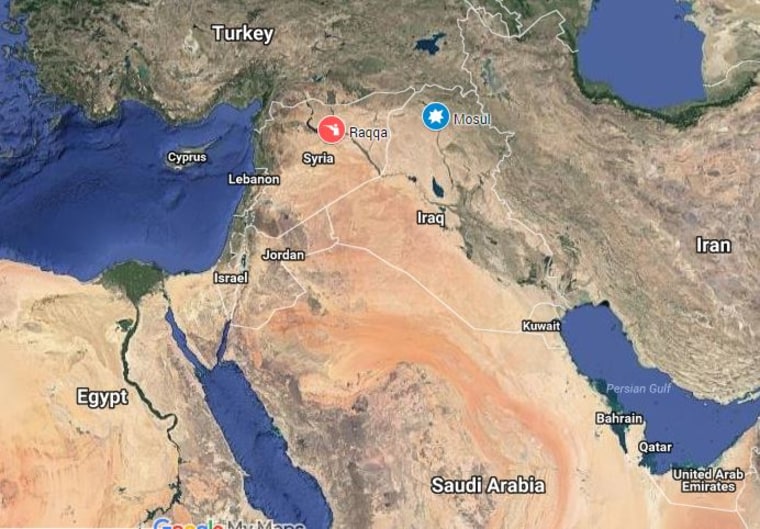 "We do understand that there is a political dimension and a local acceptance dimension to this fight," Col. John Dorrian, Operation Inherent Resolve spokesman, told reporters earlier this month before the push was formally launched. "I think there'll be some ongoing political dialogue many levels above me about who actually goes in."
Lt. Gen. Townsend explained in a statement last week that the "Arab element of the SDF is indigenous to the area and will help establish regional support."
This mirrors a similar dynamic in Mosul, where Iraqi Kurdish forces and Shiite militias have been told not to enter the mostly-Sunni Arab city for fear of a local backlash.
How does Turkey fit in?
Like in Mosul, Turkey appears adamant to have a role in the liberation of Raqqa.
This is where things get even more complex.
The U.S., Turkey and the Syrian Kurds all oppose ISIS. But Turkey also opposes the Syrian Kurds, who it sees as an extension of its own outlawed Kurdish militant group, the PKK.
The Pentagon has sought to reassure Ankara it will have a role. Last week, Marine Corps Gen. Joe Dunford, chairman of the Joint Chiefs of Staff, met with his Turkish counterpart and assured him they would work together "on the long-term plan for seizing, holding and governing Raqqa."
This didn't stop Turkish President Recep Tayyip Erdogan criticizing what he said was a "naïve attitude" by the U.S. just a day later. In a clear reference to the U.S.-Kurdish coalition, he hit out at the tactic of allying with "another terror organization" in the fight against ISIS.
Turkey's uneasy presence at the table also mirrors the fight to recapture Mosul. It has demanded to play a part in the multifaceted operation, something that's angered the central Iraqi government.
Why launch the offensive at the same time as Mosul?
The operation to retake Raqqa was launched two weeks to the day after a simultaneous push began to retake Mosul, a city also controlled by ISIS around 230 miles to the east in Iraq.
Mosul is a far bigger city than Raqqa, home to more than 1 million civilians and an estimated 7,000 ISIS fighters. The battle into the city has been slow. Last week. Iraqi special forces entered the city's streets from the east but they face a daunting task fighting ISIS in a heavily populated, built-up area.
The U.S. says it hasn't had a leading role in deciding when to launch the dual assaults; the Pentagon says that's up to the Iraqis and Kurdish-led militias leading each fight respectively.
However, there is a definite rationale behind squeezing ISIS on both fronts.
"It's one thing to have one of your cities being attacked, it's quite another to have two attacked at the same time," Hellyer at the Atlantic Council said. "This is putting a huge amount of pressure on ISIS."
What now for ISIS?
Most analysts predict that recapturing Mosul and Raqqa will not spell the end for the cities' extremist governors, but rather force them to morph into a different sort of organization.
What sets ISIS apart from other groups such as al Qaeda is its proven ability to capture and hold vast swaths of territory.
At its peak in 2015, ISIS controlled some 35,000 square miles across Iraq and Syria — roughly the size of Indiana — according to the global consultancy IHS. It has governed this so-called caliphate as a proto-state, implementing its brutal form of Islamic law and issuing its own currency.
The loss of its two major population centers will likely force the group to turn instead to planning and carrying out insurgent attacks.
"Anyone saying that ISIS will disappear is dreaming," according to Hellyer at the Atlantic Council. "It will transform and mutate."
That's not to say attacking Raqqa will necessarily produce more attacks; Hellyer said that its platform as an operations-room-slash-training-camp for the militants carried its own, perhaps greater, risk for would-be Western targets.
Even though the caliphate may fall, the very fact that it was ever established may still provide a powerful propaganda tool for ISIS.
"Fighters will be able to hark back to the idea that this was possible — that doesn't go away, even after they lose territory," Hellyer said.