BAADRA, Iraq — Men and women mob a slight figure, touching her face, kissing her hand and tugging at her black jacket and long skirt.
Stories of tragedy spill out from the crowd: Young boys taken away to become brainwashed ISIS fighters; women and girls raped and enslaved by the extremists that have taken over swaths of Iraq and Syria; villagers destitute after being driven from their homes and forced to live in camps.
The woman at the center, Iraqi legislator Vian Dahkil, is seen by many as the last and only hope for a desperate people.
"Whatever I can do, I want to help," she says calmly as she jots down harrowing details in a notebook.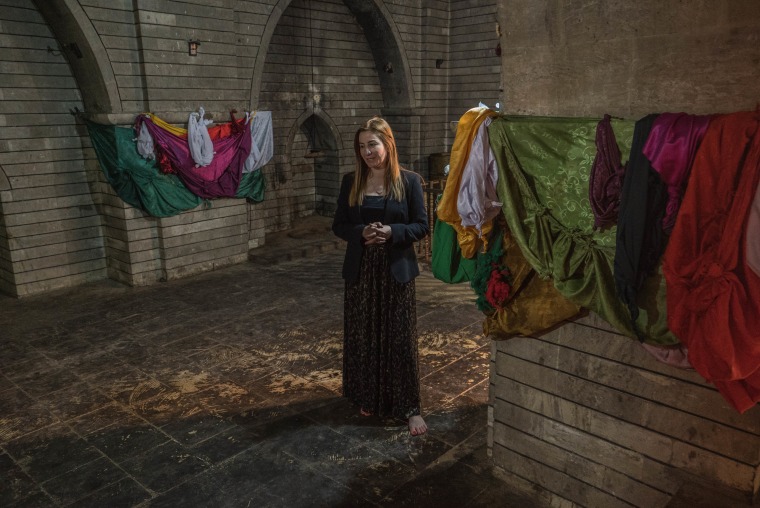 The crowd is made up of Yazidis, an ancient religious minority reviled by ISIS and driven from their historic homeland on Mount Sinjar in August 2014. The militants have captured thousands of women and children, around 2,500 of whom are still in the hands of ISIS, according to Dakhil.
The 42-year-old regularly fields calls from captured women and girls begging for help, then she works with Kurdish security forces and an underground network of activists to try and rescue them. The activists are often forced to pay smugglers to help hostages escape.
"Sometimes I hear some things I can't imagine — girls, maybe 15 years old, with two or three ISIS men raping [them]," she said. "The Yazidi girls those terrorist [are] buying and selling, Yazidi girls sometimes [for] $100, sometimes one cigarette — they sell the girls and nobody does anything."
So far, around 1,100 women and girls have been rescued, including those who sought Dakhil's help, according to the Yazidi affairs office for the Iraqi province of Duhok. More than 450,000 displaced Yazidis live in 16 camps scattered throughout the province, officials say.
During the ISIS onslaught in August, Dakhil made an unrehearsed, tear-filled plea to save her people. Video of her heart-rending appeal went viral, catching the world's attention.
"An entire religion is being exterminated from the face of the earth," she cried on the floor of the Iraqi parliament. "We are being slaughtered under the banner of 'There is no god but Allah.'"
Her international campaign, which includes efforts to help the nearly half-a-million families living in camps, has put her on the extremists' hit list so she travels with an armed guard.
This doesn't seem to faze the former professor of biochemistry, who splits her time between her home in Erbil and the capital, Baghdad. Unmarried and without children, she regularly visits Kurdistan's camps for the internally displaced to offer support to her people.
Related: One Yazidi's Battle to Chronicle the Death of a People
"If I think about myself, then I can't do anything for those people — those are my people," said Dakhil, the oldest of nine brothers and sisters. "I can't stop because I'm a hope for those people. I can't stop or thinking about my life ... my life is for them."
There are occasional bright spots, she said. One recent morning she attended a memorial for fallen Yazidis. After the ceremony, a young woman thanked her, saying: "I came from [ISIS] because of your help," Dakhil recalled.
Dakhil continues to call on the international community to help rescue the women and children still held by ISIS. More than a year after a U.S.-led coalition began conducting airstrikes on ISIS in Iraq and Syria, thousands remain in the hands of the extremists, she says.
"I go to any country in the world and speak about them, about the massacres, the rapes — about the Yazidis," she said. "We really need someone to help us."
Although the international community, including the U.S., has provided some humanitarian support, Dakhil is frustrated that nothing is being done to help the captives. A letter addressed to Michelle Obama pleading for the first lady's backing for a campaign similar to Nigeria's #BringBackOurGirls went unanswered, she said.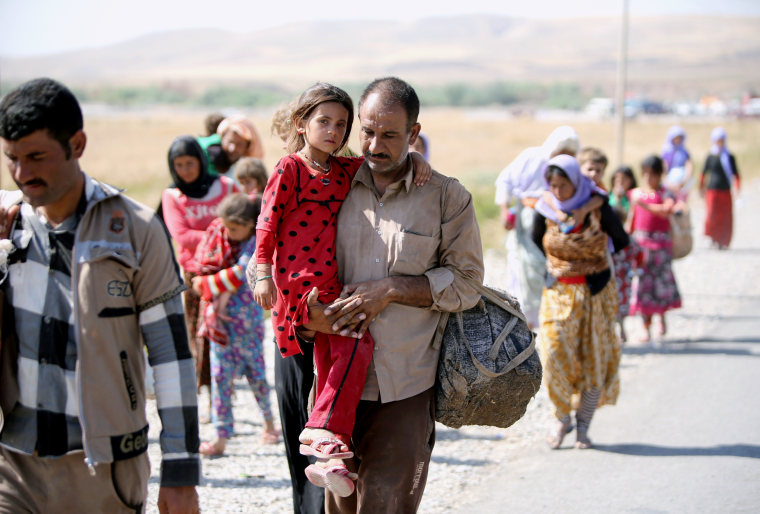 "I can't say nothing happened, because they send humanitarian help, they send money but it's not enough," she said. "I need someone to help those girls."
In the camp at Essein, she speaks with the sister whose younger siblings — a 13 and 20-years-old girls, and a 10-year-old boy — are still being held by ISIS. She sits in the tarpaulin tent and listens to another story of loss, cruelty and death.
"When I'm speaking with to them, I show I'm strong — give them hope," Dakhil said later in her car leaving the camp. "But when I go back to my home, I'm thinking about those people and what happened to them and why — I'm crying every day."