A network of anti-ISIS "commando cells" has carried out hundreds of guerrilla attacks in a city seized by the Islamist militants, Iraq's vice president told NBC News.
Dubbed the "Mosul Liberation Battalions," the little-known resistance movement has killed "a large number" of extremists through operations including sniper attacks, blasts using homemade bombs and raids on weapons-storage sites, according to Osama al-Nujaifi.
Battalion members include former military officers and tribesmen as well as students and local businessmen.
Al-Nujaifi said that it has been impossible for supplies to reach the resistance movement due to the tight control ISIS has on Mosul, which fell to militants in June. The volunteer fighters have been forced to target ISIS using whatever they find within the city or weapons captured from the Sunni extremists, he added.
"The government cannot send them anything," al-Nujaifi told NBC News in an exclusive interview. "All their operations are planned and implemented according to resources they have."
He said the guerrillas had carried out more than 300 attacks in Mosul and Nineveh Province.
Their struggle has not been without sacrifice: Five resistance fighters have been killed, according to the vice president, including one captured during an operation who was later executed. Al-Nujaifi did not discuss the size of the "Mosul Liberation Battalions."
Asked whether ISIS was aware of the guerrilla network, al-Nujaifi said: "Sure, they know. The battalions are targeting ISIS fighters on a daily basis and some senior ISIS leaders were killed by the elements of the battalions."
While the anti-ISIS forces were attempting to weaken the Sunni extremists from within the city, a plan to recapture Mosul was gathering pace, according to a senior Iraqi security official.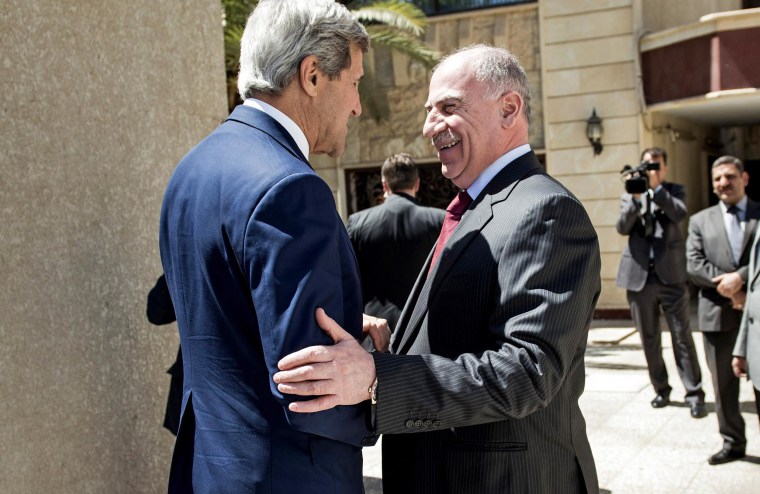 The source told NBC News that Kurdish Peshmerga forces, backed by U.S.-led coalition airstrikes, had attacked ISIS positions to the north and east of the city on Tuesday night. The Peshmerga killed more than 20 ISIS fighters and recaptured four villages near the city from the extremists.
U.S. Central Command said coalition airstrikes hit two buildings, an artillery system and several other ISIS units.
ISIS took control of Mosul in June during a murderous offensive in which its fighters overran large parts of Iraq and Syria. Mosul — which featured a pre-conflict population of 600,000 — and the Syrian city of Raqqa represent the main strongholds in the militants' self-proclaimed Islamic State.
The U.S. set up a broad coalition that has carried out more than 1,000 airstrikes in Iraq and hundreds more in Syria since August. This helped Iraqi and Peshmerga forces retake the crucial Mosul Dam — but the city itself has remained in the militants' grip.
Although ISIS has eliminated most phone and Internet coverage in Mosul, the Iraqi government has been able to communicate with the resistance fighters. It is still possible to make cellphone calls to the cities of Erbil and Duhok from some hilltop locations in Mosul, al-Nujaifi said. And some operatives have been able to sneak in and out of the city to deliver messages.
"We know exactly all details of their activities," the vice president said, adding that he had personally been in regular contact with battalion members.
Secrecy has been paramount. Al-Nujaifi said that while the resistance movement is working toward the same goal, "the cells are not connected to each other directly." He said this was because of fears that if "ISIS caught some of them then they would be able to get more information about the battalions. "
The anti-ISIS fighters have been helped — and in some cases hidden — by residents in Mosul, according to the vice president. Many locals initially welcomed the arrival of the Sunni militants as an alternative to the then Shiite-dominated government in Baghdad. However, support dwindled when ISIS began to destroy religious sites in the city.
While the battalions' hit-and-run-style attacks may have weakened ISIS, al-Nujaifi highlighted a wider plan to liberate the city from the outside.
Some 3,000 soldiers are currently "close to Mosul's borders," he said, with some Iraqi and Peshmerga forces as close as six miles from its ege. Adding to that, he said, were hundreds of Arab tribal fighters currently being trained in nearby camps.
"Soldiers are in high spirits, waiting to be involved in the battle to liberate Mosul," said al-Nujaifi, who recently visited one of the camps. "They have all motives to liberate their lands."
Nevertheless, al-Nujaifi said the fighters were in need of more weapons and equipment, a plea echoed by Iraqi Prime Minister Haider al-Abadi in an interview with The Associated Press on Wednesday. "We are in this almost on our own," he said. "There is a lot being said and spoken, but very little on the ground."
The Associated Press contributed to this report.