A local deal has been struck to evacuate civilians from ISIS-held Raqqa, the U.S.-led coalition said Saturday — but there were concerns that militants would also be freed under the deal.
A convoy of vehicles was due to leave the city under the arrangement, which was brokered by the Raqqa Civil Council and tribal elders earlier this week, the coalition said in a statement.
"The arrangement is designed to minimize civilian casualties and purportedly excludes foreign Daesh terrorists," it added, using a pejorative term for ISIS in Arabic.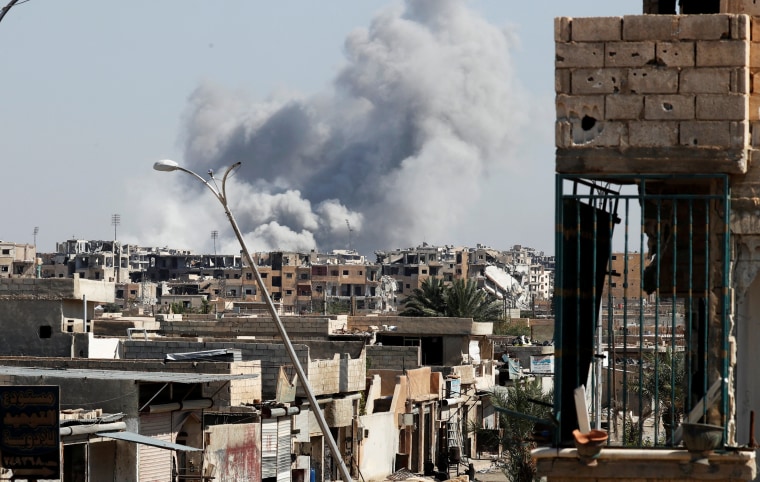 Those leaving the city will be subject to search and screening by Syrian Democratic Forces (SDF), who have been fighting to oust the militants from Raqqa for more than four months.
Related: Fall of ISIS Stronghold Raqqa Will Change War on Extremists, Not End It
"We do not condone any arrangement that allows Daesh terrorists to escape Raqqa without facing justice, only to resurface somewhere else," said Coalition Director of Operations Brig. Gen. Jonathan Braga.
The Syrian Observatory for Human Rights estimates that some 4-5,000 civilians are still trapped in the city, which was once the so-called capital of ISIS's self-declared caliphate.
Raqqa is one of the militants' last strongholds in Iraq and Syria, a region where they once ruled over millions of people. At the height of its power Raqqa served as ISIS's HQ from which they controlled their territory and planned attacks abroad.
Earlier Saturday the coalition said some 100 ISIS militants had surrendered in Raqqa in the last 24 hours and had been "removed from the city," according to Reuters.
A spokesman for the coalition refused to comment on whether the deal signaled the end of the battle for Raqqa.
Syria state media also reported Saturday that pro-government troops had successfully ousted ISIS from the town of Mayadeen, in the country's east, after weeks of fighting with the militants, according to the Associated Press.