PRISTINA, Kosovo — Albert Berisha is both a paradox and a dilemma.
His lilac shirt, soft features and neatly trimmed beard could belong to any office worker in the world.
He certainly doesn't look like someone who swapped his life in Europe to go fight in Syria alongside ISIS militants he openly describes as murderous psychopaths.
But Berisha is also the embodiment of some crucial questions perplexing Western security officials.
Is it possible for a jihadi who traveled to fight in Iraq or Syria to be peacefully reintegrated into society? And how can any government be certain such returnees won't kill in the name of Islam?
Berisha, a mild-mannered college graduate, said he only ended up in an ISIS unit "accidentally" and maintains he never harmed anyone during his nine days in Syria in 2013. However, he admits to spending time with commanders who he alleges "were ready to commit attacks through Europe."
He is one of some 40,000 so-called foreign fighters who abandoned their homes around the world to either live in ISIS' self-proclaimed caliphate or join other militant groups.
NBC News cannot independently verify Berisha's account of his time in Syria. But a court in Kosovo has sentenced him to three and a half years in prison for his decision to travel there. His supporters, however, argue that he's been victimized by a heavy-handed state.
"Every religion has its own black sheep and we cannot deny that we do not have them"
With ISIS suffering heavy territorial losses on the battlefield, there is a concern that many others like Berisha will return home to the West, battle-hardened and ready to strike.
The 30-year-old insists he knows the key to deradicalizing his fellow fighters and stopping them from carrying out attacks across the West. He established a nongovernmental organization after returning to his home country of Kosovo and believes he should be treated by authorities as an asset and not a criminal.
"It is hard to convince people to come back if they have two choices: stay and die inside Syria, or another bad choice, which is to end up in prison," he said during an interview with NBC News in Kosovo's capital, Pristina. "Our state, our society, needs to give them a third choice, which is reintegration."
Miniskirts and martinis
NATO airstrikes backed by President Bill Clinton in 1999 helped lead Kosovo, a tiny Muslim-majority nation bordered by Serbia to the north and Albania to the southwest, to independence. Today, Kosovo is Europe's third-poorest country and still hosts a significant U.S. military presence.
Smaller than Connecticut and less populous than West Virginia, the country has traditionally embraced a more liberal school of Islam. Visitors to Pristina are likely to see more miniskirts and martinis than religious headscarves.
But hardline voices have begun to surface in Kosovo in recent years, and a higher proportion of its citizens have traveled to Iraq and Syria than from any other European country.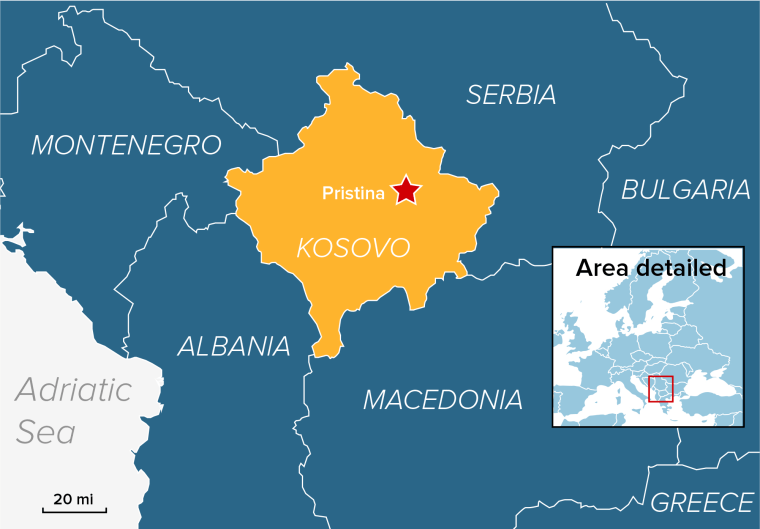 More than 315 foreign fighters are known to have left Kosovo, compared with an estimate of around 100 from the U.S., which has around 180 times Kosovo's population.
Some militants, like Berisha, have already returned and are being prosecuted or monitored by their governments.
Authorities are worried many others will soon follow, especially now that the ISIS caliphate that some were attracted to has all but disappeared.
"The concern is what these foreign terrorist fighters will do with the skills acquired in battle … when they leave the conflict zones," Jürgen Stock, secretary-general of Interpol, said last year.
Countries differ on how they are bracing for this perceived threat. Most tactics involve a mix of hard measures, such as arrest and detention, coupled with so-called soft measures, like psychological evaluation, counseling and social support.
"All of these processes have their place," said Alastair Reed, acting director of the International Centre for Counter-Terrorism in The Hague. "Take one of them out and you leave a big gap for people to carry out attacks."
But Berisha, who is currently appealing his criminal conviction, argues that his NGO is unique.
He said he can earn the trust of foreign fighters and potential extremists because of his own experiences — something that he said is impossible for any government employee to achieve.
Kosovo's government has a strange relationship with Berisha and his Institute for Security, Integration and Deradicalization (INSID).
It invited him to speak at a conference last year and produced a video starring him alongside the interior minister.
"I am a jihadi who likes the United States," Berisha said, highlighting that the word "jihad" actually means to struggle. "It's not jihad to kill innocent people. It never was and it never will be."
He added: "Let me be clear on this — I was not part of ISIS. I met them accidentally."
Many of Berisha's ideas are far from revolutionary: offering former jihadis psychological assessments as well as legal and financial aid.
He conceded that no redemption is possible for many extremists still inside Syria.
"I think that they have to face a court, a trial, a fair trial, but even after that they have to be monitored all the time," he said.
But unlike many other programs, which emphasize ex-foreign fighters keeping a low profile, INSID has managed to get several of them to speak out.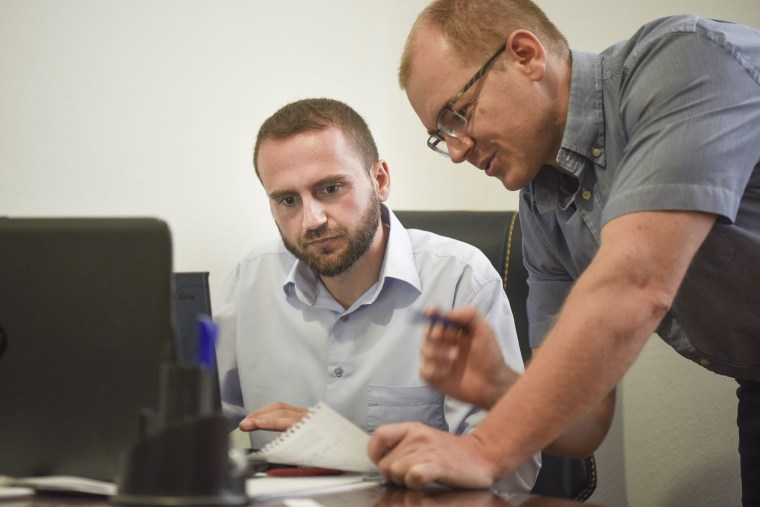 "We have tried to persuade the returnees to go public and to denounce the hate speech, and to speak out against the whole idea of joining terrorist organizations," said Arber Vokrri, a doctor who is not a former militant but who works with INSID. "It's not an easy thing to go public and speak out, but we managed to overcome this obstacle, and once a few of them started speaking out, it turned into a trend."
Berisha said INSID is in contact with 109 Kosovar jihadis, 75 of whom have returned home and the rest still in the Middle East.
He and Vokrri work as volunteers and their offices are donated by a private citizen who is supportive of their work. Berisha said the government's prosecution of him has made running the organization difficult, but he said INSID would accept any cash donations if they were forthcoming.
Besa Ismaili, vice dean of the Faculty of Islamic Studies, an independent teaching and research center, said Berisha's "case is the best illustration how authorities failed to take advantage of a returnee to tackle radicalism."
Deradicalization or a 'hiding place'?
INSID is not the only group in Kosovo focusing on foreign fighters.
The government has established a deradicalization program based on Denmark's groundbreaking "Aarhus model," the most progressive scheme in Europe, if not the world.
The Danes have built a network reaching into every corner of society, with families, youth workers, schools and psychologists collaborating with police, prisons and intelligence agencies. It attempts both to prevent and to cure.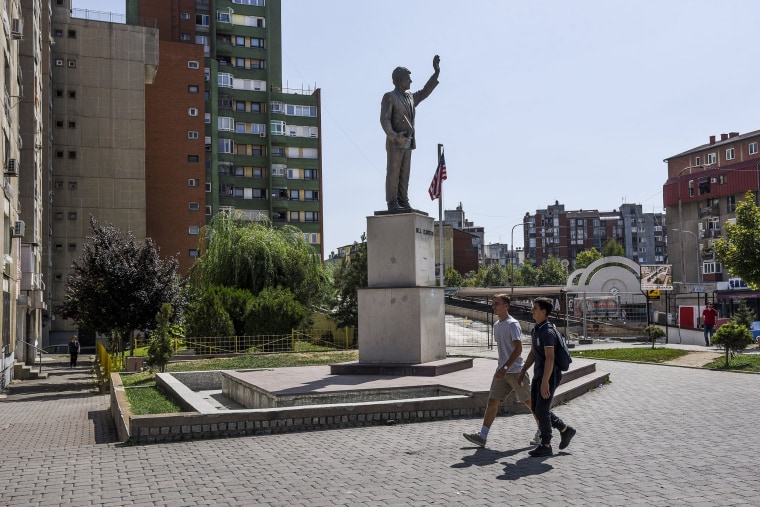 Young people at risk of being drawn in by violent extremism are offered mentors and workshops to address their ideology on a deeper level than merely saying extremism is wrong. Instead they are pushed toward constructive activities and encouraged to address any grievances they have with society through dialogue rather than violence.
There are also options for those already in Syria. Denmark's Exit Program is aimed at any fighter who wants to return home and can show a willingness to reform. The idea is that a reintegration program should be tailored to helping them with employment, health care, housing and therapy.
However, anyone found to have committed crimes at home or abroad faces prosecution.
Preben Bertelsen, a psychology professor at Denmark's University of Aarhus, wrote in 2015 that the program required participants to be "genuinely motivated" to change.
"Strong measures are taken to prevent the exit program from being used as some sort of hiding place for people intending to commit terrorist acts," he added.
The Exit Program dates to 2013 and Denmark has claimed some victories in terms of prevention, highlighting a drop in the number of citizens traveling to Iraq and Syria in recent years. Others point out that those numbers are down in most countries, perhaps owing to ISIS's crumbling caliphate and the group's leaders encouraging would-be attackers to stay home.
"It's really too early to say which approach works because it's such a new phenomenon," Reed said.
One short-lived deradicalization plan in France, which has seen multiple attacks by Islamist extremists in recent years, is widely considered a failure.
The Center for Prevention, Integration and Citizenship in the Loire Valley opened in September 2016 and was supposed to be a prototype for 13 other facilities across the country.
Months later, it closed after a bipartisan French Senate report labeled it "a complete fiasco."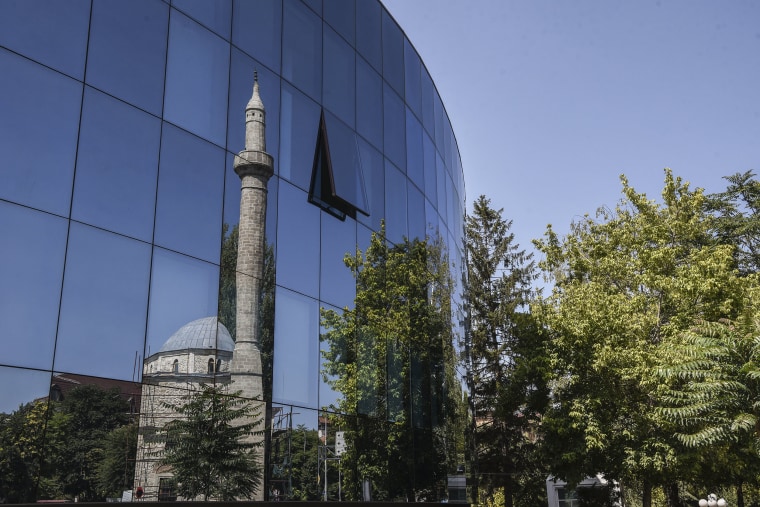 It was designed as a voluntary program where vulnerable, but as-yet-innocent youths were to submit themselves to 10 months of harsh routine and old-fashioned classes in French philosophy and history.
At its peak, it housed just nine people. None completed the course.
"It's not like you can just give them a red pill and they'll start singing the Marseillaise," Wassim Nasr, an expert on jihadi groups at the state-owned broadcaster France 24, said last month, referring to the French national anthem.
Some critics believe Denmark's approach is far too gentle a way to treat people who are, or could become, a danger. But most experts agree that some mix of carrot and stick is essential.
"Without a careful program to reintegrate these returnees into their communities, they could end up alienated, angry and poised to either commit an act of violence or to recruit others to do so," said Sarah Bedenbaugh, an associate director for the European Union at the Atlantic Council, a Washington-based think tank.
The same goes when it comes to jailing extremists. One study by the British government last year found prisons were a breeding ground for Islamist extremism, with some inmates acting as self-styled "emirs" intent on radicalizing their fellow convicts.
'Give us a second chance'
Kosovo's courts have sentenced Berisha and a number of other returnees to significant jail sentences under a 2015 law that prevents anyone from joining a foreign war.
The threat of prison is something that concerns Nexhat, 32, one of the foreign fighters supported by Berisha's organization.
"Of course I am afraid of the people I will meet inside the prison," Nexhat said, declining to give his last name for fear of reprisals. "I think the state has to give us an alternative, to give us education, employment, to give us a second chance and to provide us with psychologists. But the state just wants to put us in jail and declare war on us. This will lead us nowhere. This will lead us to violence."
Related: Terror Attacks Throw Spotlight on 'Jailhouse Islam'
Kosovo's government denies this, stating that like its Danish role model it is committed to a balanced approach.
During an interview at her government building, Shqipe Mjekiqi, an adviser on violent extremism at the Ministry of Interior, reels off a list of holistic deradicalization programs and initiatives, involving everyone from local imams to the U.S. Department of Justice.
"Anybody else who is found to have been a direct combatant in the war zones in Syria and Iraq are still going to benefit from reintegration programs in the prison and outside of prison," she said.
Radical preachers
Many in Kosovo trace the epidemic of foreign fighters to the war of the late 1990s. America and other countries helped them, so now Kosovars see it as their turn to pass on that good deed by aiding their Sunni Muslim brothers and sisters in Syria.
Much of the funding to rebuild the country came from Gulf Arab countries, notably Saudi Arabia, according to officials and locals.
But with that money came a school of Islam that taught more conservative values.
"We have radical Islam in this country," said Bekim Jashari, 44, a liberal imam in Podujevo, around an hour's drive north of the capital. "We have very young people going to Syria and Iraq. It's a very big problem."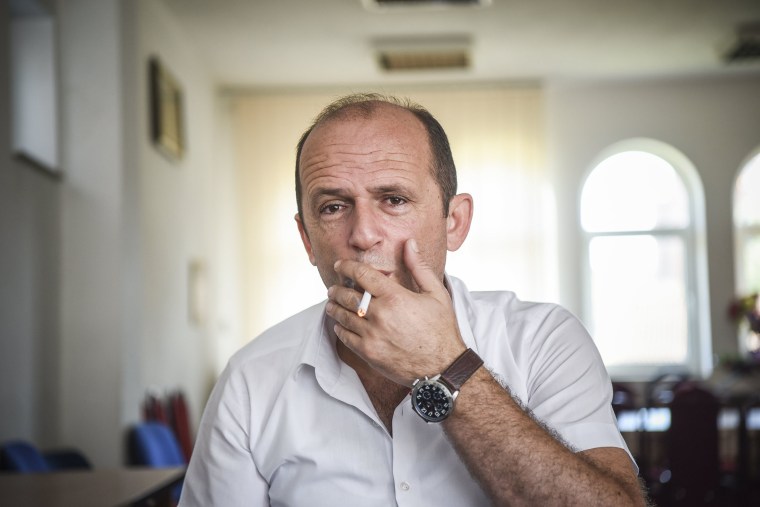 Between puffs of a Marlboro Red cigarette and gulps of espresso, he told NBC News that the influence of radical preachers has become so pervasive that he won't allow his 20-year-old son to pray alone.
Berisha said his journey into the world of foreign fighters and then deradicalization began in 2013 when YouTube videos showing the carnage in Syria convinced him he needed to join the rebels fighting President Bashar al-Assad.
"I felt very proud," he said, remembering his emotions traveling to Turkey and then across the border in Syria. He was 26 at the time.
Berisha said he hoped to kill as many of the Assad government soldiers as he could "because in my eyes they were criminals who were killing innocent people."
He set out to join more moderate rebel groups that were not blacklisted by Western governments as terrorists.
He initially encountered the Al-Nusra Front, which has historical ties to al Qaeda, and later spent three days with an ISIS unit headed by Lavdrim Muhaxheri, a notorious Kosovar jihadi who was on the State Department's list of most-wanted terrorists and was reported to have been killed in June.
Muhaxheri gained notoriety after he posted a Facebook video showing him beheading a prisoner, and another in which he murdered a man using a rocket-propelled grenade.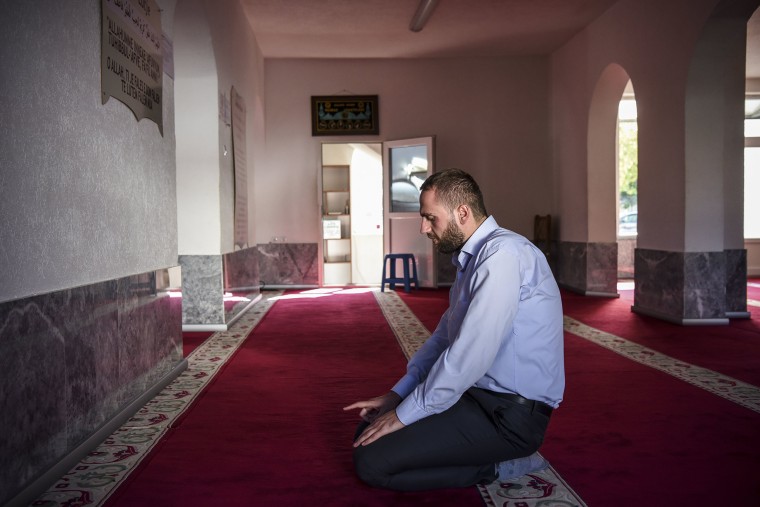 In November, officials linked him to ISIS members suspected of planning simultaneous attacks, including one targeting the Israeli soccer team.
Berisha eventually managed to join up with Ahrar al-Sham, a more moderate group that is not considered a terrorist organization by the U.N., the U.S. or the European Union.
"I refused to commit any kind of crime," he said. "And I am very proud of this."
Berisha decided to return home only five days later after calling his mother: "When I heard her voice I realized it was a mistake."
He said at his trial in Kosovo that fellow fighters returned his passport after he faked a text message to make it look like a family member was gravely ill.
Berisha said he is now dedicated to doing his part for his country. But his prosecution and looming prison term are making it hard for his organization to do its work. That won't stop him from trying, he said.
"Every religion has its own black sheep and we cannot deny that we do not have them. It's just our responsibility to deal with them," Berisha said. "We are protecting our religion from them, we are protecting our people from them, and we are protecting also other people from their activities."
"In the first line of the war against extremism should be Muslims," he said. "Not others."