KHANKE CAMP, Iraq — The grandmother lifted her face to heaven and let out a high wail.
"I pray for this hell to end," the 64-year-old said before crumpling onto the floor of her hut.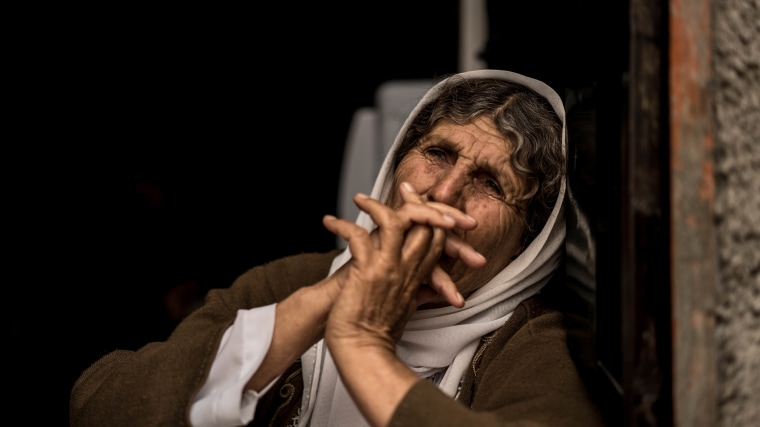 Kimy Hassan Sayfo's daughters and granddaughters have been held captive by ISIS. Two daughters recently escaped but extremist fighters have kept her young granddaughters "for themselves," she said.
Her story echoes those of countless others across this vast tent city full of Yazidis, a tiny and ancient religious minority reviled and persecuted by ISIS.
More than 3,000 women and girls were taken captive when ISIS attacked ancestral Yazidi villages around northwestern Iraq's Sinjar Mountain in August 2014. Nearly half-a-million people have been displaced since, according to the Kurdistan Regional Government's Yazidi Affairs Directorate.
Today, community leaders say around 2,000 women and girls are still being bought and sold in ISIS-controlled areas. The young become sex slaves and older women are beaten and used as house slaves, according to survivors and accounts from ISIS militants.
"Some are sold for weapons, or for just $10, or 10 cigarettes."
"Aveen" was among the countless who were taken. She told NBC News how ISIS fighters separated the men from women and children when her village was attacked.
"They took young girls, seven, nine and 10 years old," said Aveen, whose name has been changed and face hidden to protect her identity.
The women and children were held in a school where, she said, the guards would come at night to take away women and rape them.
Aveen said she spent most of her time with ISIS in Raqqa, held by a fighter who raped and beat her repeatedly. The 23-year-old escaped after nearly a year in captivity.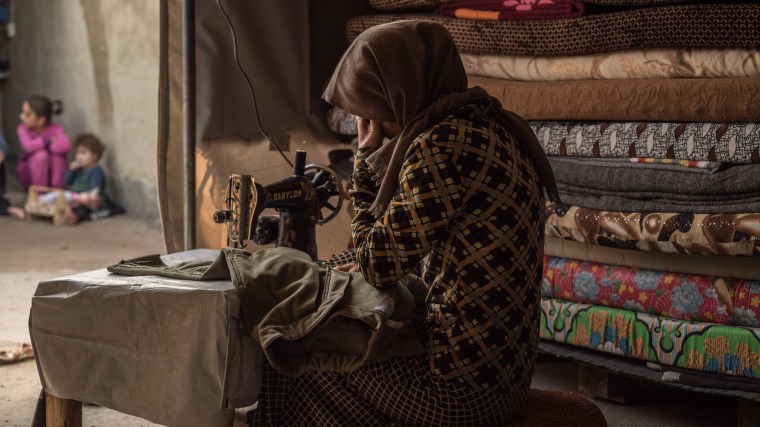 ISIS has published documents justifying the enslavement of Yazidis as spoils of war, and activist Khider Domle has interviewed dozens of women and girls who have fled their captivity.
"Every time a woman escapes we learn more about how they are using Yazidi women," he said.
Domle said the women, especially those who end up in ISIS strongholds in Syria, tend to be traded or sold three or four times as fighters move to different locations and leave the women behind.
"Some are sold for weapons, or for just $10, or 10 cigarettes," Domle said.
Related: Meet the Woman Fighting to Save Her People From ISIS
Some ISIS fighters send pictures of the women and girls to their families, either to taunt them or demand a ransom.
"Jeelan," whose name also has been changed to protect her identity, escaped her ISIS captors in August, along with her nine-year-old sister.
Her 11-year-old sister, though, was still being held.
"She is very beautiful," Jeelan said. "ISIS are asking for $25,00 to $35,000 for her freedom."
In rare cases, the government of semi-autonomous Kurdistan will pay for the release of women or girls. However, most of the captive women are reliant on a small network of underground activists, or sympathetic guards or even other wives to smuggle them out.
Aveen, for example, escaped after her captor's wife took pity and released her to a neighbor. She said she was smuggled across at least six safe houses in ISIS territory before ultimately reaching freedom.
More than 1,000 Yazidi women and girls have escaped ISIS control, but the battle isn't over once they get back.
They suffer from psychological trauma and many have physical injuries, aid workers and community elders say.
The regional government offers basic medical check-ups and psychological support for the escapees, but anything more is hard to come by.
The Jiyan Foundation for Human Rights runs a small clinic in the Kurdish city of Duhok where Yazidi women can receive medical care and psychological treatment.
Psychotherapist Shahla Hesein said there are challenges in convincing women to come for treatment in the first place.
"They don't want to tell their families," she said. "They feel ashamed."
Related: One Yazidi's Battle to Chronicle the Death of a People
In conservative Yazidi culture, rape victims often are stigmatized and shunned by their families and communities — even despite an edict from the religion's highest authority last year ordering families and communities to embrace former ISIS captives.
Occasionally, though, love flourishes after tragedy. Take 16-year-old "Reem," who escaped from ISIS in 2014 after being kept for four months.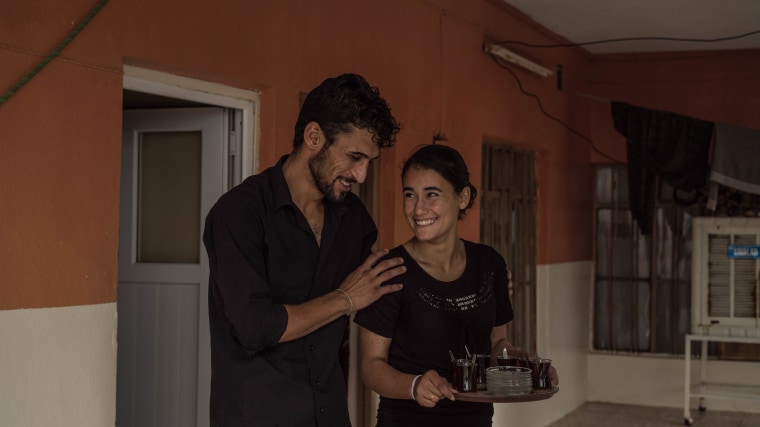 After her escape over the summer, Reem joined her mother, brothers and sisters in a camp for displaced people in Duhok where she met "Barzan," a 22-year-old builder. It was love at first sight, they both said. Two days later, they were married.
Reem told NBC News she now has Barzan to protect her. Both Reem and Barzan asked NBC News not to use their names for fear it would endanger family members still being held by ISIS.
If you want to help displaced Yazidis, here are some of the organizations NBC News worked with on this series: