When Santa Barbara County sheriff's deputies met face to face on April 30 with Elliot Rodger, the man who would soon become notorious for a deadly rampage in Isla Vista, Calif., they found him polite, courteous and shy. He explained that he was "having trouble fitting in socially" in the college town, the department said in a statement, and told officers he had posted a series of menacing videos on YouTube "merely as a way of expressing himself."
One thing the deputies did not do -- either before visiting Rodger or after speaking to him -- is view the videos themselves.
In a statement released late Thursday, the sheriff's department revealed new details about the encounter between Rodgers and deputies that began at 10:17 p.m. April 30 and lasted approximately 10 minutes, including the fact that deputies never viewed what it described as the "disturbing videos he had posted online." On Friday, the department announced it was conducting an internal review of the deputies' actions.
It is unclear whether the rants that the 22-year-old Rodger had posted on the video-sharing service just over three weeks before he killed six people and himself would have tipped the scales in favor of intervention. But the disclosure rekindled debate over the extent to which social media should be considered a routine investigative tool when concerns are raised about an individual's mental health.
Dr. Kris Mohandie, a clinical, police and forensic psychologist and an expert on violent behavior, said social media can and should be used by investigators to try to uncover clues about potentially violent individuals before they act.
"Social media investigation not only should be standard procedure for law enforcement, but maybe even mental health providers treating individuals who they have concerns about," Mohandie said, noting such efforts can break down silos of information and paint "a more coherent picture" of that individual.
But many experts doubt that social media analysis would prove valuable in identifying potentially violent individuals and warn that poring over such material could prove an enormous waste of law enforcement officers' time and resources.
The problem for authorities is that most of the material that Rodger posted online was "indistinguishable from thousands -- maybe tens of thousands -- of people who have similar anxieties, frustrations, inadequacies and anger," said James Alan Fox, a professor of criminology, law and public policy at Northeastern University. "They don't go on rampages. We can't prosecute people for talk unless they take actual steps toward that end."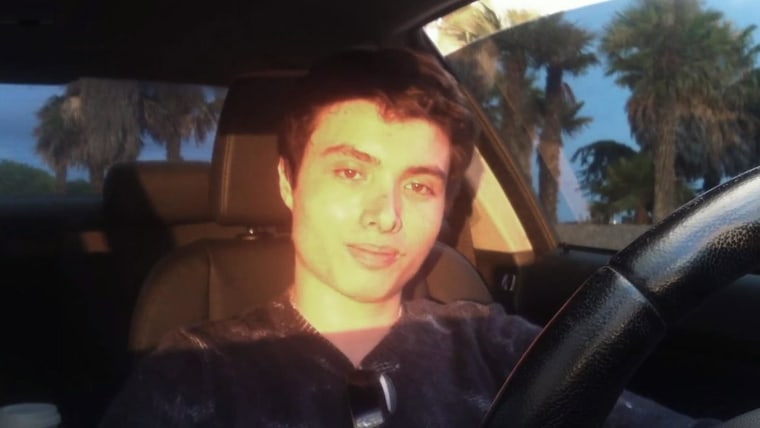 "You look backward and you see all these red flags," agreed UCLA law Professor Adam Winkler. "But you look forward and you see there are potentially millions of people with some kind of red flags."
Fox also noted that the suggestion that a person's social media posts could tip off police fails to recognize research showing that most individuals who commit mass violence are not mentally ill in profound ways that are readily recognizable to mental health professionals, let alone police officers or untrained civilians.
He cited a study by Mayors Against Illegal Guns of 56 mass shootings from 2009 through 2012, which found none of the assailants were prohibited by federal law from possessing firearms because they had been legally found mentally ill or involuntarily committed for treatment. In only four of the cases, he noted, was there any evidence that concerns about the mental health of the assailant had been brought to the attention of a medical practitioner or legal authority before a shooting spree.
"It's a needle in a haystack and the response shouldn't be let's create more haystacks."
The notion of using social media posts to help inform a mental health assessment also raises privacy concerns. Rodger posted his YouTube videos under his own name, but many other users post to social media under pseudonyms or limit the ability to view posts to a select circle of friends or family members. Those scenarios would require investigators to obtain search warrants to view their comments or videos – a heavy burden at a time when the number of mental health calls that police respond to are on the rise.
Peter Eliasberg, legal director of the ACLU of Southern California, said that alone makes it an impractical solution that would put everyone's privacy at risk.
"It's a needle in a haystack and the response shouldn't be let's create more haystacks," he said. "And we have to ask at what cost and whose lives are we going to be monitoring and intervening in with sketchy basis of achieving the goal of preventing these tragedies?"
Ann Lippincott, chair of the education committee of the Mental Wellness Center of Santa Barbara, said such investigations would also create an "informant culture" that could further stigmatize people with mental health issues.
"That will prevent them from seeking the help they need and deserve, and we know that early treatment is most effective," she said.
The Rodger case starkly illustrates the challenges officers would face in determining if online posts – even those that are menacing or somewhat threatening – would merit intervention.
Santa Barbara sheriff's detectives have been interviewing family and acquaintances of Rodger, as well as examining his previous police contacts, financial records, Internet activities and social media postings to develop a more complete profile of him, as well as a more-precise timeline of events leading to the "day of retribution," as he called it. They are also trying to reconcile those events with his YouTube postings, Internet writings and a 137-page "manifesto" that is equal parts autobiography, rant and murder plot.
"It comes to what information was initially provided to them and were they clued in or provided with what he had posted online."
The videos that Rodgers had posted on YouTube at the time of the "welfare check" by sheriff's deputies – an encounter that now seems infused with significance in the wake of his May 22 onslaught – would likely not have met the threshold for a "5150" – a section of the California Welfare and Institutions Code that allows law enforcement officials to involuntarily detain someone in a psychiatric facility for 72 hours if they are deemed a danger to themselves or others.They were far less explicit about his plans for revenge than the videos that he posted as he embarked on his final onslaught on May 22.
But Mohandie, the expert on violent behavior, said an examination of the videos would have made the officers better informed when they questioned him.
"It comes to what information was initially provided to them and were they clued in or provided with what he had posted online," Mohandie said. "That's going to be an important question."
In the statement released Thursday, the Sheriff's Office said the deputies April 30 visit to the Seville Road apartment that Rodger shared with two roommates occurred as the result of a call from a staffer with the county's toll-free Alcohol, Drug and Mental Health toll free access line to an emergency dispatcher with the Sheriff's Office. It did not say who made the call to the hot line.
According to the statement, four deputies were sent out to Rodger's residence. Asked about the videos, Rodger told them "he was having trouble fitting in socially in Isla Vista and the videos were merely a way of expressing himself," it said.
"Based upon the information available to them at the time, sheriff's deputies concluded that Rodger was not an immediate threat to himself or others, and that they did not have cause to place him on an involuntary mental health hold, or to enter or search his residence," it said. "Therefore, they did not view the videos or conduct a weapons check on Rodger."
Related
Elliot Rodger's Isla Vista Rampage Sparks Push for Gun Seizures
Seven Guns and 1,000 Rounds Seized from UCSB Student
Sheriff's officials noted that a deputy called Rodger's mother from the scene and briefed her on what they had found. Rodger was then handed the phone to speak directly to his mother.
"During the conversation … Rodger told her he was fine and that he would call her later," the officials said. "Before leaving, deputies gave Rodger information on several local services he could contact if he needed help, including calling the Sheriff's Office."
Sheriff's officials said they are reviewing how officers handled the welfare check in light of last week's events, which left seven people dead, including Rodger, his roommates, a visitor to the apartment and three college students shot at random.
Many police departments are putting more emphasis on providing officers with additional resources to draw on when responding to mental-health related calls.
The Los Angeles Police Department, for example, has recently beefed up its Mental Evaluation Unit. In 2013 alone, the unit, which is staffed by 61 sworn officers and 24 clinicians, received 13,052 calls for service. The hospitalization rate – resulting from both voluntary admissions and individuals taken into protective custody -- from those calls was nearly 90 percent, the department reported.
Follow NBC News Investigations on Twitter and Facebook.
No one will know whether such an approach could have averted last week's carnage in Isla Vista, but USC Professor Ron Astor, who has studied school shootings across the country, said the that having mental health experts involved and freely sharing with family members, friends and police has proven to be a successful approach in preventing many potential tragedies at schools and elsewhere.
"People — parents, friends, mental health professionals and police — need to know what to look for, which is not just examining the separate pieces," Astor said. "Is there a public record of purchasing firearms? There was (in Rodger's case). Are their family or friends aware of an obsession with firearms? Does the person have suicidal tendencies presently or the past, or is there an attempt to notify verbally, in writing or on video, they intend to harm themselves or others? Lastly, is there an attempt to immortalize themselves in the media? If you see two or three of these you should be looking to see if there's more. There should be some kind of process."