NBC Los Angeles
Thousands of UC Santa Barbara students and community members marched in silence Saturday night from the campus to a park in Isla Vista, where a candlelight vigil was being held for the victims of a mass shooting that rocked the seaside town.
Read: Isla Vista Mass Shooting Victims Identified
At least three innocent UCSB students lost their lives in the killing spree that stretched for several blocks, including 20-year-old Christopher Ross Michaels-Martinez, who was at a deli when gunfire sprayed the crowd.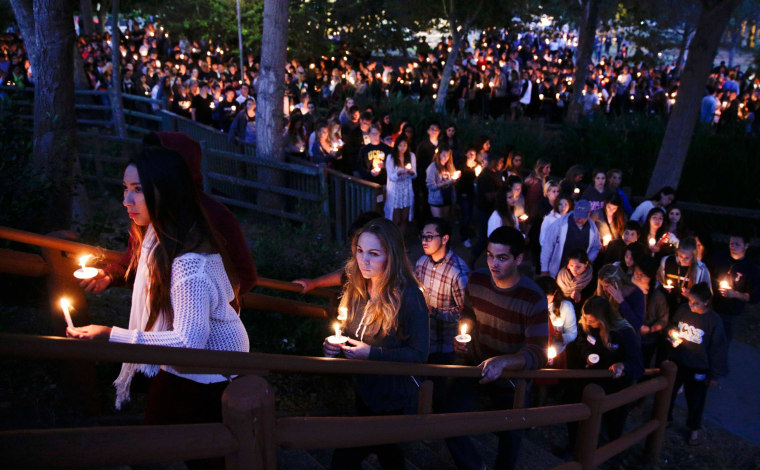 "You always think, 'Oh, that doesn't happen to me, that doesn't happen in my town. That's always just something on the news.' But that did happen and it's just, like, very overwhelming," said Jeff Dolphin, Michaels-Martinez's roommate. "A lot of shock hasn't even settled. This morning was like a complete haze. Not a lot of sleep last night for anybody."
Timeline: Isla Vista Mass Shooting
Dolphin remembered Michaels-Martinez as a great writer who always helped him edit essays.
"He helped me out a lot, and he was just a great guy," Dolphin said.
Away from the vigil, a group of fraternity brothers wept as they dropped off flowers outside the Alpha Phi sorority house, where two other UCSB students - Katherine Cooper, 22, and Veronika Weiss, 19 - were shot to death.
"Isla Vista has experienced a tragic loss and the community is shaken," organizers posted on Facebook. "This is a time to reflect on, honor, and celebrate the lives of those we have lost."
The vigil featured speakers, an open mic and performers.
Photos: Isla Vista Rampage
Elliot Rodger is suspected of stabbing three people to death at his apartment before killing three other people in shootings across Isla Vista on Friday. Rodger was later involved in a shootout with sheriff's deputies and died of an apparent self-inflicted gunshot wound to the head.