ISTANBUL — Explosions rocked Turkey's largest airport Tuesday night, killing at least three dozen people and wounding scores more in what appeared to be a coordinated terror attack, officials said.
The gunmen opened fire around 10:30 p.m. local time (3:30 p.m. ET) at the entrance of the international arrivals area at Ataturk International Airport in Istanbul, where detonated explosives sent people running for their lives, witnesses and officials said.
The number of dead and injured fluctuated steadily overnight amid the confusion, and Prime Minister Binali Yildirim said on television that at least 36 people were killed.
Photos: Scores Killed in Istanbul Airport Bombing
The Turkish Red Crescent counted "over a hundred" injured.
"I call on every citizen to act in unity and stand by each other, and I believe that this is going to be the best answer to the terrorists," Yildirim said. Initial indications are that ISIS carried out the killings, he added, "but we are still working on determining the cause."
The White House condemned the blasts as a "heinous terrorist attack," and the U.S. State Department said it was determining if any victims were American.
The attackers arrived at the airport in a cab, Yildirim said. At least two blasts occurred at a checkpoint at a busy terminal that serves as a major hub, particularly for people traveling between Europe and Asia.
In the aftermath of the explosions, U.S. carriers were halted from flying directly into Turkey — a country that has become the main transit point for foreign fighters in and out of Syria, where ISIS controls part of the country.
Related: Witness Accounts: Deadly Explosions Spread Panic Through Istanbul Airport
A person who works for a contractor inside the airport told NBC News that he saw three suicide bombers.
Another witness said he heard the first blast at a parking lot, where the attacker had an AK-47 and started shooting before blowing himself up. That drew security to the scene.
Meanwhile, another person at the international arrivals area blew himself up, creating more confusion. A third attacker then got inside the greeting point at a kiosk at the terminal.
That attacker was noticed by police, who started yelling, "suicide bomber," but they were unable to stop another explosion, a witness told NBC News.
A porter who works at the airport gave a similar account to NBC News, and said he heard a third explosion outside. Closed circuit TV that appears to be from the scene purportedly showed one of the attackers slip to the ground, drop an object and then blow himself up.
One witness told national broadcaster TRT that he saw two attackers open fire and then set off explosives as authorities responded at a security checkpoint outside the international terminal. At least one of the gunmen was armed with an AK-47, said TRT, quoting Bozdag.
Two South African tourists, Paul and Susie Roos from Cape Town, were at the airport and due to fly home at the time of the explosions Tuesday. They were shaken by what they witnessed.
Related: Officials Worry Turkish Attack Could Be Start of Terror Campaign
Paul said: "We came up from the arrivals to the departures, up the escalator when we heard these shots going off."
He added: "There was this guy going roaming around, he was dressed in black and he had a hand gun."
Video posted to social media shows travelers hiding in an airport store amid the chaos:
Turkish media reported the sound of gunfire, and video from the scene showed ambulances racing to the terminal and people yelling.
"Passengers (were) running everywhere, scurrying. I was hiding," a witness told TRT.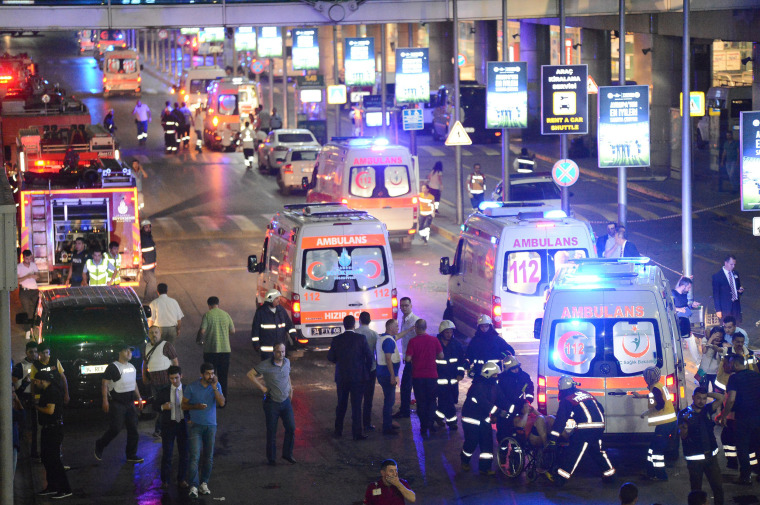 Checkpoints were set up around the airport in the wake of the explosions. Ataturk International was the 11th busiest airport in the world last year, with 61.8 million passengers, and the third-busiest airport in Europe, according to Airports Council International.
Facebook set up a "safety check" page to allow people in the Istanbul area to let others know they are safe.
The Turkish government convened a crisis management meeting to discuss the attack.
U.S. officials, meanwhile, said the apparent use of suicide bombers had all the hallmarks of ISIS, which has in recent months stepped up bombings in the country, although Turkey has historically suffered attacks from Kurdish separatists.
There was no immediate claim of responsibility for the Ataturk attack, but rebels of the Kurdistan Workers' Party, or PKK, have been targeting police and military personnel with bombs since last July, when a fragile peace process between the rebels and the government collapsed.
Experts say ISIS is likely behind the blasts, which come just before the two-year anniversary of when the terror network declared a caliphate on June 29, 2014, spanning parts of Syria and Iraq.
ISIS responsibility for the carnage in March at the Brussels airport, killing 32 people. Two suicide bombers destroyed the departure hall before a metro station was also bombed.
A senior U.S. counterterrorism official told NBC News the Istanbul attack "fits the ISIS profile, not PKK."
"There are only two groups capable of carrying out such a large-scale attack. This does not fit the PKK profile, they go after Turkish targets, not international targets," the official said.
The official was unaware of any "chatter" that threatened an attack, but there remains a "heightened state of alert" throughout Europe for months. There have also been numerous indications of a threat during the Islamic holy month of Ramadan, which ends July 5.
Related: Airport Attack Is Another Strike on a 'Soft Target'
Another senior U.S. intelligence official said the attack fits ISIS, adding that "our long summer of discontent has just begun."
The official added that Turkey is one of several Middle Eastern nations that have disagreed with the U.S. assessment of the scale of the ISIS threat.
The White House in a statement, meanwhile, said the airport has been a "symbol of international connections and the ties that bind us together.
"We remain steadfast in our support for Turkey, our NATO Ally and partner, along with all our friends and allies around the world, as we continue to confront the threat of terrorism," the statement said.
Related: 'Second Front of Jihad' Looms on Russia's Border in Central Asia
Secretary of State John Kerry spoke briefly about the Istanbul blasts Tuesday while at the Aspen Ideas Festival in Colorado, saying the challenge to fight extremism is "daily fare" and authorities face countering "non-state violent actors."
"Yes, you can bomb an airport. You can blow yourselves up," Kerry said, adding, "We have to get it right 24-7-365. They have to get it right for only one hour. ... If you're desperate and you're willing to give your life, then you can do some harm."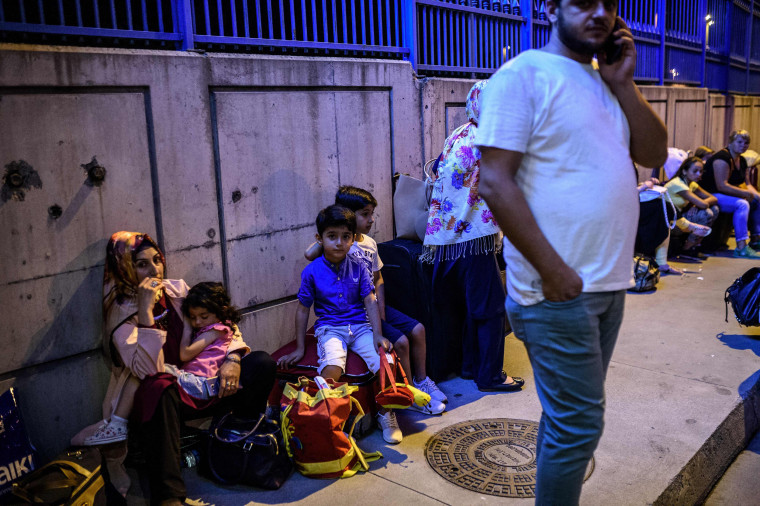 James Jeffrey, a former U.S. diplomat who worked in Turkey and Iraq, told MSNBC that ISIS appeared to be the most likely group behind the bloodshed.
Related: Timeline of Terror: Airport Attack Is Just Latest to Hit Turkey
"There have been four attacks in Turkey by (terrorist groups) in the past year," he said, adding that perimeter security appeared to have prevented the attackers from reaching the airport's crowded terminal area.
On Monday, the U.S. State Department had issued a revised warning to U.S. citizens advising of "increased threats from terrorist groups throughout Turkey."
That came after a flurry of violence.
Earlier this month, a car bomb attack targeting a bus carrying Turkish police killed 11 people. Thirty-six others were wounded in the attack, Istanbul officials said.
Other bombings have included two in Istanbul targeting tourists — which authorities have blamed on ISIS.
The attacks have increased in scale and frequency, scaring off tourists and hurting the economy, which relies heavily on tourism revenues.