Istanbul's busy Ataturk Airport reopened on Wednesday morning, hours after a coordinated terror attack blamed on ISIS left dozens dead, scores wounded and blood streaked throughout the arrivals hall.
Turkey's Prime Minister Binali Yildirim said three terrorists had arrived in a cab and carried out the assault, opening fire and setting off at least two explosions.
PHOTOS: Scores Killed in Istanbul Airport Bombing
A series of chilling videos captured the horror unfolding: Panicked passengers running with their luggage, an orange ball of fire and what appeared to be one of the attackers falling to the ground then exploding.
Istanbul's governor said Wednesday that the death toll had climbed to 41 — including at least 10 foreigners and 3 dual nationals. More than 230 were injured though 109 have already been released from hospitals, the governor added in a statement.
Airport taxis had ferried the wounded to hospitals as the Red Crescent put out appeals for blood donations.
"People were wounded, people fell down in front of me ... They were torn to pieces," airport worker Hacer Peksen told The Associated Press.
Related: Turkey Is Bombing Both ISIS and Kurds Linked to Forces Fighting Them
There was no immediate claim of responsibility for the attack, which plunged Turkey into a state of national mourning. The country is grappling with a number of enemies domestically and abroad — but Yildirim said it appeared ISIS was to blame.
A senior U.S. intelligence official agreed that the attack fit the ISIS profile.
Turkey — which is also battling an ongoing insurgency from the Kurdistan Workers' Party, or PKK — is participating in the U.S.-led coalition against ISIS.
President Tayyip Erdogan said the "heinous attack" during the holy month of Ramadan should serve as a warning to other nations that terrorism knows no borders.
"The bombs that exploded in Istanbul today could have gone off at any airport in any city," he said in a statement. "Make no mistake: For terrorist organizations, there is no difference between Istanbul and London, Ankara and Berlin, Izmir and Chicago."
President Barack Obama called Erdogan on Wednesday to offer his condolences, and later told reporters during a North American leaders' summit in Canada that he would provide the Turks with any support needed as they fighting against radical groups such a ISIS.
Obama said he spoke with Erdogan to "not only (say) how heartbroken we've been by images of the injured and those killed, but also to reaffirm our strong commitment to partner with Turkey."
He did not explicitly say ISIS was responsible for the attack, but noted that the terror group appears to be unable to hold onto the territories it has seized since declaring a caliphate exactly two years ago. "They're gonna be defeated in Syria, they're gonna be defeated in Iraq," Obama said.
CIA Director John Brennan, speaking at the Council on Foreign Relations on Wednesday, said while he thinks ISIS was responsible, the terror group tends not to claim credit for attacks in Turkey so as to not alienate potential recruits.
Signalling a potential shift in wake of the assault, Turkey's state-run news agency reported that Erdogan and Russia's Vladimir Putin had shared a "positive" phone call.
Relations between the two countries have been strained since Turkey last year shot down a Russian warplane — though earlier this week appeared to signal a warming of ties.
There were no immediate details on what if any additional security measures were in place Wednesday as Ataturk airport reopened, flags flying at half-staff outside the building. Passengers mixed with crews still cleaning up debris from the attack.
The airport is one of the busiest in Europe and has a double layer of security: Checks before entering a terminal, then security once inside. Those measures have been hailed in the immediate aftermath for potentially saving dozens of lives.
However, the attack — months after a similar assault at Brussels Zaventem Airport — raises questions about security at transportation hubs.
New York's Port Authority Police said it had added high-visibility patrols at John F. Kennedy, LaGuardia and Newark Liberty International airports.
Istanbul's governor said 37 of the 41 victims have been identified so far.
Sobbing relatives gathered outside of a morgue in Istanbul, waiting to retrieve their loved ones' bodies.
Otfah Mohamed Abdullah dropped to the ground when gunshots broke out in the terminal — but her sister started running.
"I don't know which way she was running … I was on the ground until he finished," she told the AFP news agency late Tuesday. "Until now, I can't find my sister."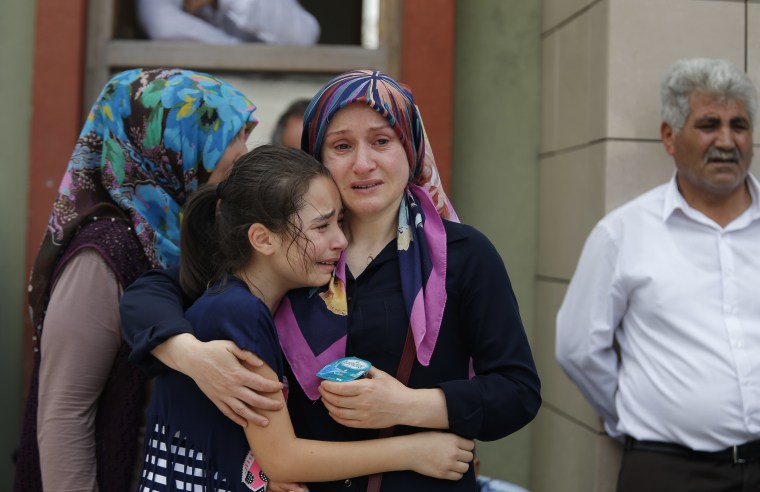 A State Department official said it was not aware U.S. citizens among the dead or injured.