Witnesses and experts praised Turkish security forces — and one still-unidentified officer who gave his own life — for their composed, professional handling of Tuesday's terrorist attack on the main airport in Istanbul, which killed at least 36 people.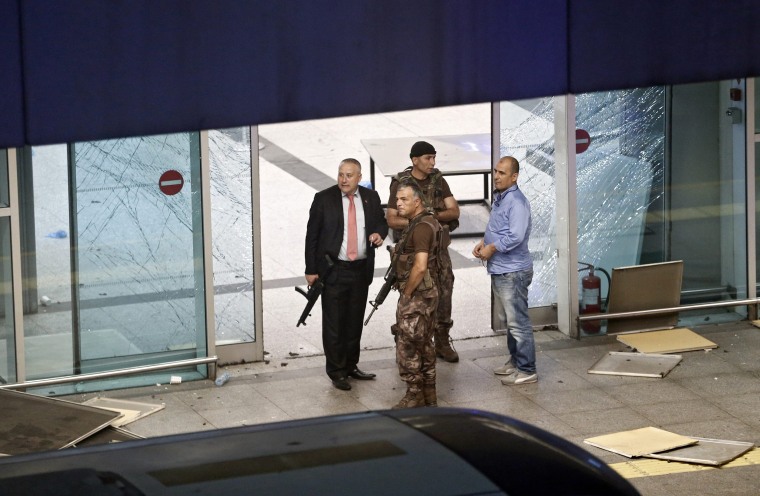 Authorities at Ataturk International Airport, the third busiest in Europe and the 11th busiest in the world, quickly converged on the attackers while shepherding thousands of passengers, staff and visitors to safety Tuesday night.
Mohamed Ali, who told national broadcaster TRT that he was traveling from Zurich, Switzerland, to Aqaba, Jordan, said authorities calmly and swiftly conducted him and about 200 other people out of the airport from the area of their gate.
"Everything was under control," he said. "They were very polite."
Security forces began opening fire before the attackers could reach a security checkpoint, witnesses said. One witness told NBC News that an officer even tackled one of them before the man detonated his explosives.
The officer, who hasn't been identified, is believed to have been killed.
"We don't know for sure, but it certainly seems that a lot of lives were saved because these guys were not allowed into the airport," said NBC News security analyst Evan Kohlmann, co-founder of Flashpoint Intelligence, an international terrorism research organization.
"A lot of credit is due to Turkish airport security and police here," Kohlmann said.
Speaking of the officer who confronted one of the bombers, he said: "This guy sacrificed his life in order to save other people, and that does say something. It's hard to imagine that that didn't save lives — it certainly seems like that may have saved quite a few lives."