Hundreds of panicked people scrambled for safety Tuesday night as gunfire and at least two explosions echoed through one of Turkey's main airports, witnesses said.
Prime Minister Binali Yildirim said Wednesday morning that 36 people died in the explosions at Ataturk International Airport in Istanbul, which he said appeared to have been carried out by ISIS.
A man who works for a contractor at the airport told NBC News that he saw three suicide bombers.
Photos: Dozens Killed in Istanbul Airport Bombing
The man, who identified himself as Omar, said he heard an explosion and then saw police dive onto a man who then blew himself up. People then tried to stop another person who appeared to be wearing explosives.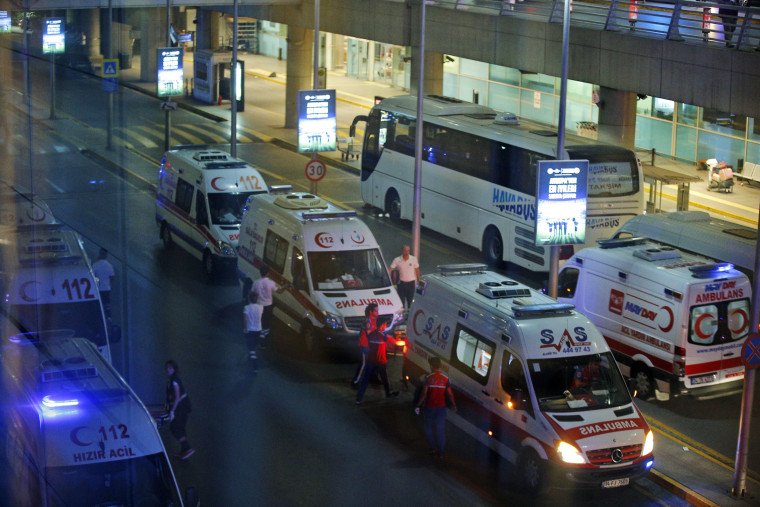 Another witness, a cabdriver, told Reuters that security officials prevented his taxi and other cars from entering the airport shortly before 10 p.m. (3 p.m. ET). Drivers leaving the terminal shouted "Don't enter! A bomb exploded!" from their windows to incoming traffic, he said.
A man who didn't give his name said in a live interview on the national broadcaster TRT that he heard gunfire and what he thought were two explosions.
"Passengers [were] running everywhere, scurrying. I was hiding," the man said, saying he couldn't remember many other details in the confusion.
Mohamed Ali, who said he was traveling from Zurich, Switzerland, to Aqaba, Jordan, told TRT that he and about 200 other people were near a departure gate when he heard a loud blast and what sounded like gunshots.
"I thought it was just big box falling down from a plane," Ali said. "Then I saw people running. Then, suddenly, I heard very loud crying."
Authorities calmly conducted the crowd to safety as word spread that a bomb had gone off, Ali said, adding: "I saw some blood on the ground when I went out."
"Everything was under control," he said. "They were very polite."
Another man told TRT that he was on his way to meet his brother when "the explosion happened" and his brother was wounded.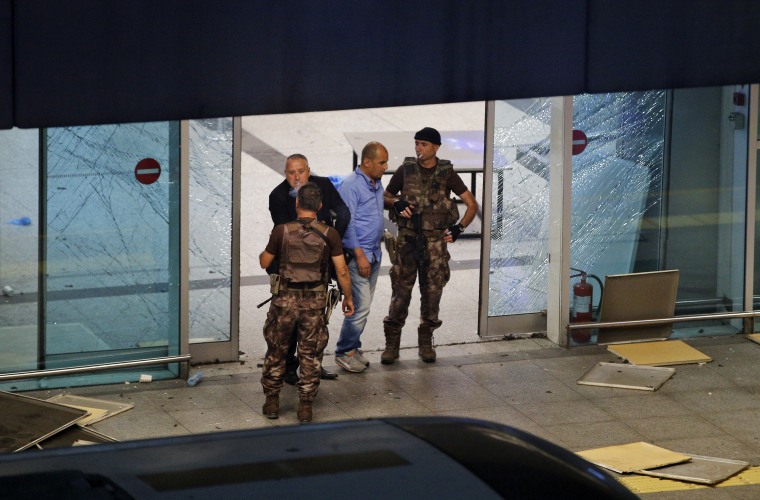 "I want to see him now," the man told TRT outside a barricaded treatment center at the airport. "I don't know what to do."
Rebecca, a British citizen who was in the airport, told TRT that she heard police shooting back at the attackers.
"I saw the police shoot at someone, and everyone started screaming," she said. "I was very confused, and I didn't know what was happening. We all ran, and we started running away from the shooting."
Then, as the crowd was racing down an escalator, "the first bomb went off," she said.
The Associated Press found two shaken South African tourists, Paul and Susie Roos of Cape Town, waiting to fly home at the time of the explosions.
"We came up from the arrivals to the departures, up the escalator, when we heard these shots going off," Paul Roos said. "There was this guy going roaming around. He was dressed in black, and he had a handgun."
Ataturk International was the 11th busiest airport in the world last year, with 61.8 million passengers, according to Airports Council International.
Officials said the airport was set to be closed at least until 8 a.m. (3 p.m. ET) Wednesday.