The youngest of three victims in Sunday's deadly shooting at a Jewish community center in Kansas was a soon-to-be Eagle Scout who shared a love of the outdoors and University of Oklahoma sports with his slain grandfather.
Reat Underwood, 14, a freshman at Blue Valley High School, was gunned down Sunday along with his grandfather, William Corporon, in an attack that is being investigated as a hate crime.
Police said the pair were shot in the parking lot behind the Jewish Community Center of Greater Kansas City. The gunman then drove a few blocks away to a retirement community and fatally shot a woman there.
Reat, who spent long hours hunting and camping with Corporon, a retired doctor, was also active in debate and theater. The grandson and grandfather were at the Jewish center Sunday for Reat to attend an audition for a regional singing competition.
"Everybody loved him," says Jane Thompson, a friend of the Underwood family and Reat's scout leader when he was younger. "He was an absolute joy and had a great personality. He was outgoing, ambitious and set high goals for himself. And he was always smiling. If you were having a bad day, you could always see Reat and he'd put a smile on your face."
Mindy Corporon, the grieving mother and daughter of two of the victims, told a news conference Monday that her son was "up-and-coming."
"He was with us for a wonderful 14 years," she said. "He lived a really full life for a 14-year old. We were really blessed."
Will Corporon said the family takes comfort that two were together when they died and that they didn't suffer.
"We do have a strong family, and boy it's being tested," Will Corporon said. "We don't know why bad things happen to good people. Nobody does."
Reat maintained an active online presence, tweeting about Oklahoma sport teams, life in high school, his girlfriend and more. His Twitter bio had the simple statement to "Live life to the fullest and never give up!"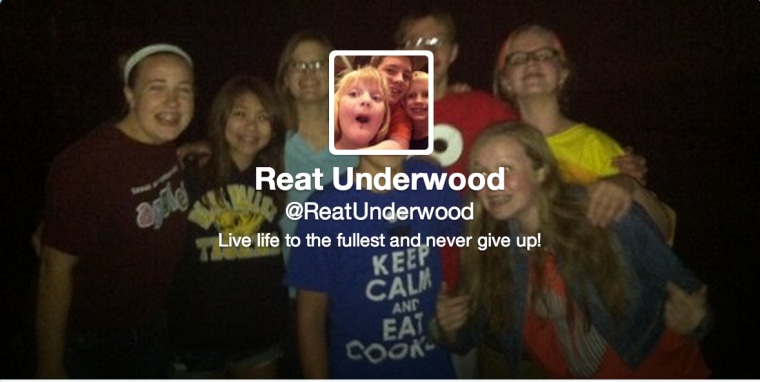 Following his death, friends and people around the country who never met Reat began sharing condolences online, including a rendition of "The Star-Spangled Banner" that he performed last September.