"Hate groups" that call for discrimination or violence based on race, religion or sexual orientation are rightly considered dangerous, but it is the "lone wolf" attacker inspired by their venomous messages that poses the greatest threat of mayhem, experts say.
"There's absolutely no question that lone wolves are absolutely the most dangerous group out there," said Mark Potok, who tracks hate groups and other extremist movements for the Southern Poverty Law Center. "It's almost unheard of for a whole group or the leadership of a whole group to plan a crime or a terrorist attack. That's very different from the days of the civil rights movement."
The killings of three people near Jewish community centers in Overland Park, Kansas, this weekend, allegedly by Frazier Glenn Cross, Jr., fits the template, say Potok and other experts interviewed by NBC News. According to published accounts, the 73-year-old former Ku Klux Klan leader was drummed out of the white supremacist movement after snitching on some former comrades as part of a plea deal, and later became completely isolated.
Related Story: Race, Religion and Risk: Hate Crime by the Numbers
David Gomez, a former FBI agent specializing in counterterrorism before becoming a homeland security consultant in 2011, said that, for reasons that aren't entirely understood, membership in a group often acts as "a moderating influence" on an individual.
"In looking at the groups in the years right before I retired, what we saw is that people that were members of groups or organizations … tended to be less violent than people who were splintered off by themselves," he said.
That poses a particular challenge for law enforcement, Potok noted.
"It makes it incredibly difficult to prevent an attack like the one we just saw in Kansas," he said. "One may know that a person like Glenn Miller (a pseudonym used by Cross) has homicidal ideas about the Jews. But there are thousands of people who think the same things and say so. It's almost impossible to say who is going to be the one who is going to start shooting."
Amanda Susskind, director of the Los Angeles regional office of the Anti-Defamation League, which tracks anti-Semitic attacks, said the use of the Internet also makes it harder for law enforcement to spot potential threats.
Membership not required
She says the technology has essentially reversed so-called "unmasking laws" passed during the civil rights era, which forced members of hate groups like the KKK to bare their faces and led to a significant decline in membership.
"(With the Internet) you don't have to go to a meeting, subscribe or be a member of a group," she said. "You don't have to sign up for a list. The Internet also becomes a safe place for extremists to get all kinds of information and instructions."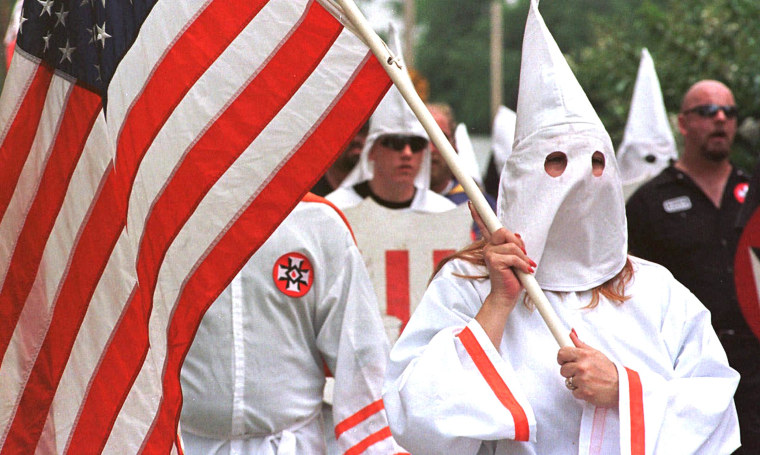 "You can write one tweet and have it go viral within a matter of minutes," added Gomez, the former FBI agent. "For a person who is merely looking for validation of his own beliefs, it's a tremendous tool."
Cross himself continued to be a regular Internet user after his banishment from the KKK and other affiliated groups. After being banned from Stormfront, a white supremacist Internet forum run by another former KKK leader, Cross simply switched to another supremacist platform, the Vanguard News Network, and continued to post his views under the pen name "Rounder," according to the ADL.
Law enforcement officials also encounter problems drawing lines between hate groups and other ideologically motivated movements like the Patriots, complicating efforts to preempt attacks like the one on Sunday, said Michael Greenberger, founder and director of the University of Maryland Center for Health and Homeland Security.
"(Oklahoma City bomber) Timothy McVeigh was part of a Patriot group that is now included in when they count the number of hate groups," he said. "... In the most recent event, the guy was so heavily identified and led groups that are widely recognized as hate groups that it's been categorized more as a hate crime than a terrorism event. But it can be very hard to draw precise distinctions."
In California — home to the largest number of hate groups, according to the SPLC — the challenge is compounded by the ideological linkage between hate groups and loosely organized criminal syndicates.
"We call them 'needle Nazis'"
"The landscape here in California is dominated by white power groups whose ideology is tangential to their criminal activity," including drug running and identity theft, said Joanna Mendelson, California investigative researcher with the ADL. "We call them 'needle Nazis,' because many of them are heavy dope users themselves."
The state also has the largest number of so-called "skinheads," most of whom are unaffiliated but are "influenced by street gangs, prison gangs culture, which is then infused with white supremacist ideology," she said.
Despite such cross-pollination, the SPLC sees signs that the growth in the number of hate groups may be slowing.
The law center listed 939 active hate groups in the United States in 2013, a decline of nearly 7 percent from the previous year's tally of 1,007 groups. That dip came after a four-year surge in such groups — a rise that Potok and others say apparently resulted from the election of President Barack Obama and the economic recession.
Still, Greenberger and other experts warn that it is premature to conclude that a decline in the number of messengers of hate would translate to a decline in the violence of hate.
"The general conventional wisdom is that hate groups peaked in 2012 and are on the downside now," he said. "But … even though the number of hate groups is declining, the crimes being committed are more violent in nature. … When you hear of the reactions by the SPLC and ADL and by Native American groups … that have experienced the brunt of these hate crimes, there is a call for continued vigilance in this area and not be lulled into a false sense of security."
Bill Dedman of the NBC News Investigative Unit contributed to this report.