Tens of thousands of previously classified records from the assassination of President John F. Kennedy 54 years ago are scheduled to be made public Thursday — a morbid gift that keeps on giving for historians and conspiracy theorists alike.
Historians and investigators say about 90 percent of available records related to Kennedy's death on Nov. 22, 1963, are already public. Depending on whom you ask, 30,000 to 40,000 pages have remained secret, most of which will now be opened.
What could be in them? Here are four of the big questions.
Will there be any surprises?
Probably not, according to investigators with firsthand knowledge of what's in the unreleased documents and historians who have devoted their lives to the case.
In 1991, Oliver Stone's conspiracist film "JFK" "successfully popularized a version of Kennedy's assassination that featured U.S. government agents from the Federal Bureau of Investigation, the Central Intelligence Agency, and the military as conspirators," according to Assassination Records Review Board, or ARRB, which was appointed because of the furor stoked by Stone's movie.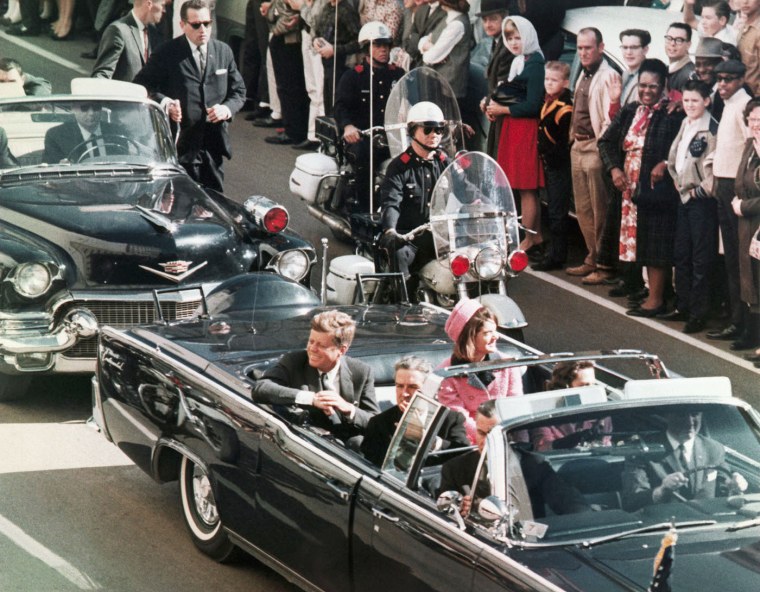 The ARRB spent two years reviewing every document related to the assassination that it could get its hands on. It ended up making almost 5 million pages of them public, but it kept about 40,000 pages secret, the panel's chairman, John Tunheim, said at a conference at the National Press Club in Washington in March.
Nearly all of them were withheld with the label "NBR" — Not Believed Relevant — and it's those incidental records that make up almost all of the documents being released Thursday, said Tunheim, now the chief U.S. district judge for Minnesota.
"It's not that important to keep protecting it," he said. But he added: "I think there will be stuff interesting to researchers."
Photos: JFK Assassination: The Day the President Was Shot
Robert Alexander, a political science professor at Northern Ohio University, also said this week that there's likely to be little "that's going to change opinions on the assassination of John F. Kennedy."
"There probably will be a few more theories that will be offered, but it may be much ado about nothing," Alexander told NBC affiliate WLIO of Lima.
Why was Lee Harvey Oswald in Mexico before the assassination?
A longstanding cloud has surrounded a six-day visit that Lee Harvey Oswald, a onetime Marine who'd defected to the Soviet Union, took to Mexico City just before Kennedy was killed. Many documents related to that trip are expected to come out Thursday.
So why have they been withheld for more than half a century? Because of politics, Tunheim said in March.
"We received a full court press — not only from the State Department, but the CIA and other agencies, as well — not to release, because it was thought to be detrimental to our relationship with the Mexican government at the time," Tunheim said.
Now, "it doesn't matter anymore," he said. "The political party in charge then is no longer the controlling party in Mexico today."
And anyway, he said, "I guess we don't have much of relationship with the Mexican government today."
So, was the U.S. government involved?
Nearly all official investigations — most notably the FBI's investigation in the weeks after the shooting in Dallas; the mammoth Warren Commission inquiry led by Chief Justice Earl Warren, which was released in 1964; and a review by the Justice Department in 1987 — agree that Oswald acted alone.
But there's one outlier: a report in 1979 by the House Select Committee on Assassinations, which concluded that "President John F. Kennedy was probably assassinated as a result of a conspiracy" involving a second gunman. But it ruled out possible culprits long identified by conspiracy theorists: the CIA, the FBI and the Secret Service, as well as the Mafia and the Cuban and Soviet governments.
Tunheim held out some small hope for those who insist that Kennedy was the target of a conspiracy:
"There's always the possibility and still the likelihood that records were destroyed — 30 years had passed since the assassination and when we were working," Tunheim said in March. "The 1960s was an era that was notorious for people bringing home government files after they left office."
But Farris Rookstool III, a former FBI analyst who was the FBI's custodian of record for the assassination investigation, said: "It's not like these records are going to be the smoking gun, the road map, the 'aha' moment."
"It should not have taken this long" to release the records in the first place, Rookstool, who calls conspiracy theories "frustrating," told NBC Dallas-Fort Worth this week.
What does the Kennedy family want?
"I understand the historical value of those documents — I don't dispute that. They also happen to be quite personal as well," Rep. Joe Kennedy III, D-Mass., the late president's great-nephew, said Sunday.
"These are documents that obviously have been kept behind closed doors for an awful long time, and I absolutely tend towards disclosure of government-held documents" Kennedy said.
"That being said, it would have been nice if there were some communication between this administration and members of our family."