A Hollywood producer who's giving away his fortune before he dies of cancer secretly funded the "rescue" of a racehorse that animal advocates say was on the verge of being raced again despite the risk of "catastrophic" injury.
Sam Simon, producer of "The Simpsons," "Cheers," and "The Drew Carey Show," among other series, says he ponied up the cash for two reasons. "One is an animal is no longer being abused and two, people are finding out what horse racing really is."
The horse, Valediction, had been trained by two different top trainers who've been disciplined by authorities for allegedly over-medicating horses. One of the trainers, Steve Asmussen, has won more than 6,700 races and $200 million in his career and has a horse entered in Saturday's Kentucky Derby. Valediction was being prepped to return to the track in February despite an injured leg when Simon -- through a front man supplied by People for the Ethical Treatment of Animals [PETA] -- stepped in and bought him for $60,000.
On a videotape secretly recorded by PETA, Asmussen's assistant can be heard talking about injecting horses with medication and how he could get a sore horse past track veterinarians. He can also be heard calling Valediction a "rat," meaning a horse who doesn't make money.
Said Simon, who was diagnosed with terminal colon cancer in 2012, "When you watch them talk about Valediction as a rat and now you know he's a in a pasture someplace, it makes you feel good."
In March, PETA revealed in a New York Times article that an undercover investigator had worked with Asmussen and his assistant Scott Blasi for more than four months in 2013 and shot secret video. After reviewing seven hours of footage and preparing a 285-page report, PETA charged in formal complaints to racing authorities in Kentucky and New York that Asmussen had "forced injured and/or suffering horses to race and train."
Asmussen can allegedly be heard on video discussing how to manufacture paperwork for illegal workers, while Blasi makes apparent reference to an electric buzzer used to shock horses during a race.
Blasi and other staff members also talk about 2011 Kentucky Derby runner-up Nehro, and how the horse had kept racing despite problems with his hooves, which were held together with filler and glue. "His foot is a little bitty nub," said a blacksmith on the tape.
The PETA report also alleges that horses were medicated daily with thyroid medication, diuretics and other drugs even when they didn't need them, and that horses were burned with liquid nitrogen to increase blood flow to sore spots.
As a result of PETA's undercover taping, racing regulators in Kentucky and New York announced probes of Asmussen. Authorities in both states say their investigations are ongoing. Asmussen fired Blasi, who had worked for him for 18 years, days after the release of the tape, and Nehro's owner removed all his horses from Asmussen's care. Asmussen had previously served a six-month suspension in 2006 after a horse he trained tested hundreds of times over the legal limit in Louisiana for an anesthetic.
Little noticed amid the first rush of publicity for the PETA investigation, and the revelations about a Derby contender, was a lesser horse. One of the horses seen on the PETA video was Valediction, a brown stallion born in 2009. Never a top runner, he had won his first race at two years old at Keeneland in Kentucky, but then didn't race for more than a year. When he started racing again, all but one of the races he ran in were claiming races, meaning he was essentially being offered for sale. In a claiming race, a buyer can "claim" one of the horses for a set price just before the contest begins. The claim must be made before the race starts, and a buyer can't back out of the purchase if the horse then performs poorly.
"If they ask you how he is, say he's my favorite horse"
On Aug. 1, 2013, at Saratoga racetrack in upstate New York, Asmussen entered Valediction in a $20,000 claiming race. Prior to the race, trainer Rudy Rodriguez "claimed" Valediction on behalf of Andrew Gurdon, a New York owner. Valediction finished fifth, and then appeared to limp off the track. According to PETA's undercover investigator, one of Asmussen's employees told him it was crucial to get the horse off the track while the adrenaline from the race was still in his system, and before pain and inflammation set in, so his injury would be less apparent in his gait.
After the race, Asmussen's assistant trainer, Blasi, was elated that Rodriguez had claimed Valediction, according to the investigator. "I could do a f****** cartwheel right now," said Blasi on PETA's undercover tape. "If they ask you how he is, say he's my favorite horse."
Rodriguez knew right away something was amiss. "I thought we could make some money," he told NBC News. "Unfortunately, when he got off the racetrack he had a broken knee or something."
New owner Gurdon told NBC News that Rodriquez tried to avoid paying the claim and taking the horse, but the racetrack stewards wouldn't allow it.
Clark Brewster, attorney for Asmussen and Blasi, said the horse had been fine before the race and left the track under his own power instead of being "vanned off" -- carried away by a vehicle – meaning the claim was valid.
Eight days after the race, Valediction had surgery on his left front leg for injuries apparently sustained during or after the race. The surgeon removed bone fragments but left a hairline fracture to heal. According to PETA's investigator, many months prior to the race, while Valediction was in Asmussen's care, the horse already had burns on his front legs indicating that at some point in the horse's life, someone had used "freeze firing" – the application of liquid nitrogen – to speed healing.
"We've traded a rat for a rat"
Two months after the race, Blasi ran into Rodriguez at another racetrack. Blasi can be heard on the investigator's tape telling Rodriquez he would "do good" with Valediction.
"Nah, he's a rat, man," said Rodriguez.
"Ay!" said Blasi, who had earlier claimed one of Rodriguez's horses. "We've traded a rat for a rat."
Rodriguez, who became a trainer just four years ago, has already amassed $19 million in career earnings. But in 2007, while he was working for trainer Rick Dutrow, who is now serving a 10-year ban from racing, Rodriguez was suspended for a week by Kentucky authorities and fined $2,500 for "conduct detrimental to racing" because of a horse that was trained under a false name. He had six drug "overages" of legal drugs in four other states between 2010 and 2013, and served a 20-day suspension in New York for "overages" of an anti-inflammatory drug in New York. In 2013, Kentucky racing authorities ordered round-the-clock surveillance of his entry in the Kentucky Derby –- at Rodriguez's insistence –- before they would grant him a license. Rodriguez insisted that a third "overage" in New York had been the result of sabotage, and that someone had injected his horse without his knowledge.
Rodriguez told NBC News that his past brushes with racing authorities amounted to "very minor stuff and I don't think it was anything wrong."
His mission after buying Valediction was to get the horse ready to race again. After surgery, he sent Valediction to recuperate for several months at the upstate New York stable of racing agent Frank Halay. In November 2013, Halay shipped Valediction to Morrisville State College, southwest of Utica, N.Y., which has a rehab program for horses.
By February, according to Halay, the horse "seemed to be progressing really well" at Morrisville. "He was swimming in a large swimming pool several times a week," said Halay.
Halay said Morrisville had rehabbed Valediction to the point where a vet was about to take X-rays to see if he could race again, when a call came from a man in Virginia who wanted to buy the horse.
In reality, the buyer was a front man for Sam Simon.
Simon is a long-time, prolific backer of animal rights causes and other non-profits. In 2011, he self-funded a mobile food bank that feeds the families of unemployed workers. He started a foundation to rescue shelter dogs and train them as certified assistance dogs. In 2012, he bought a ship for the Sea Shepherd Society, which sends vessels to block whaling around the world. He is a PETA board member, and has contributed so much money to the group that it named its Virginia headquarters after him.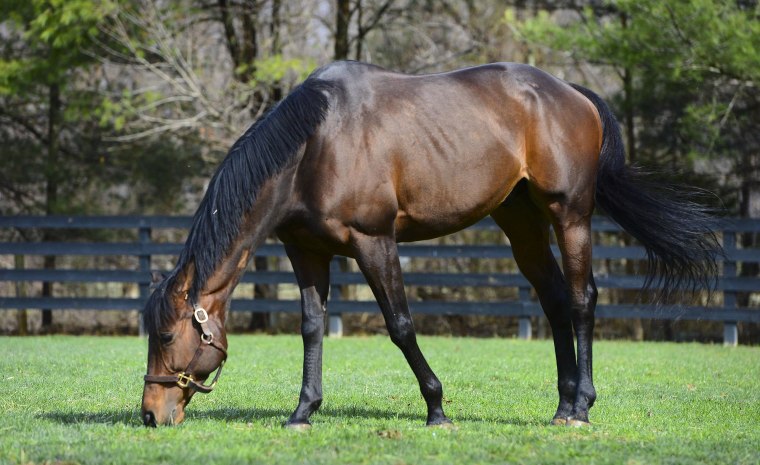 In November 2012, when Simon was diagnosed with terminal colon cancer, he knew how he wanted to spend his remaining days. "My new hobby in the twilight of my life," he said, "my rich man's hobby, I should say, is liberating animals from abusive situations such as roadside zoos and circuses."
Soon after his diagnosis, he summoned PETA President Ingrid Newkirk to his hospital bedside. "We just talked about what we can do in the time I had left," he said.
The decision to buy Valediction came quickly. "I got a phone call from Ingrid [about] an abused thoroughbred," he said. "I say yes to everything she asks me."
Newkirk told him about the undercover investigation of horse racing and said Valediction's owners might be steering him back to the track despite his leg. Simon said yes. "I'm coming into it knowing that these horses are commodities, that this this is factory farming more than it is a sport."
On Feb. 14, Simon's front man purchased the horse for $60,000. Rodriguez said that owner Gurdon was still optimistic about Valediction's chances of racing again, but "when somebody offers you that kind of money, you've got to cut your losses … You're better off taking the money."
Four days after the official purchase date, PETA got the results of a pre-purchase veterinary exam from Leatherstocking Veterinary Services. It said he was partially lame in his left leg "with significant arthritis," inflammation, and evidence of a past fracture.
"The future soundness of this horse given his X-rays and lameness … is questionable. I would recommend he be retired as future soundness, even for trail riding, is questionable."
The next day PETA's buyer took Valediction to a farm in Loudoun County, Va., an hour west of Washington, D.C. , where he's living today. No one is allowed to ride him.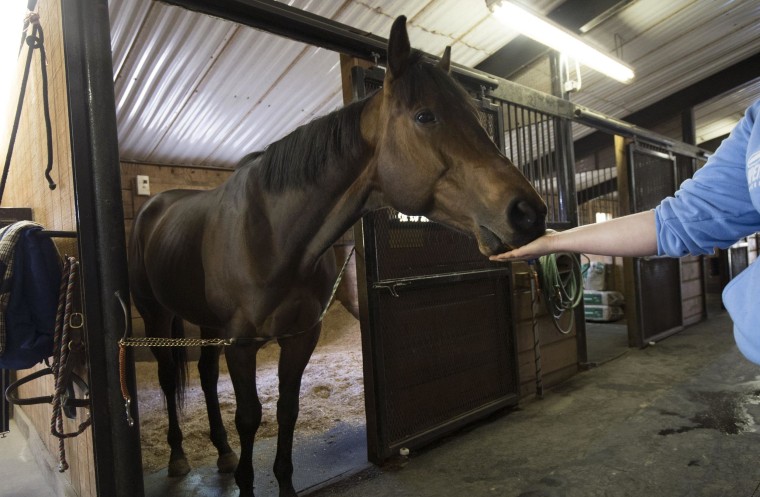 "Valediction was in pain, arthritic and had suffered a fracture, and yet he was being prepared to race again, to wring every last dollar out of him," said Newkirk, the PETA president. "If Sam Simon hadn't stepped in to rescue him, I think it's a safe bet Valediction would've had a catastrophic breakdown, that his next race would have been his last, and then, like most spent racehorses, he could've become hamburger."
Horse slaughter for meat is illegal in the U.S., but retired and injured racehorses have long been among the U.S. horses sent to Canada and Mexico to be processed for dog food bowls or dinner tables. Even a Kentucky Derby winner may have ended up as food, according to a leading racing publication.
Halay, Rodriguez and Gurdon all say, however, that they would have had other plans for Valediction if he proved unfit for competition.
"We always try to do the right thing by the horse and if they don't race, try to find them a home," said Rodriguez.
Halay and Gurdon said they would've found a home for Valediction if he couldn't run, perhaps sending him to a retirement home or a place where he could do trail rides.
Asmussen and Blasi referred all questions about the PETA video and Valediction to their attorney, Brewster. Brewster says he respects Simon's motivation, but that all the trainers, Rodriguez, Asmussen and Blasi, "did right" by Valediction.
Said Brewster, "This was a success story, not a negative story. "
He also says PETA's video is "heavily edited" and the animals rights group "manipulate[s] the facts."
"I mean they're just not honest people," said Brewster. "They have an agenda. The end justifies the means for these folks."
"When I talked to Steve [Asmussen] about [Valediction], he loved the horse," said Brewster. "Everybody did."
Simon jokes that he wants to bring Valediction out to Los Angeles, so he can show him off. "I have friends with Teslas and I want to know how to top that."
More seriously, however, Simon says he's just happy to have provided a happy ending for one horse.
"People don't know what they're watching when they're watching a horse race," he said.
Asmussen's entry in Saturday's Kentucky Derby, Tapiture, will start from the 15th position. Tapiture is rated by bettors as a one in 15 shot to win the race.