A letter that a Lafayette, Louisiana, resident posted online just a day after a gunman opened fire at a community movie theater, killing two and injuring nine, has made a huge impact all over the country.
In a letter entitled "Dear Terror" posted on the public online forum Medium, Matt Langford addresses the violence that rattled Lafayette Thursday night and highlights the strength of the community.
"You, terror, flexed your muscles in an attempt to intimidate us. But you see, this time you picked on the wrong people," wrote Langford, who is 30 and has lived in Lafayette since he was 5.
"When you looked into our eyes, we started to run. But to your surprise, we ran right at you. ... This happened immediately within that room, but it also started throughout our community," the letter said.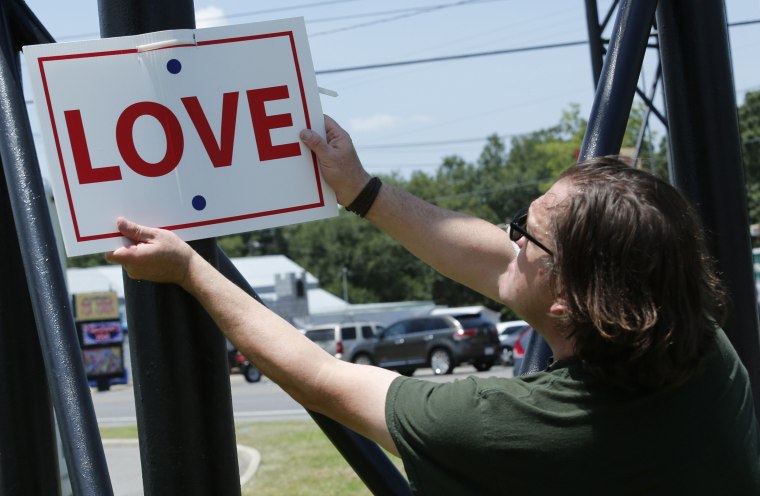 The letter, less than 300 words, never mentions the gunman, who without an obvious motive, shot into an audience of at least 25 people at an early evening screening of comedy "Trainwreck."
But Langford did pay tribute to the two victims killed: "Jillian Johnson and Mayci Breaux won't simply live on in our memories. They will live on in our spirit as we honor them by destroying you," he wrote.
The letter's powerful condemnation of the evils of terror have touched thousands. More than 76,000 people have viewed the piece on Medium and more than 15,000 have shared it on Facebook.
"I knew it would resonate with the people in our area, but I had no idea that it'd reach so many people so quickly," Langford told NBC News. "We're a unique culture with an immense love for our community, and I wanted other people to get a sense of that."
Louisiana Gov. Bobby Jindal on Friday spoke about some of the heroic efforts of people at the scene: a teacher who was in the theater and pulled the fire alarm, a couple who rushed a victim to the hospital in their own car and a father of one of the victims who kept a strong face for his family when he heard of his daughter's injuries.
"Lafayette, we will get through this," Jindal said Friday night. "It's going to be tough. But this is a resilient community."