The lone gunman who opened fire at a packed Louisiana movie theater had a history of "extreme erratic behavior" and was so unstable that his wife removed all of the guns from the home, court documents show.
John Russell Houser, 59, was described as a "drifter" by police following Thursday night's shooting in Lafayette, where he killed two people and wounded nine others before turning the gun on himself, authorities said.
For decades in his native Alabama, Houser was known as a noisy agitator. A local TV host frequently had him as a guest on a call-in show, knowing he'd light up the phone lines with his extreme politics — radical views later posted online covering a wide range of issues.
But court documents, which detail a divorce filing by Houser's wife in May, reveal a life in disarray: He made threats to family members, had a history of hospitalizations for his mental conditions and was known to law enforcement.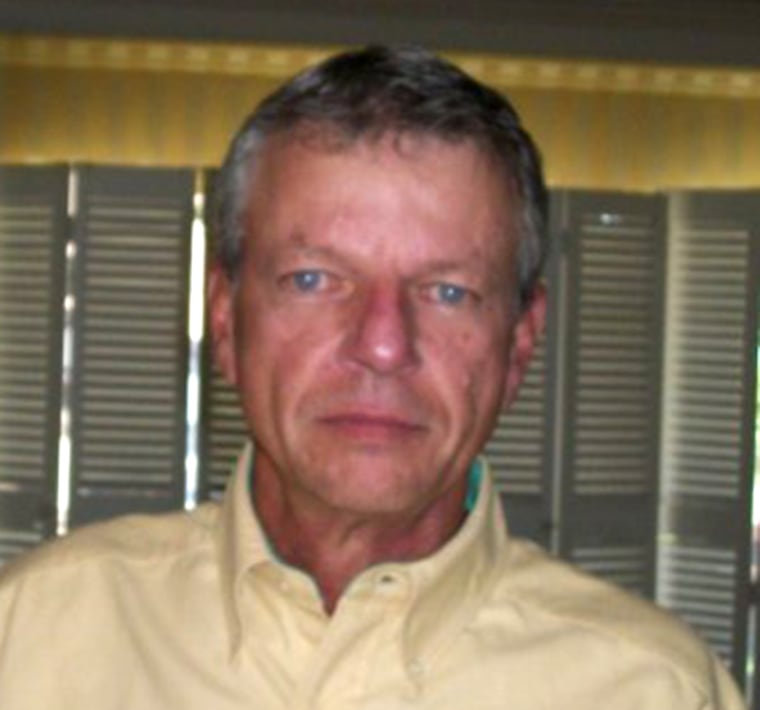 An Alabama sheriff says the gunman in the movie theater shooting was once refused a concealed weapons permit.
Russell County Sheriff Heath Taylor said Friday that Houser lived in Phenix City, Alabama, off and on from 2005-14. Taylor said officials received a domestic violence complaint against Houser in 2005, but the victim didn't want to prosecute.
The sheriff says Houser applied for a concealed weapons permit in 2006, but it was refused because of the domestic violence complaint and a previous arrest for arson in nearby Columbus, Georgia. The Hi-Point .40-caliber handgun he used during Thursday night's shooting was bought legally in Phenix, officials said Friday night.
On April 21, 2008, police were called to the Houser's home in Georgia for a "mentally disturbed person" call. Police say when they arrived, Houser's wife, Kellie, told police that he had a "history of mental problems (manic depressant and bi-polar) and currently is prescribed medication to take daily."
The police wrote that Kellie Houser "stated that sometimes he forgets to take his medication and sometimes he forgets to eat, which affects his behavior as well." She told officers she removed the guns from another home in Phenix because he "should not have one" and may have obtained them illegally.
Kellie Houser told police that her husband was upset that his daughter was marrying "so young" and that he said her wedding "will not happen" — although he had "not overtly threatened anyone," the court documents say.
John and Kellie Houser finally separated two days before Christmas in 2013, according to her divorce filing, and he became estranged from his family.
Meanwhile on Friday, associates also recalled how John Houser appeared to be unhinged.
Ex-attorney John Swearingen told NBC News on Friday that he had "always been a little off, quite obviously."
Swearingen said Houser had once tried to burn down his Columbus, Georgia, law office in the 1980s.
"I represented somebody — maybe several people — he did not like, and he tried to hire someone to burn the law office," Swearingen said. "The man was a police informer, and they got it on tape."
Court documents detailing charges stemming from the 1989 incident show a judge ordered a mental evaluation for Houser before he was indicted for criminal solicitation.
Calvin Floyd, the host of a Georgia TV talk show on which Houser occasionally appeared, said the gunman was known to be volatile.
"He was a radical guy," Floyd said.
Related: What We Know About the Theater Shooting Victims
Jeff Hardin, a former mayor of Phenix City, said they worked together flipping houses. He recalled that Houser wasn't shy about talking politics.
"I would venture to say he was conspiracy theory-type guy," Hardin said on MSNBC. "He had an equal hatred for all politicians and all policies. Always wanted to discuss politics."
A series of online message board postings appears to show Houser had extreme or radical views on a wide range of issues — from Islamic fundamentalism to the shooting of Florida teenager Trayvon Martin.
The dozens of comments posted on a variety of message boards were often anti-gay, anti-Semitic, or anti-government, and many expressed interest in white supremacy groups. Houser wrote about "lone wolf" acts of violence several times.
Police said Friday that investigators were combing through those blogs and journals that Houser kept in an effort to come closer to determining a motive for why Houser opened fire at the Lafayette Grand Theater 16 during the 7:10 p.m. screening of the comedy "Trainwreck."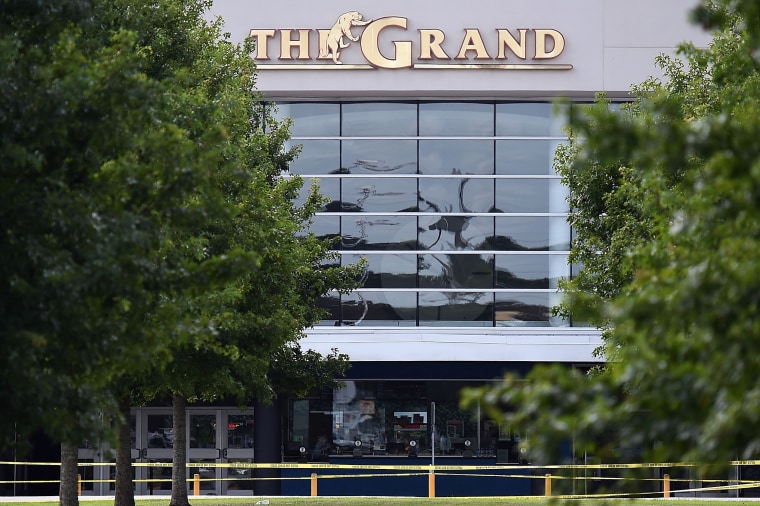 Law enforcement personnel were also searching a room of a nearby Motel 6 in Lafayette, where they say Houser had kept "disguises," such as wigs and glasses, as well as license plates for his car.
"This event was planned and maybe he was trying to change his appearance," Lafayette Police Chief Jim Craft told NBC News.
Authorities believe the gunman had been living in the Lafayette area since earlier this month after leaving Phenix City, located about 500 miles northeast on the Alabama-Georgia border.
Police said he had an uncle who lived in near Lafayette, but died about 35 years ago.
"He just seemed like he was drifting along," Craft said. "We're not sure why he chose to stay in Lafayette."
Houser had parked his 1995 blue Lincoln Continental with switched license plates near the exit of the Grand Theater 16, officials said.
Houser fired a first round of shots then fled from the theater out of a side exit as the audience of about 25 people scrambled for safety, police said. But he re-entered after reloading his gun and fired four more shots as police closed in. Three of those shots were fired into the audience again and with the fourth shot, he killed himself.
"The gunman's original plan was to leave the theater alive," Louisiana Gov. Bobby Jindal told reporters.
Police said that Houser fired off 15 rounds in total. At one point, they said, a patron, identified as a teacher, was able to pull the fire alarm, potentially saving more lives.
Related: Jindal Calls for Prayers After 'Awful Night for Louisiana'
Police said Houser did have a criminal record, but it was about 10 to 15 years old and included an arson arrest and selling alcohol to a minor.
Col. Michael Edmonson of the Louisiana State Police said they believe Houser was working alone, and are asking the public for any tips about who he was.
While a motivation for the carnage remains unclear, Swearingen said Houser's attempt to burn down his law office was jarring. He hadn't seen him for 20 years.
"His dad was the tax commissioner for many years and his brother was my stockbroker, so we agreed to hold off on prosecution as long as he got psychiatric treatment and counseling," Swearingen said. "And so when he did, I asked that the case be dismissed. But I do remember he was very intent on burning down the law office. He was some kind of religious fanatic and as I recall, he said God told him to do it."
A LinkedIn page with Houser's name and photo said he was an entrepreneur who owned a Columbus, Georgia, pub from 1979 to 1980, and then another establishment north of Columbus from 1998 to 2000.
The page said he was interested in real estate and finance: "It would be my pleasure to assist you in financial matters or things more important."
The page said he was a regular guest on a TV talk show in Columbus: "Invited political controversy on every one of them, and loved every minute of it."
Floyd, who hosted the "Rise & Shine" television show on NBC affiliate WLTZ, said Houser had extreme political views.
"He was on from time to time because he was a very radical person with radical views," Floyd told NBC News. "He was a Republican and then I would have someone with a real strong Democrat view on."
"His father was tax commissioner in the county," he added. "That's how I knew him, but I had him on my show because he was a very radical person."
A couple of years ago, Floyd recalled, he was on vacation in Texas when Houser called asking for help with an issue. When Floyd said he was unavailable, Houser became angry. Floyd recalled that when he last saw Houser a year ago, Houser walked past him in the street and would not say hello.
"He seemed very angry at me," Floyd said.
"The association I had with him was for entertainment," he added. "He was very entertaining. He made for good TV and when it was over, you would leave shaking your head."
Floyd said Houser was recently selling car parts at a local flea market. When asked if he was surprised when he heard Houser was identified by police as the shooter, Floyd said "no."