A gunman killed two people and wounded nine others after standing up and opening fire about 20 minutes into a movie in Lafayette, Louisiana, police said.
Lafayette Police Chief Jim Craft said the 58-year-old man used a handgun and took his own life when officers arrived at the scene within about a minute.
Dee Stanley, chief administrative officer of the city about 50 miles southwest of Baton Rouge, told MSNBC TV that some of the wounded were in "very critical" condition with life-threatening injuries.
The ages of the victims range from late teens to 60s, according to Craft.
"I know a lot of us are horrified and shocked ... This is an awful night for the United States"
The gunman was sitting in the Grand Theatre 16 "just like everybody else" before shooting randomly during a screening of the movie "Trainwreck" at about 7:30 p.m. (8:30 p.m. ET), Craft said.
He added: "The information we have at this time indicates that he was by himself, he sat by himself and the first two people he shot were sitting right in front of him ... When he stood up and started firing, people started rushing out. It looks like he spotted the officers coming in and he turned around, went against the crowd and fired a single gunshot."
Officials said the gunman had a "criminal history" but declined to immediately release his name.
"We don't believe there's anybody else involved," Louisiana State Police Col. Michael Edmonson told reporters. There were approximately 100 people inside the theater at the time, he added.
Authorities have located what they believe is the gunman's car and called in the bomb squad after "suspicious" items were seen inside, Edmonson told reporters.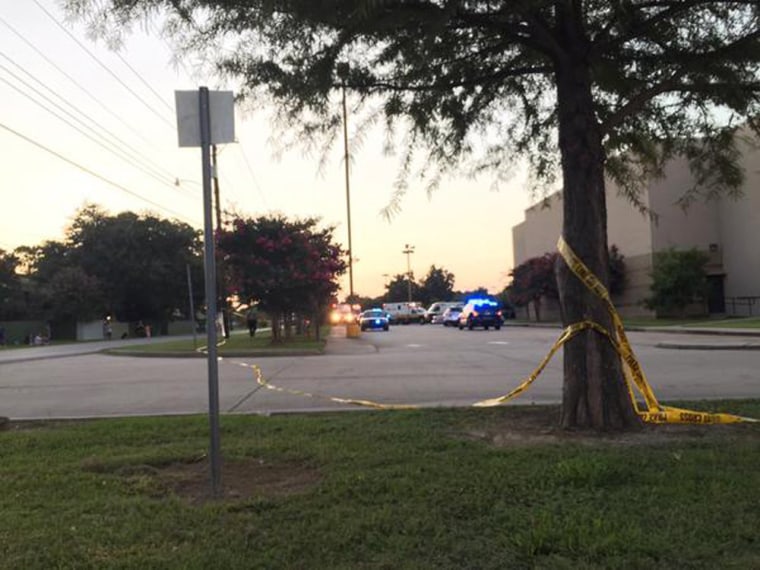 Katie Domingue, who was in the theater, told The Daily Advertiser newspaper that "an older white man" began shooting about 20 minutes into the movie.
"He wasn't saying anything," Domingue said. "I didn't hear anybody screaming, either."
Keifer Sanders told MSNBC TV that he was in another theater when "the screen went black," alarms sounded and the audience was shepherded out the emergency exit.
Gov. Bobby Jindal praised the actions of two teachers inside the theater who performed what he called acts of heroism as gunfire erupted: A teacher jumped to protect another teacher, perhaps saving her life, and the second managed to pull the fire alarm, he said.
"Both teachers ended up shot. The second one, the one whose life was saved, even though she was shot in the leg, she had the presence of mind to pull the fire alarm to help save other lives," he said.
At least one shooting victim had been released from the hospital by Thursday night, and another was in surgery and "not doing well," Craft said. One of the people wounded was identified by her family as Allister Viator Martin. "All we know is that she was injured and she is in the hospital," her uncle said.
The family of another reassured worried friends on Facebook that "momma is ok, no bone damage and no artery damage, just a soft tissue wound" and she should be fine.
Authorities said investigators know the identity of the gunman but did not release it. Craft said the suspect has some criminal history, but nothing recent. A backpack was found inside the theater that police dogs alerted on, Edmonson said.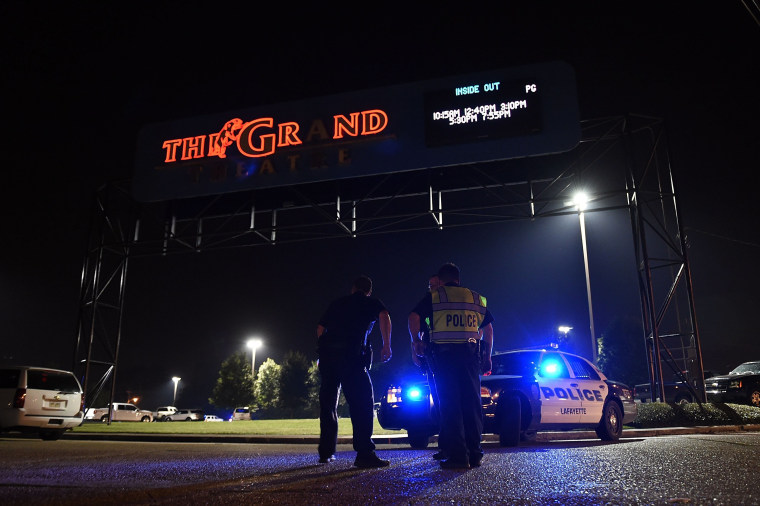 Investigators are trying to determine what motivated the shooting.
"What brought the guy in there, why did he go in there by himself, why did he go in to the theater and why did he decide to pull a weapon out and to harm individuals — and actually kill two individuals," Edmonson said. "We need to find that out, but it's going to take time to do that," he said.
Louisiana State Police, University of Louisiana-Lafayette police, the FBI and the Bureau of Alcohol, Tobacco, Firearms and Explosives were assisting local police. Police were deployed to other theaters in Lafayette as a precaution, Craft said.
"I know a lot of us are horrified and shocked," said Jindal, who quickly went to Lafayette. "I think I speak for every mom and dad who just wants to hug their kids."
Jindal added: "This is an awful night for Lafayette. This is an awful night for Louisiana. This is an awful night for the United States."
"Trainwreck" is a romantic comedy starring Amy Schumer, who tweeted:
The shooting took place a week after the man who shot and killed 12 people at a theater in Aurora, Colorado, was convicted and on the very day a jury said his attack was cruel enough to consider sentencing him to death. James Holmes was convicted of 165 counts of murder, attempted murder and other charges after opening fire during a Batman film.