The gunman who allegedly opened fire in a crowded Louisiana theater Thursday, killing two people in an attack seemingly carried out at random, once hung a Nazi-like flag over his bar after it was shut down by a Georgia city, police said.
John Russell Houser, 59, described by police as a "drifter" with a history of erratic behavior, turned the gun on himself after the deadly shooting at the Grand Theater 16 in Lafayette on Thursday night.
He used to own a bar in LaGrange, Georgia, that had been closed by the city after police in 2000 found that alcohol was being served to minors, LaGrange Police Chief Louis Dekmar told NBC News Friday.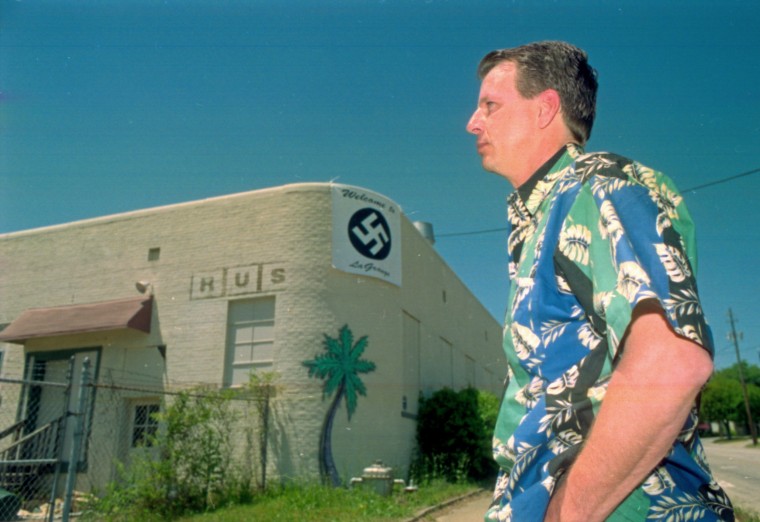 "He was pretty frustrated with the police department and the judicial system generally, and his response was he had a Nazi flag attached to his building," Dekmar said. "If it wasn't the size of a sheet, it was pretty close."
RELATED: Louisiana Theater Gunman Was 'Disturbed,' Family Said in Court Documents
Houser was arrested on three counts of selling alcohol to a minor and was convicted, Dekmar said, and he left the area after an unsuccessful fight with the city to reopen his bar, Rusty's Buckhead Pub.
Photos taken by the LaGrange Daily News show Houser and to the flag, which contains a swastika and reads "Welcome to LaGrange" in cursive letters.
Houser told the paper at the time that he was against what the Nazi's stood for, but picked the symbol as a protest against heavy-handed government. "The people who used it — the Nazis — they did what they damn well pleased," Houser told the LaGrange Daily News.
"He was erratic, angry, short-tempered," Dekmar said, and became increasingly frustrated after his fight with the city.
Houser fatally shot two people, shop owner and musician Jillian Johnson and X-ray student Mayci Breaux, and wounded nine others in a random attack during the showing of the movie "Trainwreck," police said.
RELATED: 'Strong, Beautiful Women' Among Victims in Theater Shooting
A motive in the shooting has not been revealed. Court documents indicate he had a history of hospitalizations for mental conditions. Authorities believe he recently moved to the Lafayette area after leaving Phenix City, Alabama.