WASHINGTON — A pair of House lawmakers on Tuesday were preparing to introduce a bipartisan bill to outlaw "bump stocks," the rapid-fire gun modifications purchased by the Las Vegas shooter.
The two high-profile young congressmen are Rep. Carlos Curbelo, 37, a Republican who hails from a heavily Democratic South Florida district and is facing a tough re-election race in next year's midterm elections; and Rep. Seth Moulton, 38, a Democrat and a former Marine from Massachusetts.
Ahead of its introduction Tuesday evening, the bill had attracted support from nine Republicans and nine Democrats, aides told NBC News, putting it far from the 218 votes necessary for passage, but nonetheless showing progress on a seemingly intractable issue.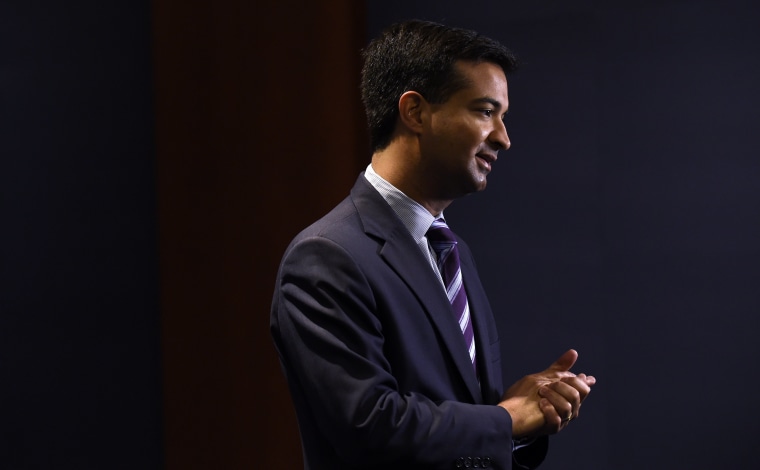 "For the first time in decades, there is growing bipartisan consensus for sensible gun policy, a polarizing issue that has deeply divided Republicans and Democrats," Curbelo said in a statement. "This common-sense legislation will ban devices that blatantly circumvent already existing law without restricting Second Amendment rights."
Curbelo, whose district went for Hillary Clinton by 16 percentage points last year — the highest margin for any Republican on the ballot next year — is considered one of the GOP's most endangered members. He has broken with his party to work with Democrats on immigration, climate change and other controversial issues.
In the wake of the Las Vegas attack, the deadliest mass shooting in modern American history, Republicans — and even the National Rifle Association — have expressed openness to banning bump stocks, which allow semi-automatic weapons to fire like automatic ones.
Most of those Republicans, however, have yet to back legislation to actually do that. And other bills on the issue, including one introduced last week by Democrats in the Senate, have had a hard time finding any GOP support.
The Republicans who signed onto the Curbelo-Moulton bill hail mainly from moderate swing districts, including several that Democrats plan to target in next year's midterm elections.
House Speaker Paul Ryan said last week that he's open to banning bump stocks, but it's unclear if he would actually push the issue to a vote on the floor of the GOP-controlled House.
Many Republicans prefer the approach favored by the NRA, which opposes an outright ban on bump stocks in favor of stricter regulation from the Bureau of Alcohol, Tobacco, Firearms and Explosives (ATF).
Critics dismiss that approach as deflection, however, since the ATF has said it does not have the authority to regulate bump stocks unless Congress passes a new law.