Former Rep. Gabrielle Giffords, saying she knows the "horror" of gun violence all too well, implored lawmakers on Monday to take action after the deadly mass shooting in Las Vegas.
"I know this feeling of heartbreak and horror too well," Giffords, who was gravely wounded in an assassination attempt six years ago in Arizona, said in a statement.
"The massacre in Las Vegas is a grave tragedy for our nation. This must stop — we must stop this."
Authorities said Stephen Craig Paddock, 64, of Mesquite, Nevada, fired from the 32nd floor of a Las Vegas hotel late Sunday, killing at least 58 people and injuring more than 500 others attending a country music festival below. It is the deadliest mass shooting in modern American history.
Giffords and her husband, retired astronaut Mark Kelly, called on both parties to come to together to enact stricter gun laws at a press conference Monday afternoon in front of the Capitol.
"The nation's counting on you," Giffords said, holding up her fist to Capitol Hill behind her.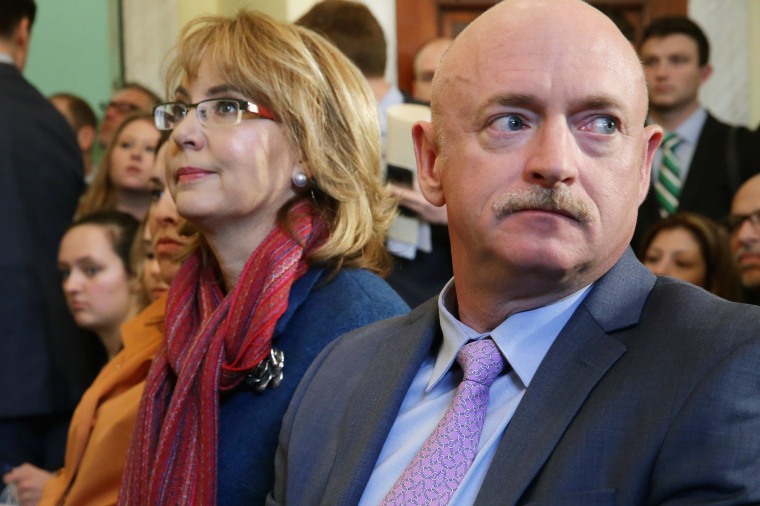 Kelly brushed off critics who accused the two of politicizing the mass shooting.
Heurged Congress to create a committee to investigate gun violence as a public health crisis and roll out policies to prevent civilians from procuring military-grade weapons and "keep guns out of the wrong hands."
"Without action, we are asking one person to be the next person to die because of our weakness to address evil," Kelly said. "How many times can we say that over and over again: 'Now's not the time.' Well, today is the time."
He also took aim at Trump, saying, "Americans need more than our president's prayers, we need his plans."
In the earlier statement, Giffords thanked first responders and police officers and offered prayers for victims and their families, as she pressed her former colleagues to address gun violence.
"I am praying for the victims of this shooting, their families and friends," she said. "But I am praying for my former colleagues, too. I am praying they find the courage it will take to make progress on the challenging issue of gun violence. I know they got into politics for the same reason I did — to make a difference, to get things done.
"Now is the time to take positive action to keep America safer. Do not wait. The nation is counting on you."
While serving as a Democratic congresswoman from Arizona, Giffords was shot in the head and seriously wounded along with 18 others during a 2011 constituent event in a grocery store parking lot in Tucson. The shooter is serving a life sentence in prison.
Since then, Giffords and Kelly have emerged as prominent figures advocating for tougher gun laws.
Giffords had been slated to stump in Virginia on Monday for Ralph Northam, the Democratic candidate for governor, at two gun violence-related campaign events, but the events were rescheduled because of the Las Vegas shooting.