The Las Vegas authorities who first entered the hotel room of the gunman responsible for the deadliest mass shooting in modern U.S. history described finding what looked like "an armory" and a note with calculations to magnify the number of victims.
"An armory. So many guns, so many magazines, stacks and stacks of magazines everywhere just in suitcases all neatly stacked against pillars that were in the room, all stacked up, rifles placed all throughout," Dave Newton, an officer with the Las Vegas Metropolitan Police Department's K9 unit, told CBS' "60 Minutes" in an interview that aired Sunday.
"All kinds of monitors and electrical equipment he had in there. It just looked like almost a gun store," he added.
Paddock, 64, opened fire from the 32nd floor of Mandalay Bay Resort and Casino onto a crowd of thousands at a country-western concert last Sunday night, killing 58 people and wounding hundreds of others.
Authorities have said Paddock apparently killed himself as police closed in.
Multiple law enforcement sources told NBC News on Saturday that a note found in the suite rented by Stephen Paddock bore number notations believed to be calculations of shooting ranges, drops and distance for higher precision in shooting into the concert crowd.
"I did notice a note on the nightstand near his shooting platform. I could see on it he had written the distance, the elevation he was on, the drop of what his bullet was going to be for the crowd," Newton said Sunday. "So he had had that written down and figured out so he would know where to shoot to hit his targets from there.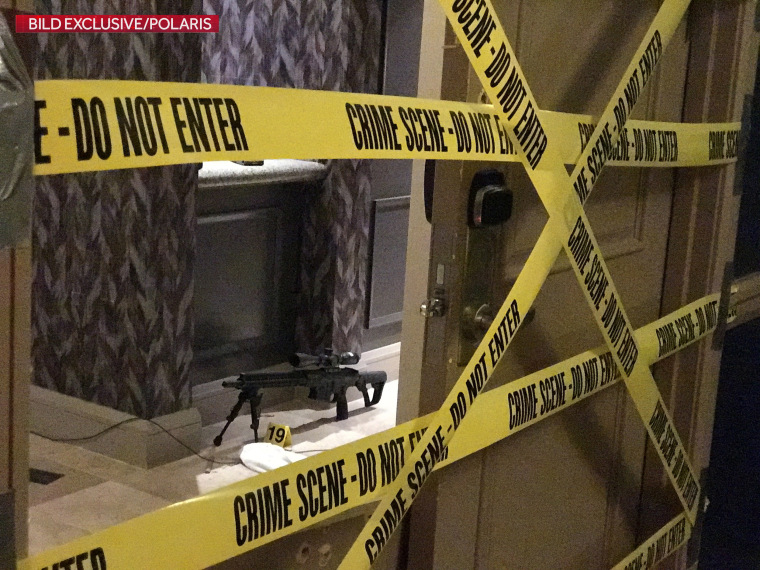 "He must have done the calculations or gone online or something to figure it out, of what his altitude was going to be, on how high up he was, how far out the crowd was going to be and what at that distance what his drop of his bullet was going to be," Newton added. "He hadn't written out the calculations — all he had was written out the final numbers that were on the sheet."
Sgt. Joshua Bitkso, also with the K9 unit, told "60 Minutes" that the responding officers were "tripping over long guns" inside the hotel room.
The officers who first arrived included the two K9 unit members, as well as detectives responding to reports of an active shooter.
Investigators said they've found 47 firearms in three locations, including Paddock's room at the resort and his home. Bitsko said that when the group entered the room they found "a bloody revolver" that was "nearby him that was on the ground consistent with him shooting himself."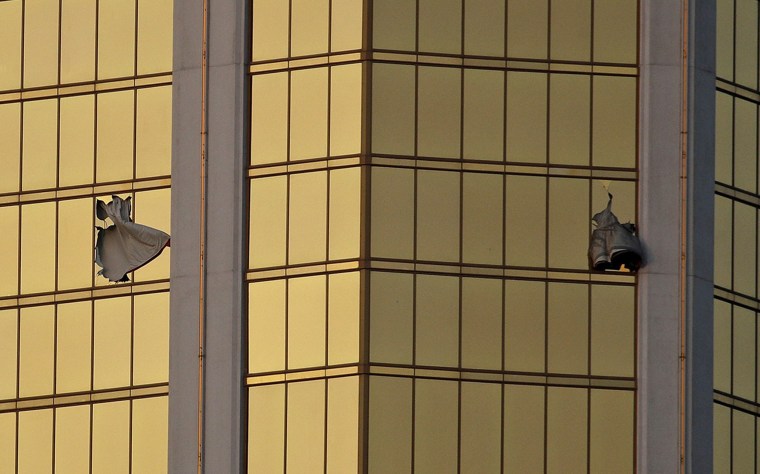 The officers said they feared they were possibly dealing with multiple shooters.
Bitsko added that the shooting must have taken "days of planning."
"He had toolboxes [and] power tools to run wires for his surveillance systems. For everything that he had, it took him days to finish," he said.
Newton described seeing a rifle on a bi-pod near the room's door and a large amount of ammunition.
"His plan might have been to shoot it out with us," he said.
Officials have said they still haven't determined a clear motive for the shooting, although they say they have found no link to international terrorism. The terrorist group ISIS, without providing any evidence, claimed responsibility for the attack, but the claim has been widely discounted.