LAS VEGAS — The thought could come on subtly, as a queasy feeling, when some other city came under the gun. Or it could be delivered bluntly, in the words of a stranger visiting Las Vegas, like the one who rode in the back of a cab a few weeks ago.
"He told me, 'You know Vegas is a target,'" cab driver Ramiro Berdiago said. "He said: 'You know it's going to happen here. Vegas is next.'"
Berdiago said he does not recall much about the passenger, only that he wore a Hawaiian shirt and was leaving the Mirage Hotel and Casino for a flight on Hawaiian Airlines. In the cab driver's mind, the man leaving town was not connected to the horrific shooting that terrorized Las Vegas late Sunday. He was just another customer musing about the sometimes-bleak state of the world.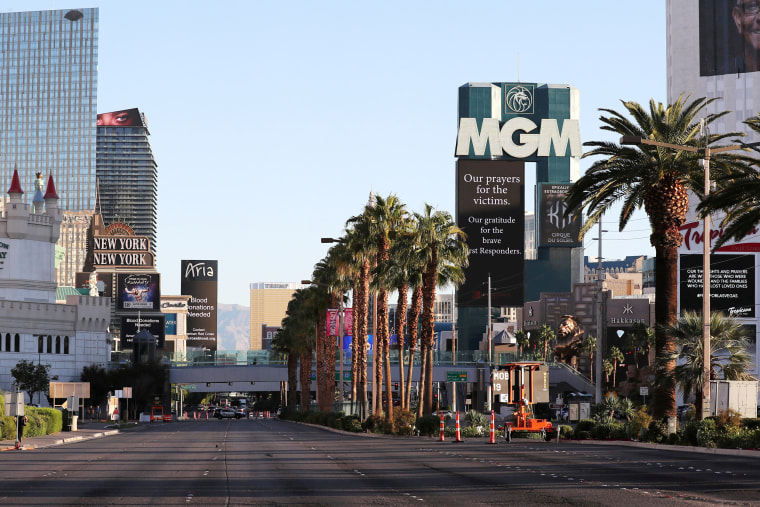 Berdiago recalled that the passenger asked about a black security fence that divides pedestrians and drivers along Las Vegas Boulevard. The conversation led to his prediction about some kind of attack in the desert city.
He talked about how it seems that danger can loom anywhere and everywhere.
"We are a target because of the size [of the city] and all of the tourists who are here," Berdiago said Tuesday, two days after the shooting that has so far left 59 people dead. At the same time, Berdiago said, "I really didn't think anything of it. It could really happen anywhere."
Everyday people like Berdiago joined experts Tuesday in acknowledging that while there always might be a latent threat, there have not yet emerged any obvious signs that would have warned people that danger was coming.
Michael Downing, a former Los Angeles deputy police chief for counterterrorism and now a security consultant for event promoters, among others, said the attack from a room high up in the Mandalay Bay Hotel & Casino followed a disturbing trend of attacks on large public events, like the November 2015 assault on a rock concert at the Bataclan Theater in Paris and the bombing last May of an Ariana Grande concert in Manchester, England.
"It's a new kind of normal with these active shooters or attacks at big public events," said Downing, who retired from the Los Angeles Police Department last year. "But this is also a new watermark in some respects — this is the first mass public shooting where we have had high ground and multiple high-powered rifles and what looks like a lot of pre-planning."
Downing said police and security experts will have to take those factors into account when trying to secure venues for concerts and other big events.
Berdiago wasn't the only one in Las Vegas who considered the vulnerability of a place where gathering en masse is a big part of the attraction.
Kendra Banks, a clerk at a CVS pharmacy on Las Vegas Boulevard, said: "It could happen anywhere, yes. But here on the Strip it felt like a matter of time. It seems like that is a target, to knock off as many people as possible."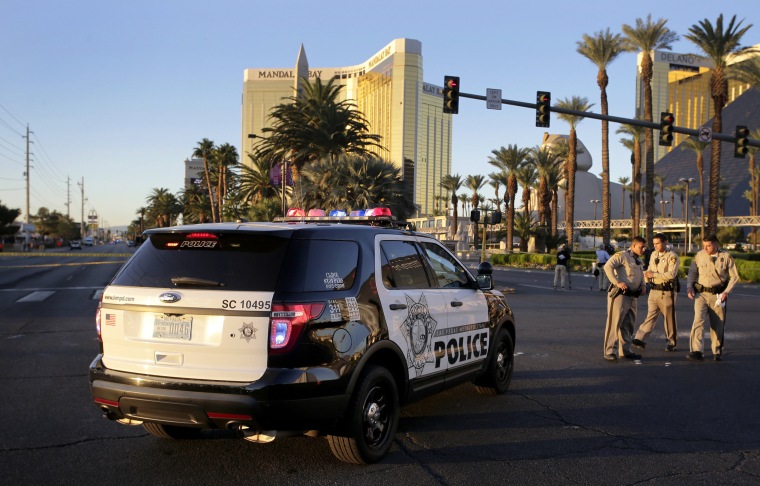 Sean Cohens, 35, who works as a DJ at the Mandalay Bay, said he had been telling people for a long while that some sort of mass attack was possible. "It's no different than New York," he said. "We have big groups of people."
Robert Eads, a bartender at the Monte Carlo Resort and Casino, sounded a similar note. "This town has worried about this happening," said Eads, who has worked at the hotel for 21 years.
He watched after Sunday night's attack as panicked guests sprinted through the hotel after hearing a rumor that a second shooter was loose in the casino. He hid beneath the bar and waited out the scare.
Eads said he, his fellow employees and their comrades at other resorts have been staying in close contact since the attack. They know there is not much they can do to prevent attacks that seem to come out of nowhere. But there is some comfort in leaning on one another.
"We are all linked," Eads said. "We are all a family."
Phil Helsel contributed to this report.