The Las Vegas gunman bought his girlfriend a ticket to the Philippines and "sent her away" to spare her life, her distraught sisters said Wednesday.
Stephen Paddock bought Marilou Danley "a cheap ticket" to her home country two weeks before he opened fire on a country music concert on the Las Vegas Strip.
Investigators believe Danley, 62, who returned to the United States late Tuesday escorted by FBI agents, could fill in some of the blanks as to why Paddock assembled an arsenal of guns and killed 58 people before committing suicide.
Investigators believe the couple lived together in Mesquite, Nevada. Clark County Sheriff Joe Lombardo described Danley as "a person of interest."
In a brief statement read Wednesday by her attorney, Danley said she was "devastated by the deaths and injuries" on the Strip.
"I knew Stephen Paddock as a kind, caring, quiet man," the lawyer, Matthew Lombard, quoted her as saying. "I loved him and hoped to have a quiet future with him."
"He never said anything to me or took any action that I was aware of that I understood as a warning that something horrible like this was going to happen."
Her sisters, who live in Australia, believe she knew nothing of Paddock's deadly intentions.
"She didn't even know that she was going to the Philippines, until Steve said 'Marilou, I found you a cheap ticket to the Philippines,'" one of the sisters, who spoke on condition they not be identified, told NBC's Australian partner, Channel 7.
"She was sent away," the woman said of Danley, "so that she will not be there to interfere with what he's planning." She added that with her sister out of the country, Paddock could plan "without interruptions."
"In that sense, I thank him for sparing my sister's life, but that won't be [able] to compensate the 59 people's lives," she said.
Paddock, 64, wired $100,000 to an account in the Philippines in the week before Sunday's shooting, senior law enforcement officials told NBC News. They haven't said whether the money was for Danley and her family or for another purpose.
In her statement Wednesday, Danley said Paddock wired her an amount of money that she didn't specify for her and her family "to buy a house."
Officials have said Paddock gambled with at least $160,000 in the past several weeks at Las Vegas casinos.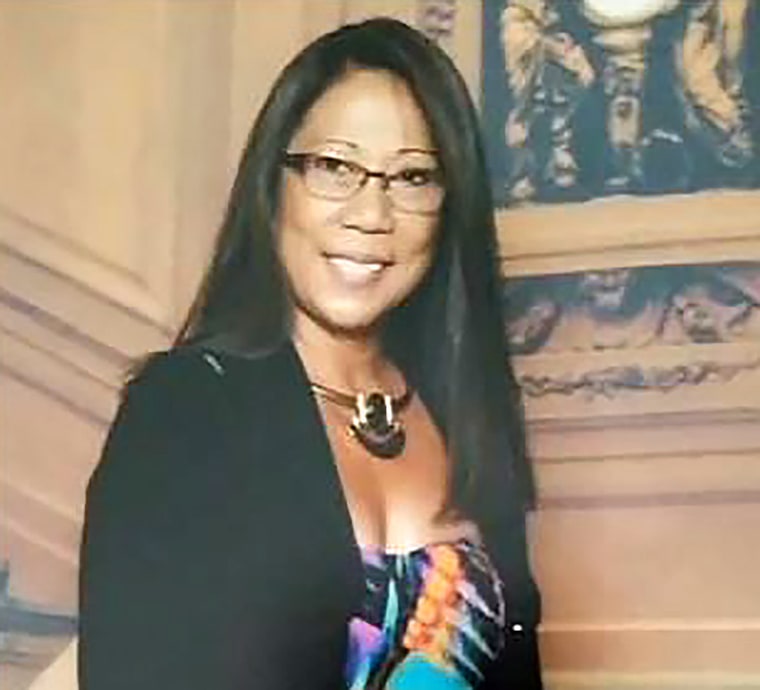 A former boyfriend of one of the sisters, Adam Le Fevre, told NBC News that Danley had two previous marriages — one to a boxer in Australia, and the other to an American — before meeting Paddock in a casino.
Le Fevre said that Danley, a Catholic devoted to her family, was "very different" than Paddock, a methodical casino gambler who used algorithms and spreadsheets.
"She's not very confident," Le Fevre said. "She had a little Subaru Forester and she would go three blocks out of her way so she didn't have to turn left or cross a big intersection."
"I wouldn't say [their relationship] was lovey dovey," he speculated. "It always seemed to me to be one of convenience."
Le Fevre said Paddock shared with him how he was a success at gambling, saying he would operate with "a pool of money, $1.5 million."
"He would gamble for hours, come home, take a nap and then go back. I'd say 'How did it go?' and he would say 'I just dropped 20 grand' or 'I'm up 86 grand.' He approached it like a business."
Le Fevre described the shooter as "a very reserved and nonemotive person."
"His investments, his gambling were done with military precision," Le Favre added.
Separately, a worker at a Starbucks in Mesquite told The Los Angeles Times that she and her colleagues winced whenever the couple came in because Paddock would frequently berate his much shorter partner in public.
"He was so rude to her in front of us," Esperanza Mendoza, the store's supervisor, told the newspaper. "He would glare down at her and say — with a mean attitude — 'You don't need my casino card for this. I'm paying for your drink, just like I'm paying for you.' Then she would softly say, 'OK,' and step back behind him."
Her sister said that Danley, who moved to the United States in 1989, would most likely have stopped Sunday's massacre if she had been there, adding that Danley was "in love" with Paddock.
"No one can put the puzzles together," she said. "No one except Marilou. Because Steve is not here to talk anymore. Only Marilou can maybe help."
Danley "probably was even [more] shocked than us because she is … closer to him than us. To be able to find out the person you love and live with can do such a thing. And you thought you knew the person yourself.
Her other sister added: "She is a good person and a gentle soul … a mother, grandmother, a sister, a friend."
The sisters asked for privacy, saying they would not be giving further interviews.